Also, it doesn't look like Popcorn's tank is filled up all the way o.O
---
Baby Buddha(M VT) ~ Oddball (M-DeTxHM)~ Little Chai ~ Lucky(F oto)
I seem to have a problem with collecting things with scales and fins. Oops
no his fins not his tail
---
this is popcorn he is my baby S.I.P popcorn :(
you cant see it verry good in this pic but its the only one i have
---
this is popcorn he is my baby S.I.P popcorn :(
that looks like regular coloring if you ask me C:

The only way it should be bad is if it looks powdery. But it's normal to have copper colored scales :)
---
Baby Buddha(M VT) ~ Oddball (M-DeTxHM)~ Little Chai ~ Lucky(F oto)
I seem to have a problem with collecting things with scales and fins. Oops
So cute Popcorndeer!
---
The Clan:
Marilyn (CT) Angel (DeT) Opal (CT)
thank you

he is my 1st crowntail!
---
this is popcorn he is my baby S.I.P popcorn :(
Great that you got another heater! :)
Your CT is very pretty.
No more bettas right now, okay? ;)
i know my mom just got me a tiny frog and a snail for the 20gal no one will die right?
---
this is popcorn he is my baby S.I.P popcorn :(
We cannot guarantee that nothing will die. That is up to the owner to make sure all the animals needs are met and that the frog was healthy when you bought it.


Your CT is very pretty! But I have a soft spot for popcorn's Royal Blue color!
---
"Education is the most powerful weapon which you can use to change the world." -N. Mandela
To my journal!
http://www.tropicalfishkeeping.com/j...ourami-592858/
Do you know what kind of frog it is?
Look at it's front feet, if it has no webbing like this:
It will grow very large and will kill all the fish if it can to eat (even at a small size).
If the front feet are webbed like this: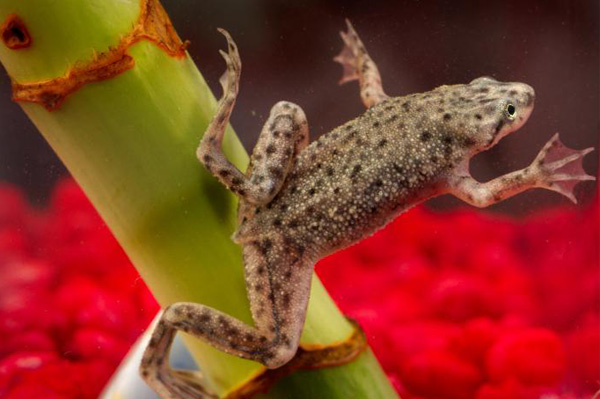 This is a small frog that can often be picked on by fish, and will most likely need special care in your tank.
---
taking a break from fish-keeping.
3 lovely male betta still keep me company.

---
Last edited by Olympia; 03-20-2013 at

07:16 PM

.