there's a VT thats platinum white at one store id love to get, also a yellowish female betta (could be PK) that i want very much. i have 1 betta curently that i know whi's time is limited but its hard to tell when he'll go. i do hope that yellow female is around when the time comes. the white male is very nice but its still a long tali type, id prefer a PK for the time being.
---
Kigurumi (F) yellow PK 7/4/13, Kurama VT 9/8/13, Zeydalus Salamander EE PK 21/3/14, Ryuk turquoise dragon DeT 8/5/14----Crested Gecko (8ths old) Sven Cal 27/12/11,

RIP: Osiris copper DT, Nel blue VT, Nelliel turquoise grizzle DT, Zaku red cambo, Blitzkreig Pineapple CT, Halloween orange chocolate DeT, Grimmjow, turquoise green CT
New Member
Join Date: Mar 2013
Posts: 38
Quote:
you could always pick up a QT tank, and just pull 100% changes till your tank is cycled ;)
Maybe I will! I drive by there on the way home from work. If he's still there Monday, then maybe its meant to be. :)
I always love looking at the bettas, but this last time I went in search of a one that I might fall in love with....
and found many. WHY!?
normally I am just browsing and never find anything that calls my attention.
This last time I couldn't even decide between 2 so I asked forum members for imput.
These are the runner ups.
A) looks like he can turn into a purple butterfly (or lavender, rather) and I loooove purple(ish) bettas!
B) the photo didn't do him justice, the his blue is captured well, but the white is actually pure white, not off white
C)
&
D) The betta I tried to convince my hubby to let me get together with the green HM, but he insists the furniture I'm going to put the aquarium on isn't strong enough for a bigger tank, so I had to leave him go.
E) what color is he? he's greyish... but will he turn blue or turqoise? He seemed stressed, but very pretty anyway
F) white veil teil at walmart, and the cups were well cared for THIS time
G) ok... THIS one was also really really really hard to let go. I don't normally go for veil teils, but there was just something about him that seemed so... pure? Yellow or cellophane? with a very slight irridescence that just looked so angelic on him.
H) Nice colors.... but pay attention. Look closely. Look at his scales on his side. Do you see it? They are.... deformed? Grown in odd? But I thought it looked really really neat and unique
Ok... so normally I only find regular veil tails or crown tails of blue, red, a mix, or an ok marble. Occassionally a white one or a dark brown almost black one, but rarely do I see butterfly patterns, solid colors other than red and blue, etc.
ALL of these bettas I found on the same day. A-E at Petsmart, and F-H at 1 of the 2 area walmarts. And I just wished I could bring them ALL home... but alas... I think my husband might leave if I bombarded him with a dozen new tanks
---
~~
Saki
~~~~~~~
Sushi
~~~~~~~
Shisu
~~~~~
Soren
~~~~
Splash
~~
~Lorelei~~~~~~~???~~~~~~~~~???~~~~~~Yuki~~~~~Naru~~~
A. I think he IS a result of "lavender/salamander" cross.
B. If it's me..and I have to pick one of those for pet, then this one is probably the "winner"
C. This one can be A's sibling perhaps
D/F/G/H..nothing special...while E is quite interesting too, that's a DT, right?
---
full time hobbyist, part time breeder
Quote:
Originally Posted by
caissacrowntails
View Post
A. I think he IS a result of "lavender/salamander" cross.
B. If it's me..and I have to pick one of those for pet, then this one is probably the "winner"
C. This one can be A's sibling perhaps
D/F/G/H..nothing special...while E is quite interesting too, that's a DT, right?
Yeah, E was labeled TTHM on the side and twin tail half moon on top.
I didn't think about it, but you're right, C/D could be A's sibling. The green one in D is the one in my signature that I ended up getting.
There's still something about the yellow/cellophane one that calls to me, but not as much as the one I got.
Oh, there was one that "got away" today... but not for long. My hubby fell in love with him, and after an ordeal about how to get him since we have no more tanks.... we ordered another tank and I'm going to get him in the morning. He's a solid turquoise Dragon scale. I'll take photos when we get him
---
~~
Saki
~~~~~~~
Sushi
~~~~~~~
Shisu
~~~~~
Soren
~~~~
Splash
~~
~Lorelei~~~~~~~???~~~~~~~~~???~~~~~~Yuki~~~~~Naru~~~
I keep finding myself thinking about this guy from Petland. At first, I thought he had short fins since I wasn't trying to dwell to long on the betta displays. But later, I went over his pictures (I'm obsessed with taking pictures everywhere I go) and it looks like fin rot. I think he was suppose to be a DeT or a HM. I wish I got him so I could treat him and get his fins to grow back. I can only go there once a week at most because it's by my work and I've never seen the same fish there twice.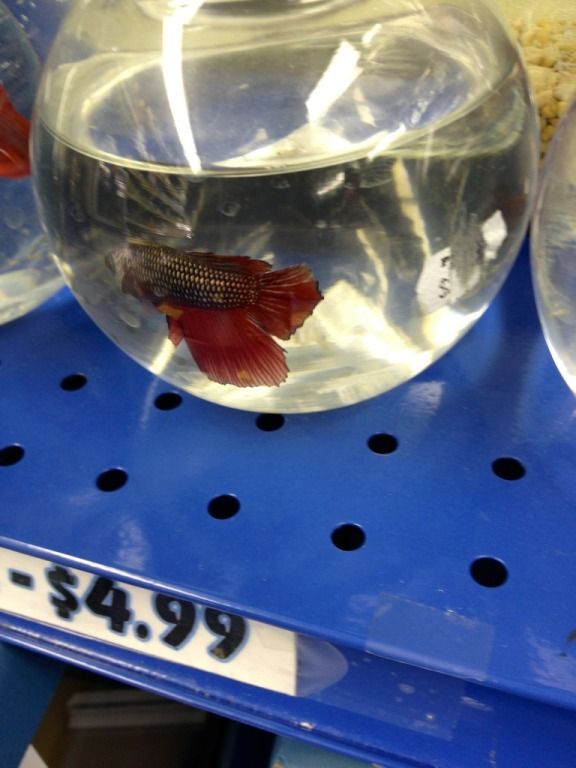 Also, I really liked this CT. The phone camera doesn't pick it up but his body is all shimmering. He was the best off of the whole bunch.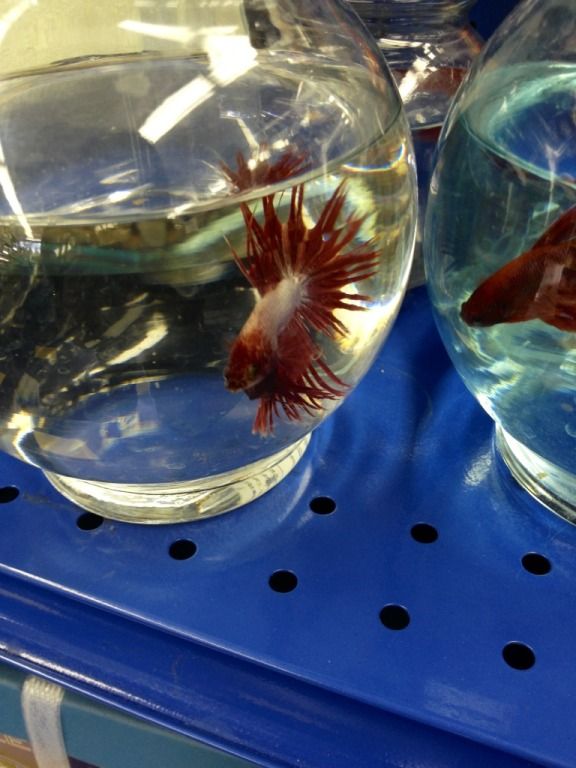 This guy. I had never seen a orange betta before him but I had no room so I had to leave him behind at Petco. :(
---
Esor (red female VT) Pearl (pink/purple Cambodian female CT) Tangerine (yellow female HM with black spots) Rooby (red Cambodian female HM) Triton (blue/red male EE)

I wish I had a picture of him. I go into all the pet stores regularly, but I end up going to petsmart more than the rest because it's open late. I check Petsmart's shipments every Thursday even though I know I can't afford the space for another betta and a few weeks ago I was looking through the Halfmoons and I saw a really pretty blue and red dragon scale who I kind of wanted, but I kept sifting through and I saw this pretty little guy.

He was probably the only real halfmoon in the bunch, the rest were all obviously deltas, but that's nothing new for my petsmart. He was a very light blueish purple with a faded band of white at the end, and I imagine he would have been absolutely beautiful if he were healthy. His tail was all nipped away and had fin rot. My petsmart is usually okay for cleaning out their cups and taking care of them. I hoped he'd be bought by someone who'd take care of him but I went back a week later and he was still there. I kept telling myself that I just don't have the room.

I went back a few days later and he had ammonia burns all over his head and his eyes were the same colour and I was talking with one of the girls who told me that he came to them that way. Yeah, no, he really didn't because I had been keeping tabs on him. I went home and talked to my BF about it and he told me, even if he was in a smaller tank than my other two boys, it had to be better than the cup he was in so I went back the next day to get him and the same girl told me someone who had experience with bettas had bought him.

I don't know how true it is, but I really wish I hadn't hesitated so much. I don't know what it was about him, because it was more than him being in such a poor state.
And cue BeautifulBetta123 commenting on a marble ct girl that we saw at big Al's...