New Member
Join Date: Apr 2013
Location: Sydney, Australia
Posts: 4
Names for this... long-finned female?
---
Hi, I hope this is in the right place but I just got this new female Betta a couple of days ago and was hoping if you could help me out with names.
I'm not quite sure what she is, I believe a very pale orange dalmatian veil tail? And can someone confirm that she is in fact a she, she was sold to me as a she and she does have a big belly and egg spot (not visible in the pic 'cause she won't stay still for a decent shot
). But from browsing the internet, I haven't seen many other females with fins this long. Is this rare? Because from what I've seen, they're pretty common in my area and the traditional short-finned girls I've actually seen less of.
Well anyways, I'm not quite sure where to start with names. I was thinking Luka? In the meantime, we've just been calling her Kevina to annoy my brother
So... suggestions?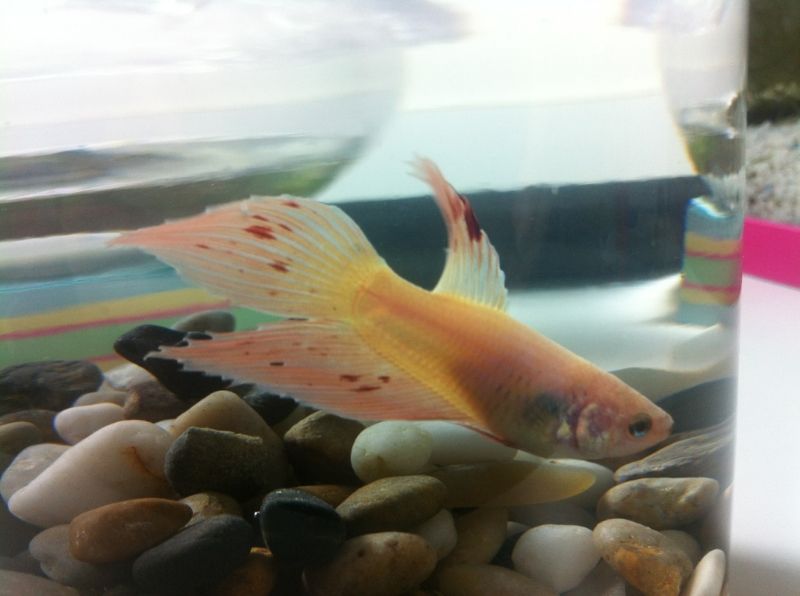 Oh, just to add, she's in a, I believe, one gallon vase for the time being and I plan on doing frequent water changes (The reflection isn't hers, it's just a small bowl I'm trying and failing at growing java moss in >.>). However, will she be alright without heating? The only heater I have right now is for a much bigger tank.
I think she would make a beautiful Artemis. :)
Similar Threads
Thread
Thread Starter
Forum
Replies
Last Post
Active Long Finned Bettas

NorthernLights

Betta Chat

3

11-13-2012

11:08 AM