Critique him?
---
Not planning on breeding or showing. All I know is that he's the closest I've ever gotten to a show quality fish (Jingles was veryclose as well) and I would like to know what faults he has :)
I know the caudal isn't at the 180 degree spread, but thats all I can pick up
---
Baby Buddha(M VT) ~ Oddball (M-DeTxHM)~ Little Chai ~ Lucky(F oto)
I seem to have a problem with collecting things with scales and fins. Oops
Member
Join Date: Jul 2010
Posts: 3,026
I have no idea but maybe you can compare his features to some of the show fish for sale on aquabid?
Is that his whole side, not turning or anything? He seems to have the spoonhead trait. His anal fin IMO looks a little bit too long. And, I don't think bicolors are allowed to be showed. He's very pretty btw!
---
Over hundreds of bettas die in their small, dirty cups each day. Only you can help them live. Research and then save them, today!

A bit of a spoon head, no 180 degree spread (as you know) The web reduction between the rays looks good, anal is a bit long but not bad. The rays on his caudal are kind of funky looking, very thick. And he only has one ray in his caudal in most instances.
Crowntail Standard (from bettysplendens):
"According to the Bettas4all Standard, the ideal crowntail caudal is "double-ray (DR)" and shows a primary branching (2-ray) with a 50% reduction in webbing between the primary rays and a 25% reduction between the secondary rays thereby creating a crown-like appearance (see Figure 4C). The dorsal and anal fin of the crowntail show a 50% reduction in webbing. We decided to choose this type because it represents a good balance between the empty spaces and remaining webbing between the rays of the fins. Two variants of this type are recognized, the normal crossray and reverse crossray. "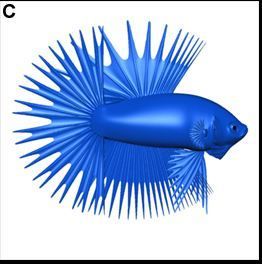 ---
One hand reaches out and pulls a lost soul from harm. While a thousand more go unspoken for, they say what good have you done? By saving just this one... It's like whispering a prayer in the fury of a storm. And I hear them saying... You'll never change things...
MoonShadow Betta Fish Rescue
Saving the world one innocent life at a time

ahh thanks! :D

All this is going to help when I hopefully go into show bettas c:


And I definitely agree with the anal and caudal
---
Baby Buddha(M VT) ~ Oddball (M-DeTxHM)~ Little Chai ~ Lucky(F oto)
I seem to have a problem with collecting things with scales and fins. Oops