Is it a girl or a boy?
---
Okay, sorry but I wasn't getting many responses to my other thread, not that it was solely about this betta anyway but I really need to figure this out.
So on Saturday I bought a betta at Walmart because she didn't look to well and it was labeled as a female but you know how they can sometimes be mislabeled. Anyway this one has really confused me. In the picture below you can see (I know it's hard) but you can see a small ovipositer sticking out between it's ventrals.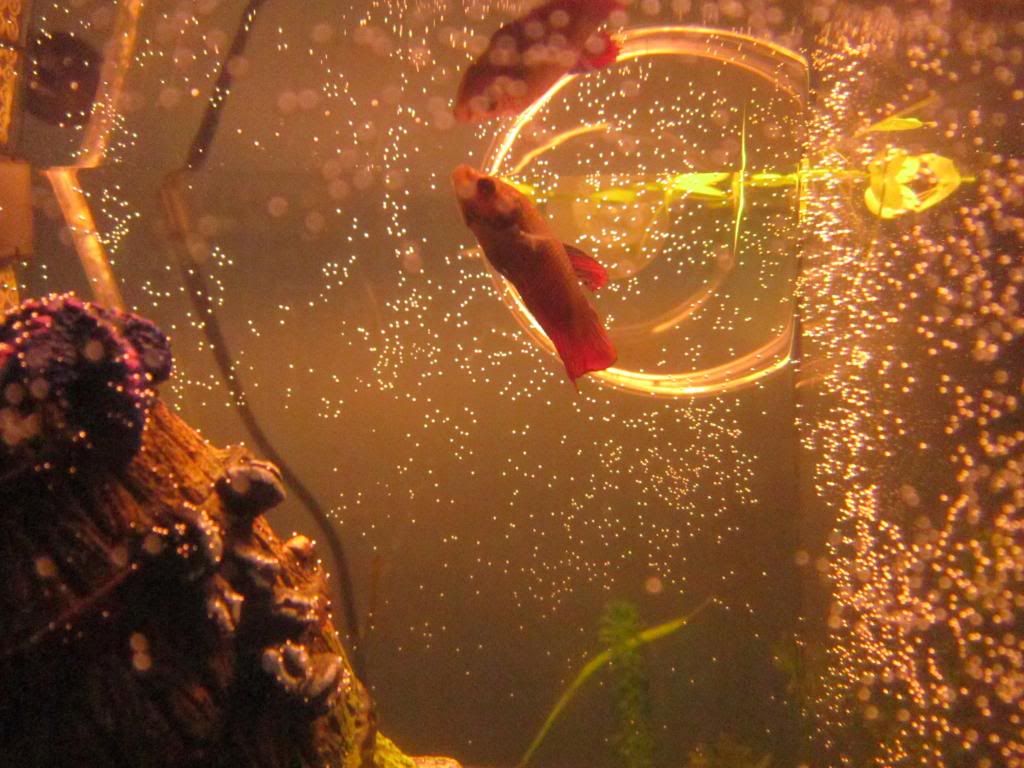 Here it is flaring at my girl Mystique on the other side of the glass. (the walmart betta is floating in my 33 to keep the temp stable. But the thing with this picture is you can see how long the ventrals are. I mean, Mystique's ventrals grew pretty long as well but I know that these ones look a little long to be female. Also the body shape doesn't seem right.
Here is a pic with Mystique in it to show the sizes. Also they were both flaring at each other and doing the wiggle.
Here you can see Mystique's beard and the Walmart betta is about the same size, the ventrals don't look quite as long here and Mystique was very angry lol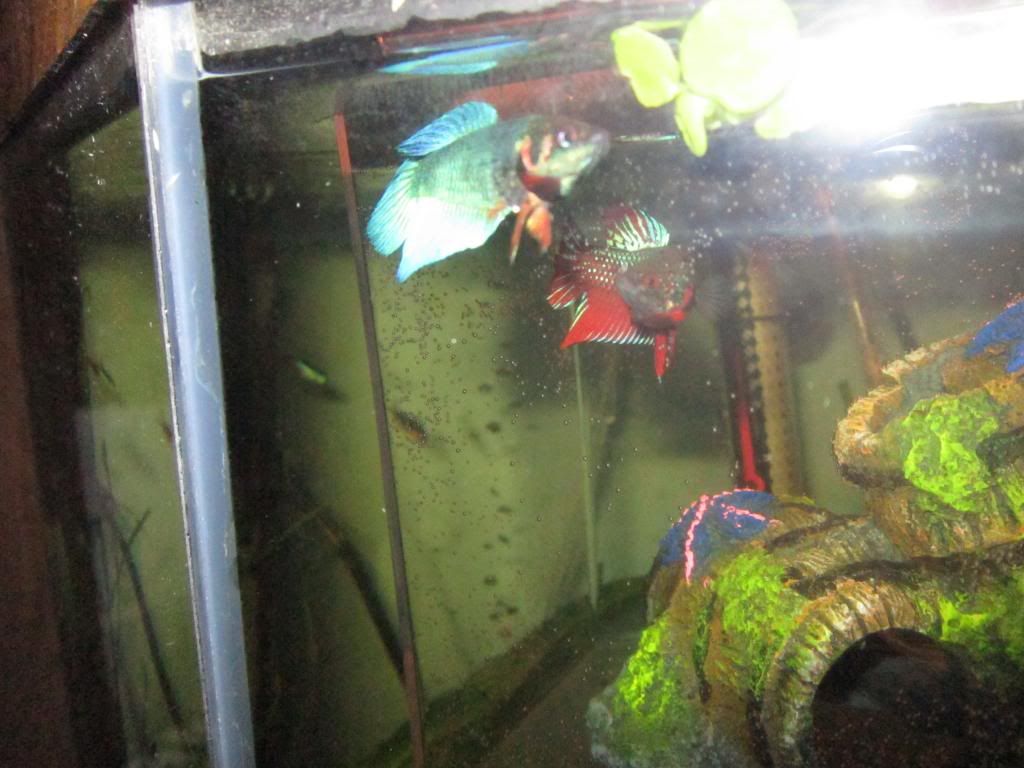 And in this one you can see a bit of the ovipositer (and the wonderful wild type coloration)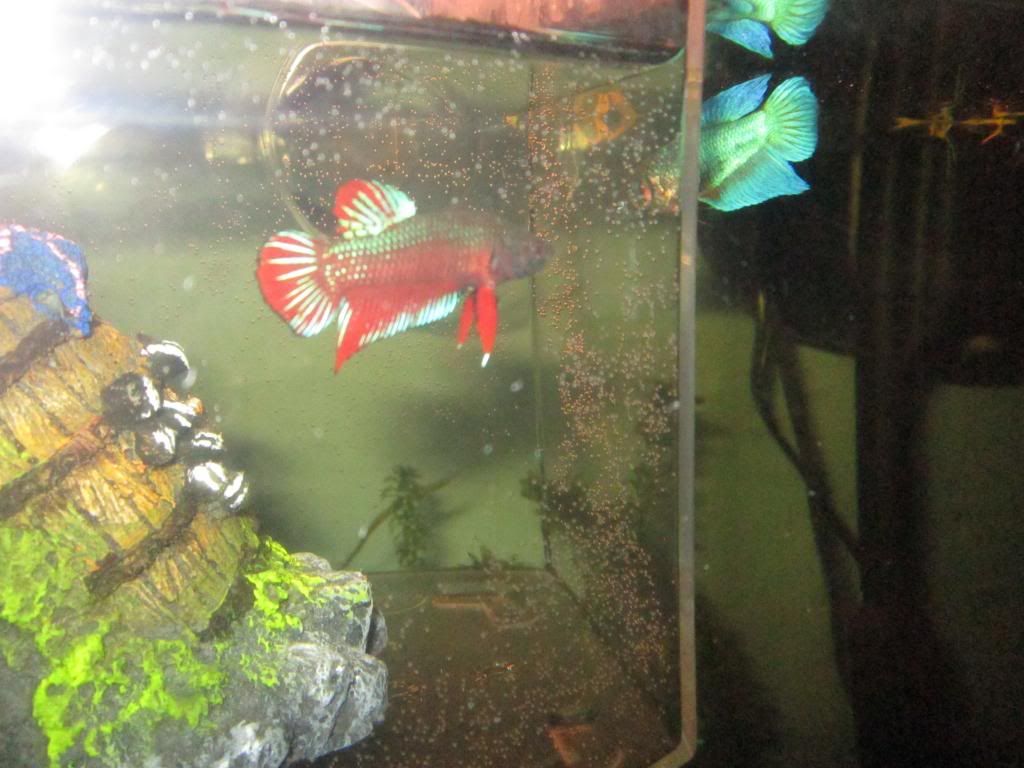 So anyway, this one has thrown me for quite a loop and I don't know what to do with it. If it turns out to be a boy...well I'm not sure I have room for another tank here so I might adopt it out but we'll have time tell I guess. Thanks all.
---
Rembrandt II, Suiché
Leopards: 1:4 Hawkeye, Luna, Astrael, Dorian, Cullen
Gargoyle: Cloudjumper and Toothless
You have a handsome boy. I am certain--there is no way that is a girl. He is a traditional male plakat.
---
Well I'm in a pickle then! I'm going to have to free up Piebald's tank soon then if I'm going to keep him!
---
Rembrandt II, Suiché
Leopards: 1:4 Hawkeye, Luna, Astrael, Dorian, Cullen
Gargoyle: Cloudjumper and Toothless
It's male. I find that the angle on the anal fin of male PKs is a lot sharper than the angle of the anal fin on females, and of course the anal fin is usually bigger on a male.

The general body shape, size of the ventrals and size of the beard also indicate that you have a male on your hands.
---
Thanks guys, I'm not sure what I'm going to do with him. I'm hoping my LFS will let me trade him for two females lol. But yeah Mystique is now getting full of eggs, but I guess I was doubting the fact of the anal fin being sharper because Mystique actually has a fairly sharp one as well. As does on of my other VT females Stardust.

Anyway, thanks again everyone.
---
Rembrandt II, Suiché
Leopards: 1:4 Hawkeye, Luna, Astrael, Dorian, Cullen
Gargoyle: Cloudjumper and Toothless
Similar Threads
Thread
Thread Starter
Forum
Replies
Last Post
Boy or Girl

Chrisssy

Betta Chat

7

11-11-2010

09:06 PM