2nd Betta Rescue
---
Around 3 days ago I was strolling through PetSmart looking for water conditioner, maybe another snail. Then I decided to do what all betta-lovers do and can't resist. I looked at the bettas even though I told myself not to get one. OF course that was a lie. I saw this gorgeous HM that I'd never seen at a LPS. I kept my eye on it as I continued to survey the other bettas. I didn't really want any more VT's or CT's but I decided to give them all a chance. At the very back, was this CT in FILTHY water. It was murky and had white fungi or ick or whatever floating throughout the jar. The CT had ick, fungi, finrot, and it's bottom fins were curled due to the jar's bottom. I read that curled fins are irreversible and was kinda sad that I couldn't fix it.
So, I decided to rescue the poor betta and when my mother saw she just kinda laughed and said "keep the receipt." Neither one of us expected the betta to live too long, but I wanted his last days to be lovely.
As I was checking out with my various products, my mom nonchalantly (pft or tried) to mention to the worker that the betta was in pretty bad shape. And the cashier working said "Nah, looks perfectly healthy to me!" Now, she and I both knew the betta was in crappy condition but I'm just guessing she didn't want to give a discount or make me change my mind, which I'm fine with. The betta was around $7 anyway.
Now, I don't want to hate on PetSmart or the person working. I love that store and it's my favourite LPS. They usually take great care of their bettas, but just not this one in the back. The cashier was a lovely person and seemed really friendly.
Sorry for my rant, and if you skipped to the picture or whatever, I don't mind :)
Now for my new betta.
I think he's a black orchid, I have no clue. Can't really tell until his colours clear up. Haven't decided on a name for him yet, but was thinking Perseus, but would really appreciate some suggestions from you guys.
I haven't seen him flare yet, and he didn't eat for the first 2 days. Thankfully he ate very heartedly today :) fed him 1 bloodworm and a couple flakes.
Right now he's in his hospital tank, but as soon as he's all healed up, I'm moving him to a lightly planted Fluval Spec 5.6 Gallon Nano Aquarium with a snail and a ghost shrimp. Hopefully he'll be very happy
(Sorry, totally forgot to take a picture of him in his nasty jar. I was so eager to get him out of it, a picture just slipped my mind). Sorry for the first pic, the tank is really clean especially while I'm treating him, that's just dried up water drops:
Sadly I don't have a before or after on my first rescue pet Solus, but as you can see he's doing fine :)
He wasn't in too bad of a condition, just some minor finrot, and I'm happy I got him as a baby, so it was a surprise to see how lovely he turned out.
He's (trying) to make a bubble nest and spends lots of his time just swimming around.
Always comes to greet me when I get back and poses when i take pics of him :) he just automatically flares at the camera, love it. :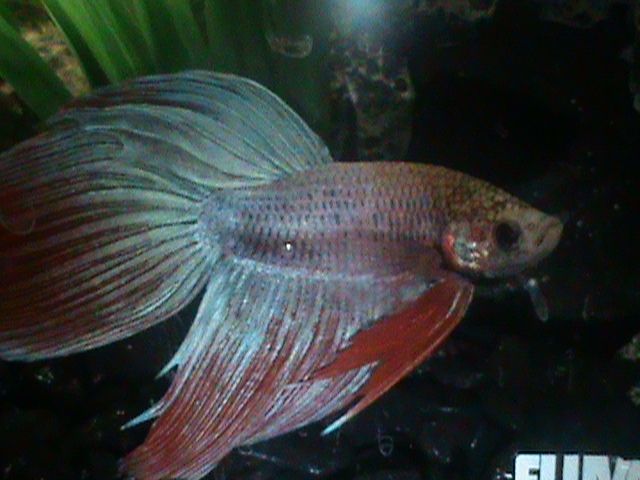 New Member
Join Date: Apr 2013
Posts: 7
I just rescued a betta, I don't have much money and had to buy another tank. I wish I could save all of the bettas. But as for names how about: Lucky.
That's a pretty good name! Thanks :) and yeah I wish I could save all those pretty bettas :( which apparently my family thinks im doing lmao.
Rescued another one today. Beautiful black rosetail with kinda flashy blue small streaks on him. He's pretty much missing his top fin :( will post pics!
New Member
Join Date: Apr 2013
Posts: 7
Poor betta, I have no more room in my bedroom, and I owe my parents $1100 for my car. So I have no more money to buy more tanks and bettas.
New Member
Join Date: Apr 2013
Location: New Jersey, NJ
Posts: 5
help!
---
thats the story of my betta! Um... im new around here and i really need help on this web site so if you could can u help me. thanks.
Oh sure lol what do you need help with?
Update on the third Betta. He's finally eating but throwing the food back up through his gills and mouth. Maybe I should feed him less? And im 90% sure he's a black orchid too. Why does everyone disregard them?? I think people only want colourful Betta. Its so sad, because black orchid are beautiful.
an update on Solus. MY GHOST SHRIMP TORE HIS FINS!! I have never really been too fond of that shrimp, so I was super tempted to just flush it, but I just put it in another tank.
So mad!!! Took forever to heal Solus and now I have to start treating him again*