I agree with lilnaugrim I think you have yourself a little pretty girl there. I love the spots on the dorsal fin !
---
Remember the Light at the end of the tunnel may be You.
Alright, I'll wait before doing anything. Well, it's not like I was going to do anything right away if I found out his gender right away. I can't go get a heater until Saturday. But I'll add more picture of him/her if it helps.
Thanks Perseusmom!
I think she is pretty too :D She is kind of aggressive towards the other two female I got. I just wanted to make sure before making a sorority with her, that she is a she rather than a he. (<-- sounds funny, sorry, easily distracted .__.)
I really never had a hard time sexing a betta until today. :(


So update or extra info? (Eh, whichever one floats your boat)
I check on my fishes whenever I can, so it's usually when I wake up, go to bed, after school, and a few more times in between when I'm not busy. This morning, I check on the females first, nothing out of the ordinary. So after school today, I go check on them again, nothing again. But I just checked on them(more like to get ready to change their water) again 30 minutes ago, the fe/male had like a bubble nest...? I know females can make a bubble nest, but is it a coincidence that two other female has vertical stripes or s/he is a male?
Hmmm maybe not a coincidence then. I know breeding stripes are also signs of submission but I hardly doubt both of them would be "submitting" to a "female" like that.

So I go back to my first verdict and call it a male lol.
---
Rembrandt II, Suiché
Leopards: 1:4 Hawkeye, Luna, Astrael, Dorian, Cullen
Gargoyle: Cloudjumper and Toothless
I would like to say male? He/she seem to have rather long ventrals.
I'm thinking an alpha female... In my herp experience I would have sexed my dragon as male while still young due to looks and behavior. I know it's not the same thing but this girl even as a baby didn't show submission even to the largest grown males and often "bearded" (as Betta's do also) in a male fashion. Me thinks you have a dominant girly :)
Ventrals as usually a good way to go but some of my slightly older females have ventrals almost as long as my young dragon plakat. I'm still rooting for a young male though.
---
Rembrandt II, Suiché
Leopards: 1:4 Hawkeye, Luna, Astrael, Dorian, Cullen
Gargoyle: Cloudjumper and Toothless
Wow, I didn't know that females could have long ventrals, thanks lilnaugrim :)
Np! Just for some examples here are some of my girls who've got long ventrals:
The first girl in front is Pineapple, I was confused by her very pointed anal fin, and the longer ventrals but she's clearly got ovaries :) (lol you can see Aurora in the back glaring XD)
And Mystique flaring at a boy whom I did not know was a boy at that time lol Her ventrals are longer in real life but you can get the gist here, I mean they're still generally shorter than males but not all are tiny like most females you see. And of course with age things get longer :)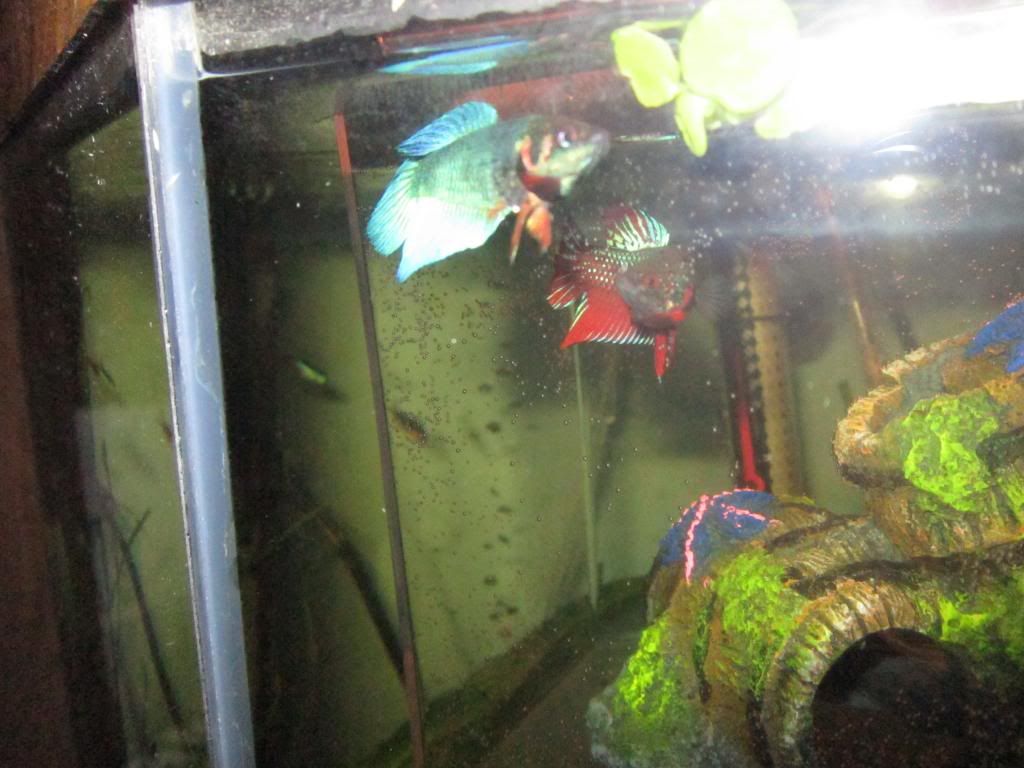 ---
Rembrandt II, Suiché
Leopards: 1:4 Hawkeye, Luna, Astrael, Dorian, Cullen
Gargoyle: Cloudjumper and Toothless