New Member
Join Date: May 2013
Posts: 2
What color are my bettas?
---
I recently took a trip to the pet store to grab dog treats when I saw these two little bettas. I had never seen such pretty fish, and they looked so sad in their little cups. We had been talking about setting up a fish tank, so I impulse bought them and got them all set up in a tank. I got a 20 gallon tank and set it up with a divider along with a couple pieces of driftwood and a bunch of plants on each side. I also got a heater and filters for each side. They seem to be doing great. When I first got them I had them in small tanks while I was setting the big one up. They hid mostly, and the one, Leo, looked like he has a lot of fin issues..they were shredded on the top and eventually was completely gone.
Now though they are so much better. They come to the glass and peep at me while I walk by, chase after me for food and swim all over the place. Leo's fins seem to be growing back in great as well. I bought them as "Halfmoon Double Tails" I have been loving learning about them and would love to know if that is the correct "breed" of betta that they are, as well as what their colors and patterns would be called.
First off is little Leo.
and here is Drogo...it is hard to really catch his color right in pictures. He looks absolutely majestic...his fins are always all pretty and flared out. The flash makes the blue look more apparent then it is...in reality he looks mostly black with blue highlights in his fins, and blue speckles on the top of his body.
Here's the full tank: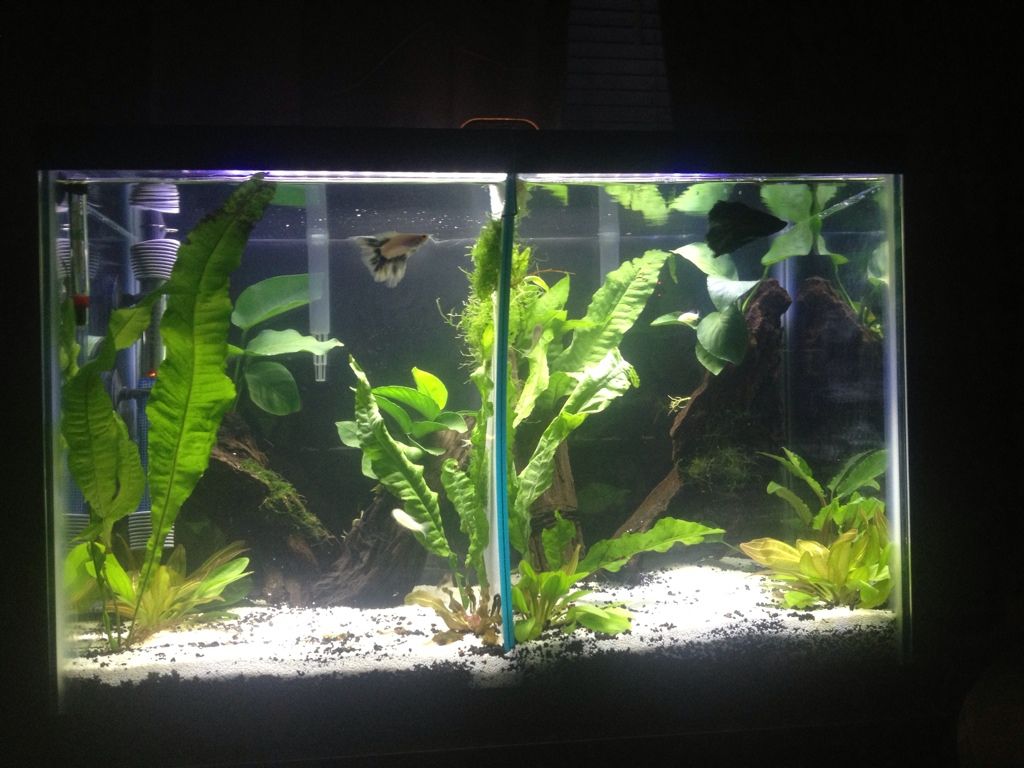 Curious, what did you use as a divider?
---
They make me oh so happy~
New Member
Join Date: May 2013
Posts: 2
I found it at my lfs..was literally called a tank divider. I attached some java moss to it hoping that it will take it over and create a moss wall dividing it into two sections...so far it seems to be growing well :)
Agh! Trying so hard to find a divider. Failing miserably. Good find on these two by the way. I would have said Leo was a Cambodian, but he has two colours in his tail which makes me unsure and then I'd say butterfly but you might have to wait for his tail to grow a bit more to find that bit out OR, he's a pastel. As for Drogo? Perhaps a multi? He's gorgeous though.
---
They make me oh so happy~
---
Last edited by Flapmon; 05-06-2013 at

06:42 PM

.
Gorgeous, lucky fish. Beautiful start! Thanks for sharing!
---
Home of Buzz Betta 3 and the Rockin' Rasboras!