Member
Join Date: Apr 2013
Location: California
Posts: 375
Help me name him? Also, what kind is he?
---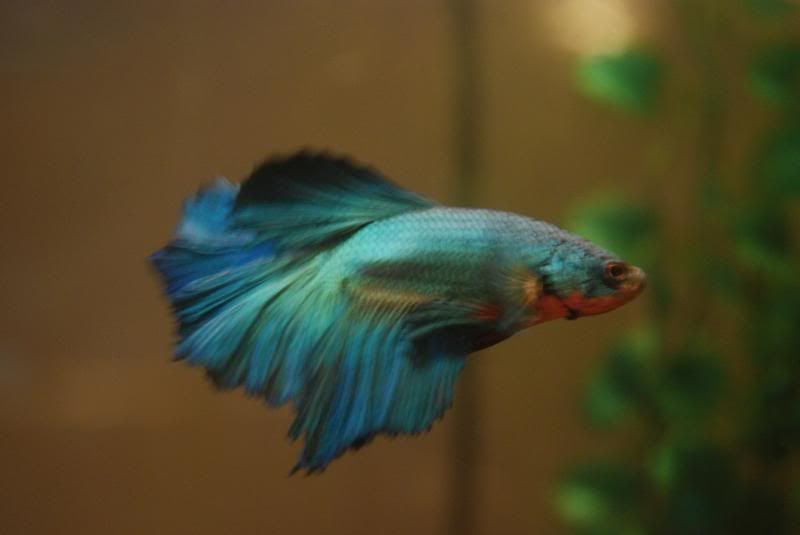 This is my first betta - well, I had a few when I was younger, but I didn't take care of them very well.
He is very flashy and active. When I was trying to decide which one to get, my mom said, "Get that one - he's posing for you!" The picture does not do him justice, he has hints of green in his scales when he moves.
I am considering Milo. It has a nice ring to it. I am open to suggestions, however!
Oh - and what type of betta is he? I know he's not a veiltail, but that's the extent of my betta fin knowledge.
He looks like he could be a hm or a rosetail. Any pics of hi flaring?
Im awful at names lol but milo sounds cute
Member
Join Date: May 2013
Location: You know, that is a very, very good question... and you know, I have an answer for you... somewhere.
Posts: 495
I agree with trilobite, Milo sounds like a great name! Im not really good with names... So I don't have any good suggestions.
for some reason names of blue/green gem/minerals come to mind, jade being one of them.
---
Kigurumi (F) yellow PK 7/4/13, Kurama VT 9/8/13, Zeydalus Salamander EE PK 21/3/14, Ryuk turquoise dragon DeT 8/5/14----Crested Gecko (8ths old) Sven Cal 27/12/11,

RIP: Osiris copper DT, Nel blue VT, Nelliel turquoise grizzle DT, Zaku red cambo, Blitzkreig Pineapple CT, Halloween orange chocolate DeT, Grimmjow, turquoise green CT
---
Last edited by nel3; 05-08-2013 at

09:05 PM

.
Member
Join Date: Apr 2013
Location: California
Posts: 375
Thank you everyone! I have named him Milo.
I realized today that Milo Thatch is the name of the main character in the disney movie Atlantis. It fits, doesn't it?
Member
Join Date: Nov 2012
Posts: 445
I would name him "Blue halfmoon".
Welcome, Milo! He's a beauty!
---
Home of Buzz Betta 3 and the Rockin' Rasboras!
Banned
Join Date: Aug 2012
Location: Hogwarts
Posts: 2,082
He is very pretty! I like the red belly lol.
Similar Threads
Thread
Thread Starter
Forum
Replies
Last Post
what kind is this

pyro fiend

Planted Betta Tanks

21

09-21-2012

05:11 PM