Quote:
LOVE that third PK <3
Quote:
I love the first one! If I saw him, I would definitely get him!
You know, I saw all of those guys in one day? And a couple of more handsome fellows. Petco and Petsmart both have great stock in my town. It's pure torture going into those stores and knowing I can't bring any of them home with me.
These two PKs were also from that day: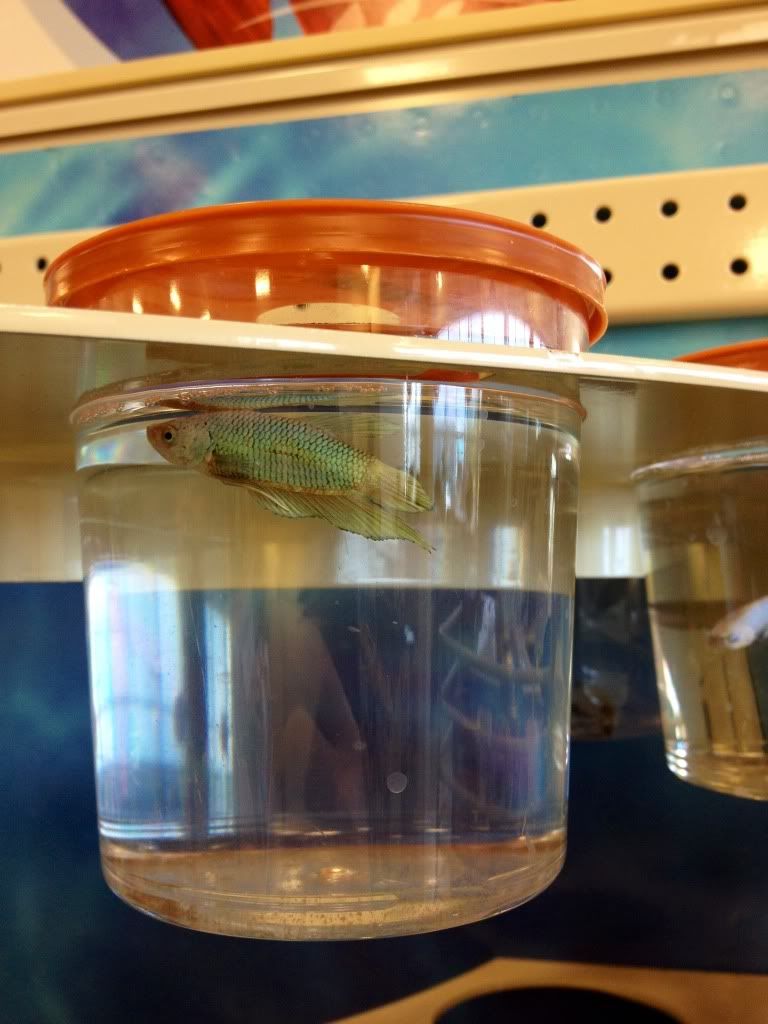 ---
---
Last edited by Fenghuang; 05-19-2013 at

09:02 PM

.
Member
Join Date: Feb 2013
Location: texas
Posts: 899
I've always wanted a crowntail just because of their cool look but everytime I go to pick a new fish I end up with a plakat!! They are my faves by far!! I have two PKs (so far) I have a royal blue PKEE who will bite anything and everything he doesn't want in or near his tank, one time I had a blue bowl in front of his tank and I saw him trying to attack it threw the glass!! my newest addition a white DS PK with a full mask, white eyes and maroon fins is the wierdest little guy, he loves to play a game where he trys to avoid touching anything in his tank... its so funny to watch
---
GIVING AWAY PLANTS? REAL OR FAKE, I'LL TAKE THEM

3 males: Mardi (OHM) - Mason (HMPKCTEE) - Maddux (HMPK)
1 female: Mercedes (Undecided again) Maybe VT or Delta
That first one looks similar to my boy
Just... sad looking :9 Mine was there for almost two weeks, and remained the healthiest and most interactive.
Wonder if anyone would eventually make halfsuns again.. Have not seen any for a while.
---
Breed for the breed, not for the money; the words any REAL breeder would understand.

You must know nothing in order to know all, for all is nothing and nothing is for all.
The top guy was a nice orange, though he looks red on camera. Really liked that shade. Sena, your guy is a beauty. His fins look amazing.

Are halfsuns what you call doubletail halfmoon crowntails or single tail halfmoon crowntails? I always thought halfsuns were single tails, but then I saw someone refer to double tails as halfsuns and got confused.
---
I have a giant plaket and I am quite fond of him. My husband got him for me for mother's day. I need to get pics up of him. All of my bettas are active and have lively personalities except for my son's crowntail. He's just an all around pissy fish. He hates me and flares at me every time I go into my son's room.
Half suns are literally that... Half a sun.
HMPKCT, or HMCT. I have had mainly delta CTs.
---
Breed for the breed, not for the money; the words any REAL breeder would understand.

You must know nothing in order to know all, for all is nothing and nothing is for all.
Plakat always seem like the bulldog in a pond full of sight hound. At first I was drawn to those long fin beauties. I have had 2 veils, 1 crown, 1 halfmoon, and 1 double. The fins of the veil and crown were easy to care for. Now my halfmoon and current double fins are hard to keep nice.
I got a plaket early this year and love him. No fin problem and more active and fun to watch swim. I will still get long fins(mostly double), but also plaket.
---
Tanks
20 Gallon L: Clown Pleco, 4 Green Tiger Barbs, 2 German Blue Rams ~ 6.6 Gallon: Empty ~ 3 Gallon: Empty
Swim in Peace
Eeyore(VT)~Kiwi(VT)~Pirate(CT)~Rory(HM)~Beetle/Bug(Fry)~TARDIS(PK)~Vanquish(DbT)
the PK style was a bit slow to catch me as i loved the long flashy fins of the bettas. fast forward 6 long finned bettas (2 ct included) and i now prefer PK due to less tail issues. less biting, blown fins and fin rot are a major advantage for PKs ive had my 1st PK for 5 weeks and she's just beautiful and active.
i do tend to like longer fins but tail issues tend to be frustrating. i do very much like CTs once i find the perfect setup to maintain their fins but the right colours will trump tail type most of the time.
a recent pic of her
---
Kigurumi (F) yellow PK 7/4/13, Kurama VT 9/8/13, Zeydalus Salamander EE PK 21/3/14, Ryuk turquoise dragon DeT 8/5/14----Crested Gecko (8ths old) Sven Cal 27/12/11,

RIP: Osiris copper DT, Nel blue VT, Nelliel turquoise grizzle DT, Zaku red cambo, Blitzkreig Pineapple CT, Halloween orange chocolate DeT, Grimmjow, turquoise green CT
---
Last edited by nel3; 05-21-2013 at

07:48 PM

.
Ive got a cute little mutant pk. She has a small spike at the front of her anal
---