Member
Join Date: Jun 2013
Posts: 119
Giant Super Delta Betta?
---
I was browsing through the internet and came across yet another rare betta, the Giant Super Delta Betta.
Is this really a betta type and is anyone here breeding these big boys or does anyone have one (if you have one post a pic).
Thanks.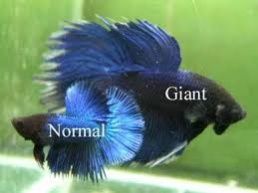 A giant super delta is essentially a low quality giant halfmoon... There should be some giant halfmoons on aquabid but don't expect them to be cheap.
heres mine trad pk 4 inches the daddy to my spawn which I mated with his sis shes three and a half inches
Member
Join Date: Jun 2013
Posts: 119
Gorgeous!!! I think I'm falling in love with these big beauties.

Are they just like regular bettas in personality? Less agressive maybe? I'm thinking of a gentle giant. But I could be wrong.
Mine is a a giant. He is 4 inches long. And with quite the personality!! Also, the pictures are a bit old, so his tail doesn't look nearly as bad. And he is a bit bigger in real life. And the first picture, he was above the leaf, not on it, so he's bigger than the leaf.
---
I either talk to my fish when I'm mad, or I'm mad because I talk to my fish.
---
Last edited by alwaysaBettaLover; 06-05-2013 at

09:40 PM

.
Member
Join Date: Jun 2013
Posts: 119
What a beauty. Thanks for sharing. I'm definitely going to try and get one.

My brain is on betta overload right now. My EE came home with me 3 days ago. I was mesmerized by his beauty and had to get him. I saw all sorts of different bettas and i was really impressed. When I was younger I always had bettas, 2 at a time. But ever since I ran into money troubles I stopped getting them. I only knew of betta. Not the different types. But my EE, Elfy, turned me into a betta junkie again.
---
---
Last edited by Vickytoria3112; 06-05-2013 at

09:47 PM

.
I would say that on average, giants are just as aggressive as regulars, but the damage they will do can be major. Keep in mind that they need large tanks.