What's Your Favorite Betta?
---
What's your favorite kind of betta? Or favorite color?
Personally I like Veil Tails with purples and pinks.
---
The Messiah approves of this forum.
I like VT HM and CT in all colors :D
---
Bettas-
Milo : Crowntail, SIP;-;, Vivian : Crowntail SIP, Kawaii SIP, Kano : HMPK, Igneel : Halfmoon, Atlas : Feathertail EE, SIP, Magnus : DTHM, Avian : HMPK, Juno SIP-Delta,
Alias-HMDT ,Blu-Delta, Tanso : Wild Smaragdina,Neslet-HMRT, and Hetalia.
Goldfish-
Calico-Shubunkin and Comet-Comet *DECEASED*
i love halfmoons and super deltas! i also love purple fins with black body!
Member
Join Date: Sep 2012
Location: Lincolnshire UK
Posts: 2,016
I've always loved veiltails their my favorite fin type, but I also really like Elelphant ears, is there such thing as a EE VT betta? it would be awesome if there was:)

my favorite colors for betta's are blue, black, and red:)
---

If I have drawn a picture for you, full size versions are available on my DA page
http://candyfloss-unicorn.deviantart.com/gallery/48603004
---
Last edited by Indigo Betta; 07-18-2013 at

11:17 AM

.
I like VT and CT and HMPK...although right now i only have 3 VTS and i really like red
I really like HM & HMPK tail types (though neither of my boys are either of those tail types XD) DTHM tail types are also very pretty (saw one at Pet Smart). I really like Opaque, Black, and Coppers (Dragoon is a dark copper DSPK), those are my favorite colors, but honestly if a fish speaks to me, it's more than likely coming home with me regardless of color or tail type (stares at Merlin pointedly).
---
"Animals are reliable, many full of love, true in their affections, predictable in their actions, grateful and loyal." ~Alfred A. Montapert
My Bettas:
Dude-Male Salamander HMPK & Molly-Female Marble HM
My Goldfish:
Rory
S.I.P. Beta-Blue & Black CT//Dragoon-Dark Copper DSPK//
Merlin-Red VT//Raku-Multi-Colored CT
My Journal
Crowntails and Halfmoons for males, and plakats for females!! Especially when the female is a goldish red color, like here:
But I also like black crowntail males and white/yellow halfmoon males.
---
"Bettas are like men. When they are around each other, that's when they know how to pick a fight."
The Boy(s):
Leonardo (Crowntail)
Member
Join Date: May 2013
Location: You know, that is a very, very good question... and you know, I have an answer for you... somewhere.
Posts: 495
Well, I really love vts of all colors, but I'm starting to like crowntails too. They are just adorable, the way they think they are the toughest thing ever! ( at least mine does!)
---
Hi guys, you've probably noticed I'm not on as much. The reason for that is the fact that I'm so much busier than I was last year. Also, I'm in the school play for once. (Squee!) So, I probably will be popping around everyone once in while anyway. But, until then- toodles!
I've always been drawn to CTs, though I do love me some HMPKs! And VTs... I'd tell you they're not my favorite, but then I'd have to admit that I have 8 of them... o_O
Also, Indigo Betta, VTs do come in EE. There seems to be a variation for some VTs, I don't know if it's for all of them... but I know I personally and several other members on here have had VTs with long, ribbon-like pectorals. I believe they are a variation of EE because they are much larger than normal pecs, they are just shaped like a ribbon rather than a normal pec. Look below on my VT girl...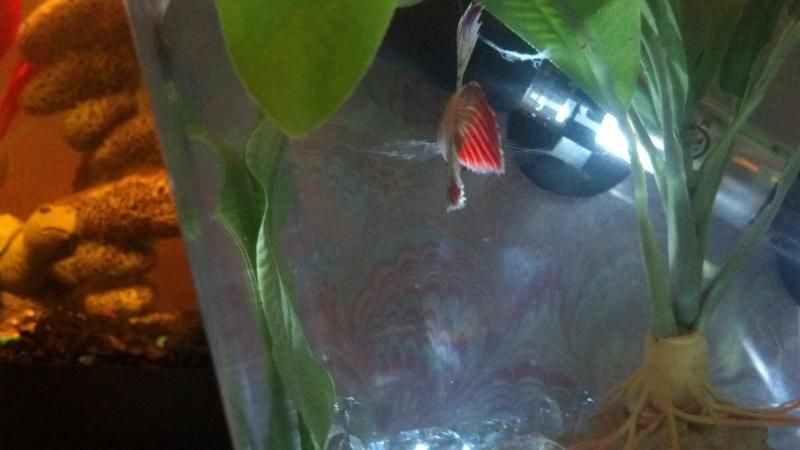 PS: Indigochild311... she's a purple marble VT! LOL
---
Back after a hiatus.
Pongo - HMPK Koi Male
Onyx - DSH Cat