Help me, I've been bitten by the bug!
---
I figured some of you may understand how I'm feeling...
So I've had Odysseus for about a month now, and as such have been making frequent trips to Petsmart for the things I've learned he needs, as well as just general supplies (plus I'm addicted to looking at all things fish now- but shh, no one needs to know that).
It's during these trips that I've come to realize, in my frequent observations of the bettas there, that oftentimes it's the same fish I'm seeing, week after week! And herein lies my dilemma. A few weeks ago as I was looking at all the bettas, I came across this little white female, with the sweetest face and pretty blue eyes. Something about her just grabbed at my heart and yanked, rather like with Odysseus the first time I saw him.
She's been there for several weeks now, and every time I go she's just as active, just as interested in me. Her cup is placed behind the little sign that displays the prices, so she probably doesn't see people much, but I check every time and she's still there. I went today and she was there again, along with this absolutely precious little crowntail girl who couldn't have had a body longer than my thumbnail. I see all the fish and want them (of course, don't we all?), but something about these two, especially the white girl- it's almost like I need them.
I don't know if I'm just being too sentimental or a little bit silly- I can be a bit of a bleeding heart. But I cannot stop thinking about that girl!
The problem is convincing my parents- possibly I could win my dad over. I am eighteen, so there's the argument I can do what I want with my money, but I will live in their house when I'm not at the dorm, at least for the next year.
Have any of you felt like this? I figure I should at least give it a go at convincing them. The worst they could do is say no... but I really hope they don't!
I've been bitten by the freaking betta bug! Ugh. I don't know whether I should celebrate or cry...
Oh yes I know exactly how you feel.I was like that with each of my little boys,I couldn't stop thinking about them,so I knew that meant I had to have them & they are such beautiful,sweet boys.
It sounds like you have the same feeling with the little girls.If you can afford new set ups,have the ,space,time etc,then do it!
It is DEFINITELY very hard to have to pass the little faces without taking them home,I could easily pick a new one or three evrytime I go to my petstore,but I know my limits,you have to.BUT if you do have the space,time & money for a couple more,then I say get those 2 girls.
---
~ I
my mini boys ~
Gently remind your parents that there are worse things you could be interested in. :p
my parents don't give a care any more.
---
Open your eyes
Now is the time
To rise up
With darkness we'll still shine

If you guys were interested in knowing, I got her! I don't think my mom was too thrilled, but they gave me the okay and today I went back for her! :)
Lol, when I come back from the petstore, mom asks to see the betta I bought. She knows if I go there, I will come back with one
---
Open your eyes
Now is the time
To rise up
With darkness we'll still shine

Member
Join Date: Feb 2013
Location: Alberta, Canada
Posts: 542
Here she is! This is Penelope: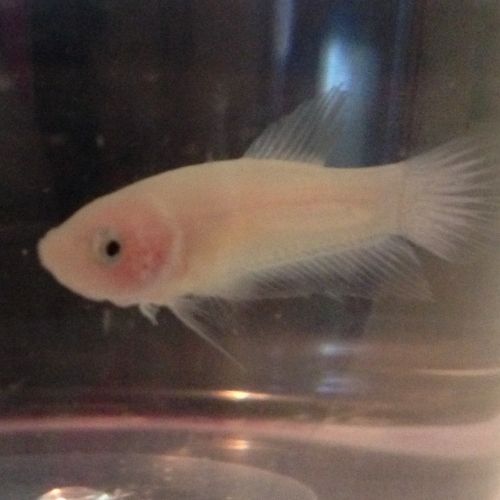 She keeps swimming over to check me out, but as soon as she sees me looking she darts away. I think she's what is called a cellophane? I can see her organs, and I can actually see all the way through her in the right lighting!
Thank you for all of your encouragement; I feel much better now, having her home. :)
Member
Join Date: Feb 2013
Location: Alberta, Canada
Posts: 542
She's adorable! Congratulations. Lucky little girl!
Thank you! It's her little face that pulled me in, and those sweet blue eyes.
Similar Threads
Thread
Thread Starter
Forum
Replies
Last Post
The bug has bitten.

BethsBettas

Betta Chat

0

04-14-2012

09:12 AM