Can somebody help me Identify my new betta?
---
Hello users. I am new to the betta community and to this website. I recently purchased my betta's yesterday and put them in my newly set up tank. I was told that you should never put two together, but my male seemed so friendly I got him a female buddy, and they seem to get along great so far... I separate them at night though Just Incase, but I put them together when i'm around and they seem to enjoy each others company

Anyways :), I am excited to say I am a proud betta owner but I think I may have gotten ripped off at petsmart. Yesterday I bought a really nice halfmoon but when I got home I noticed he had fungus on him and he didn't survive the night... So I returned him today and spent a few extra dollars to get what they advertised as a Dragonscale Crowntail Betta.... But after looking at pictures he doesn't really look like a dragonscale so I believe I payed double for what my fish really is..

I would like someone to help me Identify if he is just a regular Crowntail or not? And what kind of color would you say he is? He looks really unique with the two front swimming fins dark and light blue, and the blue above his eyes.. My camera sucks and his tail is actually blue and purple not really blue and red. Would you describe him as a common betta? I picked him because he looked so unique. He was the only fish in the store with different colored eyebrows and front fins..


This is my first thread so hopefully i didn't mess up, I tried attaching pictures but I'm not sure how it works sorry
---
Last edited by Isavehyrule; 08-05-2013 at

09:20 PM

. Reason: adding photos
First off, welcome to the forum!
You have a lovely crowntail male, but I'm afraid he's not a dragonscale from what I can see. Dragonscaling looks like "thicker" fins, a layer on top of the regular color of fins, and generally not iridescent at all. Have a look at my boy Hiei below... he is a dragonscale. See how there is a stripe of his black scales showing beneath the copper dragonscales?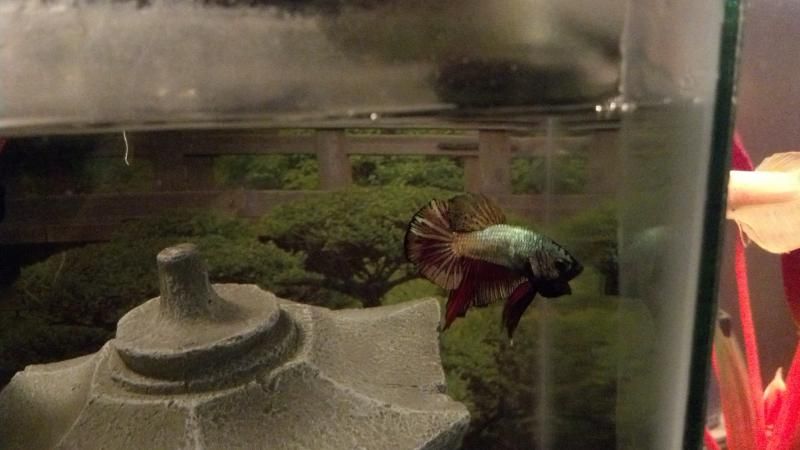 So while your boy is very pretty, he is not a dragonscale that I can see.
Now, I have to warn you... do NOT put your male and female together. You say they're getting along great, and you only have them together when you're around, but you're flirting with disaster and one of them could easily end up dead. They don't need one another's company... bettas aren't social fish by nature; they like to be alone. Putting the female in the male's tank sometimes will make her a threat to his territory and he could easily end up killing her. Please get another permanent home for the female.
Your tank looks very nice! I really like it~ Congrats on your new fish.
---
Back after a hiatus.
Pongo - HMPK Koi Male
Onyx - DSH Cat
So should I make a complaint with the company? Because I could easily use the difference to buy a plant. Are the colors on him common? because i've never seen one like him
He's not a dragonscale. Dragonscales shave thick, defined scales like this (yes, I know you got an example already, but this is a white dragonscale)-
image.jpg
He appears to be a multi, which are fairly common. Good luck finding another one that looks that good at petsmart though
.
And I really have to address the fact that you are keeping a female with your male. In 99% of cases where a male betta is kept with another betta, one (or both) ends up dead and the other ends up injured. It quite simply does not work- bettas are aggressive fish by nature and are very territorial. The fact that they have been coexisting for a short period of time does not change the fact that these fish are extremely unpredictable and you could have a dead fish on your hands in the blink of an eye. I've seen it happen. The female is also probably very stressed from being in and out of the tank. I would recommend either dividing the tank you have or getting the female another tank.
Know its not what you wanted to hear, but I feel you should be aware of the facts and the danger you are putting the fish in
.
So should I talk to the store about the price of the fish? 5 dollars doesn't sound like much but that could be a whole nother fish, or a plant or two, maybe some bloodworms?
You do whatever you feel about the price of the fish. Please don't disregard what we are saying about the bettas living together. If you chose to speak to the manager about the price of the fish (I would doubt you will get money back), you could use it to buy another little tank for your female. :)
---
Back after a hiatus.
Pongo - HMPK Koi Male
Onyx - DSH Cat
I don't know much about the different types of bettas, but you NEED to separate your fish ASAP. Bettas, as others have said, are unpredictable. They will turn on in each other in seconds. For example, in sororities, (where only females are kept together, 5+) most says it's all a risk. One day, the females could be swimming peacefully and on the next you could have 5 dead little fish. You NEED to separate them otherwise you will have two dead bettas.

Please don't ignore what we are saying.
---
10 gallon:
1 Dwarf Gourami - Balin
8 Neon Tetras
1 Otocinclus

RIP Plagueis.
I'm not ignoring what you all are saying. As of now I have 2 of them in a 10 gallon with lots of stuff for them to swim though so they are fine together. If they get aggressive i have a 1 gallon bowl and a 20 gallon community i can move one too. I appreciate the advice but i've seen and read about it done before. Not all male bettas are born killers lol.
No offense, but I disagree. Domesticated male betta splendens are born killers because that is what they have been bred to do by humans for hundreds of years. Females can also be highly aggressive. Yes, individual bettas can be more mellow than others, but aggression is instinct and they can change in the blink of an eye. They're not the same as wild bettas. And besides, a 10 gallon is much too small to attempt this. Even in the cases where I have seen it being done (which I do not condone), it is usually with at least 50 gallon tanks.

How long have you had this crowntail male? For maybe a few days? If you have other tanks, why are you keeping them together at all, especially since you say you move the female back and forth because you don't trust them alone together? You're subjecting the fish to unnecessary stress, which in my opinion, is very cruel. It all seems pointless to me.
---
Last edited by Fenghuang; 08-07-2013 at

12:51 PM

.
You have a 10 gallon tank, why don't you just use a divider so they each have half but cant get to each other? I 100% agree with what these guys are saying, separate them asap. They aren't meant to be housed together.