Member
Join Date: Apr 2013
Location: California
Posts: 375
Your bettas' personalities, past and present
---
Dragon is so curious. My hands are often in the aquarium, picking out ramshorns and adjusting plants and the like. He always follows my hands around. It's adorable! Sometimes I'll cup my hand in the shallows and he'll rest on my fingers.
He's very docile. I've never seen him flare his gills. He is perfect for a community tank! Doesn't give a rat's ass about the other fish. :)
I recently learned that anubias is better left floating, so I took it out of the gravel. He loves it.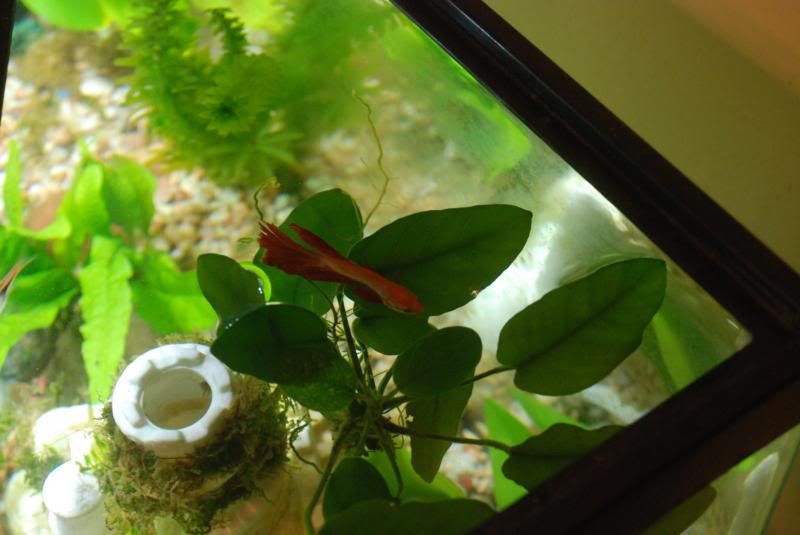 Tell me about your bettas! :)
---
5.5 - Xerxes. Divided 20L - Henrietta & many snails.

Swimming in the warm waters of betta heaven: Milo, Dragon, Jasper, Shiloh.

Ohhh, where to begin! I won't bore you with ALL of my bettas, but I'll tell you about a few special ones!
Tagalong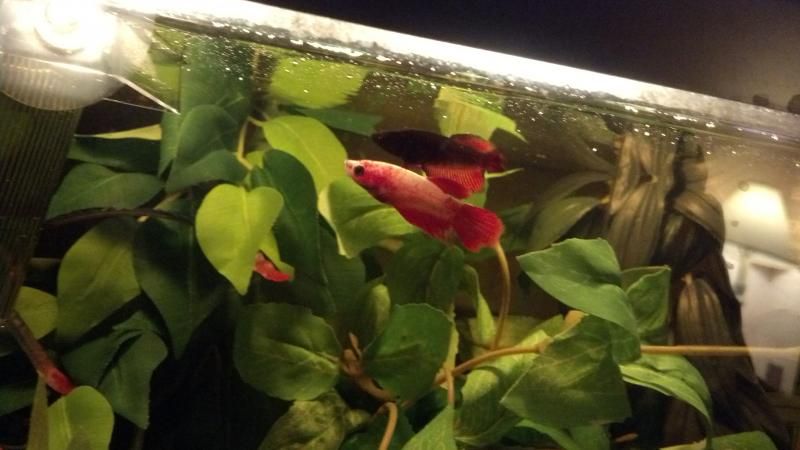 Talk about ATTITUDE! This little girl is packed full of it, and she doesn't let a single sorority member forget she is alpha... not even the giant girl! She's the little black one with the red fins. First to eat, no matter what, and she's not afraid to give a nip or two to remind the others who is boss! Heck, she's not even afraid to nip me when I put my big old hands in the tank!
Hiei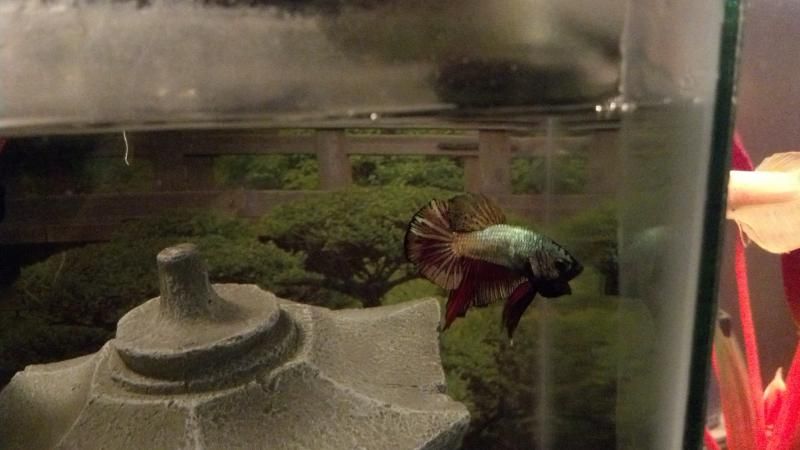 Fiery is the word that comes to mind. I bought Hiei as a little guy all clamped up in his cup at Petsmart. I brought him home, introduced him to his new heated and cycled 5.5 gallon, and watched him blossom into the gorgeous fish you see today! He is 100% alpha male... even blew out his dorsal flaring at his neighbor last week!
Kai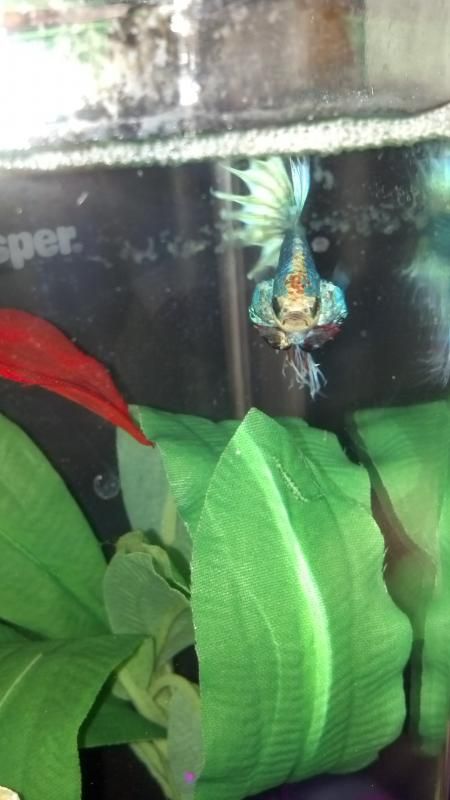 This picture about says it all for Kai. He is angry at the world. Angry at me, angry at you, angry at his plants, and ANGRY at his ornaments! I often see the little guy puffed up and flaring for no reason at all, just angry at his whole environment. And then he builds me a killer bubblenest just to remind me that the tank is HIS, even if he's livid at the whole thing hahahaha.
Kitkat
Kitkat is such a sneaky little thing, always causing mayhem in the sorority by riling Tagalong up, then darting away to hide and let the other girls deal with the alpha's wrath. She can be seen here, taunting Tagalong when Tagalong was in the breeder box being introduced to the sorority after her QT. She's absolutely precious, though, and the brightest bright red I've ever seen!
---
Back after a hiatus.
Pongo - HMPK Koi Male
Onyx - DSH Cat
Merlin:
Grumpy is the word that I've always used for him. He never looks happy; Merlin always seems to be bothered by something, and even though he doesn't flare all the time, he just constantly has this expression about him that says he's ready to complain about something. He does have his happy moments though. Merlin is also aggressive, every time I clean his tank, he thinks there's another betta in the cleaned glass and it will take him a bit to remember that it's his reflection. Anything new in his tank tends to get him aggravated/wary, it takes him several days to explore his new decorations.
Dragoon:
Laid back, but active is this little guy. I've only seen him truly flare once or twice, otherwise, nothing really seems to faze him (except tank cleanings, he hates those). Dragoon is a little torpedo darting around his tank all the time, and he's also a little glutton, constantly wanting me to feed him. He's a funny little guy too, doing silly things all the time that make me laugh, like constantly holding his mouth in a perfect little "O" whenever I'm in the room.
---
"Animals are reliable, many full of love, true in their affections, predictable in their actions, grateful and loyal." ~Alfred A. Montapert
My Bettas:
Dude-Male Salamander HMPK & Molly-Female Marble HM
My Goldfish:
Rory
S.I.P. Beta-Blue & Black CT//Dragoon-Dark Copper DSPK//
Merlin-Red VT//Raku-Multi-Colored CT
My Journal
ooh, love this thread.

Sebastian is my spitfire, he is all male, gets very worked up at seeing his reflection, and stalks around his tank like a predator lol. He is also very curious. He will not leave the gravel vac alone when I clean his tank. He is curious about me, but he never flares at me. He is ALWAYS moving.

Amp is my calm and collected boy. He wont flare at anything, ever, and I imagine its because he thinks it 'would be quite rude.' He is also very active but he swims in such an easygoing manner in comparison to Sebastian :P

Audrey is my new lady, Ive only had her for 3 days, and shes been a bit sick and lethargic up until today. I have been treating her, and today she is all sorts of spunky! Im very excited about this, but Im not 100% sure of her personality yet.
My fish Rusty, likes to chill out in his silk plant to catch his breath from swimming. Sometimes when his tank light is on and he is flaring his full redness -- he pecks at the leaves if they are in his way while swimming. Our pets are such a joy to watch.