Got a neglected betta.
---
today was kind of a surprise, I home to an extra fish sitting on my desk in a digusting smelly tiny bowl with poop and what I think is, remains of a java fern.
apparently today when my mom was picking some up flowers from the floral store, she saw this poor guy and tapped on his glass. my mom was like, "oh, he doesn't look so happy" and the owner started chatting with her about it, the lady apparently didn't really care much for the fish anymore so my mom was like, "oh I have kid who likes fish, maybe she can heal it" and she came back with it.
apparently, the dumb lady at the floral store thought that a single rotting plant in a bowl can "clean" it so she has
never
cleaned his bowl before, EVER. His bowl holds like 2 cups of water..
the water was brown and smelled awful so I immediately got him out of there and dumped everything in the bowl. I was did a water test and omg, I was shocked, the ammonia levels were so high my test kit didn't register it! I can't believe this fish is even alive. I swear, this is exactly how the test showed up: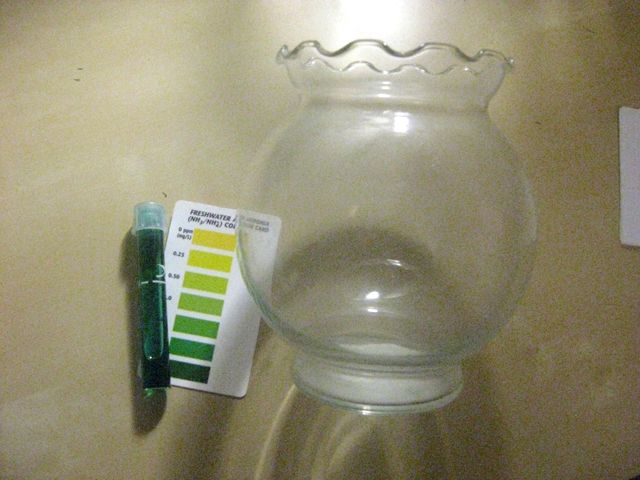 but I am more shocked at how resilient this fish is, after I placed him a 1.5 gallon with fresh clean warm water and some aq. salt, he slowly begun to swim and even accepted some frozen brineshrimp. only a couple hrs ago he was half-dead. I have high hopes for this fella, I think he is going to survive. once I perk him up, fatten him and do a round of preventative medication, he will be the first fish in my divided planted 10 gal.
he does have really bad ammonia burns, you can see the burns around his gills.
but I think it will heal, Im going to try and get him some IAL.
he doesn't have a name yet so I am open to suggestions, I was thinking of calling him Mercy but I am not sure?
needless to say, this was one neglected fish, hopefully he will get the life he deserves with me! after my last rescued red female died, I was so nervous about getting new fish that my 10 gal has been sitting empty.
---
Last edited by darkangel; 08-09-2013 at

08:07 PM

.
geez, he is gorgeous! Those ammonia readings are unbelievable...it's a blessing and a curse bettas are so hardy, isn't it? Nothing else could survive those living conditions, but maybe that's for the better.

You should get a snap of him in his 10g and send it to the florist! He's going to be loving life and I bet he's damn relieved to be with someone who knows what they're doing at last. Kudos darkangel!
New Member
Join Date: Mar 2013
Location: Washington DC
Posts: 24
ohmygod.
Poor baby! D; the ammonia readings are crazy!
That is just sad
, he is one lucky betta though! what are the chances of him ending up with you? probably a couple days later he would be dead. He really got a second chance at life, you should name him "chance".
Member
Join Date: Feb 2013
Location: texas
Posts: 899
He is sure a lucky boy to have you! I can't believe some lady thought he could live in those conditions! I hope his ammonia burns heal quickly! I think some IAL maybe be amazing for him if you can get some, Ebay has alot for cheap!

Chance, Blessed, Magic, Happen or Flo might be some good names!!
---
GIVING AWAY PLANTS? REAL OR FAKE, I'LL TAKE THEM

3 males: Mardi (OHM) - Mason (HMPKCTEE) - Maddux (HMPK)
1 female: Mercedes (Undecided again) Maybe VT or Delta
Oh how very sad that he was living like that. So glad your mom brought him home to you. He will have a wonderful like from here on out. He's a lucky little fella.
---
~Kelli
2nd chance sounds like a good name. Or even lucky
he is resting on a silk plant right now!
he is breathing a bit heavy, probably the ammonia poisoning. =S

I like the name Chance! So I guess I'll call him Chance :)
That's a good name... Keep us posted.
Please keep us posted, sure hope he will be ok. He is probably in shock and doesn't know what to do in clean water. :( Poor boy!
---
~Kelli