Things don't seem to be well!
---
Well as most of you know, I recently moved into a room I'm renting from a couple, so I only kept my 10 gallon thatg I split between my 5 favourite boys: Roald Dahl, Joachim, Renard, Corona, and my new boy. I haven't had time to move them into the room yet, so it's still in my old room at my aunt;s house. I pop in a few times a week to feed them and check on them.
I didn't make two of the dividers wide enough, and Corona would swim through the dividers, so I cupped Joachim and Renard temporarily since I wouldn't be able to check on them 24/7. Better to be in a cramped space than torn to shreds!
Last time i visited them was Sunday, and I just went to seem them briefly today between my painting class, and Joachim was dead in his cup! I'm heartbroken.
He had such a personality, and I loved the way he looked-he had such pretty emerald greens in him, I was planning on breeding him to Lani whenever I had the opportunity... I imagine their fry would be such a pretty green.
And Renard (I released him into the area that Joachim was in and put a bigger divider isn't looking so well either...His fins are a little torn and he seems pale. My new boy seems to spend most of his time in his plant, too (though I did come to check on them when they were sleeping).
I really hope they're okay. Renard is my baby, I really hope he'll be okay. So now I'm really worried for my boys...I didn't have time to clean the whole tank, but I did a 50% WC.
Crossing my fingers that they're okay...
Phew...sorry this turned out to be so long. I feel terrible that Joachim died while I was away. I wish I could have helped him...RIP Joachim.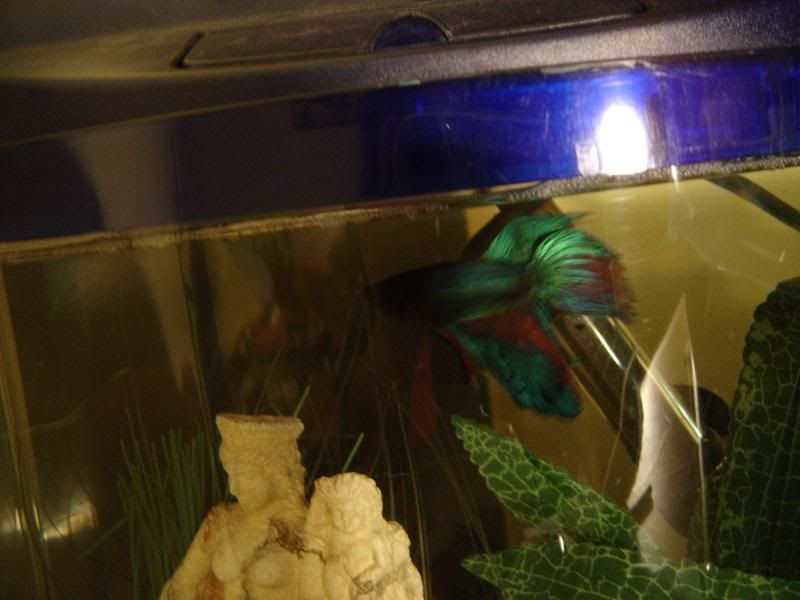 ---
Puck (Yellow koi HM king) / Scar (White HM) / Salt 'n Pepper (Silver HMPK) / 'That fish' (Copper butterfly HM) / No name (White DT) / No name 2 (Turquoise/white marble HM) / No name 3 (Lilac HM)

Bo Peep (Cambodian VT) / Goldilocks (Yellow VT) / Joie de Vivre (Multicolour VT) / Lil' Peep (Blue VT) / No name (Dalmatian VT) / No name 2
Banned
Join Date: Jul 2008
Location: Central Texas
Posts: 27,607
I'm so sorry about Joachim!! He was so pretty. I think you were right to put them in the cups rather than have them get to each other and kill each other. I hope your others will be ok.
Oh no!!!! :((( So sorry!!!!!!!!!
---
"Whoever said fish were low maintenance obviously never owned fish"
Member
Join Date: Sep 2009
Posts: 3,477
I'm so sorry. :( He was so pretty! I agree with DQ, you did the right thing.
---
Thanks, that does make me feel better. I guess I'll just remove one of the dividers and split it between my 4 boys rather than getting a new betta. It was a bit cramped with 5 dividers in there.
---
Puck (Yellow koi HM king) / Scar (White HM) / Salt 'n Pepper (Silver HMPK) / 'That fish' (Copper butterfly HM) / No name (White DT) / No name 2 (Turquoise/white marble HM) / No name 3 (Lilac HM)

Bo Peep (Cambodian VT) / Goldilocks (Yellow VT) / Joie de Vivre (Multicolour VT) / Lil' Peep (Blue VT) / No name (Dalmatian VT) / No name 2