my first betta club meeting =)
---
well today i attended my first meeting since i was contacted and told of a new club being formed here in ca it was a small group their was 6 of us all together (including my bf) since about 3 others werent able to come there was food and there were two demos the first was how to pack and ship bettas and the second how to set up a spawning tank there was also a raffle of bettas and a few things a powerhead some maracyn and an airstone that bubbles without any air and also a battery operated air pump i won a male but i passed on him because i had no room and he had been chewing his tail like crazy their were also these huge females they looked like someone fed them miracle grow O.o they were like 3 inches long and real fat i woulda taken one if i had room for it and no one wanted them =/ i was a little nervous cuz i was the youngest there by about 10 years lol but it was sorta fun all the ppl were really friendly the clubleader had a pretty nice fish room and a bunch of spawns going and loads of fry i got to bring home the male hm blue gas that i posted a while back i was getteng (i woulda gotten him sooner but he had gotten sick) and a 3-4 month old female and heres pix! =D
heres Pyramis =D i woulda got better pix of him but he didnt feel like modeling for me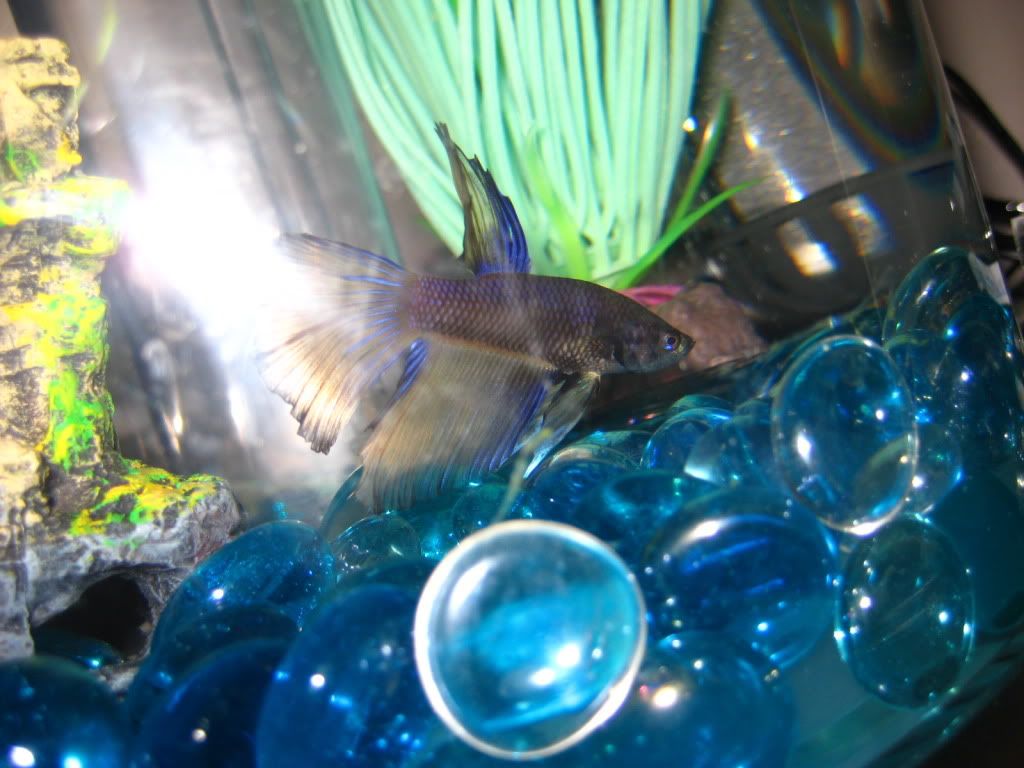 and heres the girl =D i named her tilly she might be a doubletale but it could just be a small nip in her fins she has the tinyest ventrals!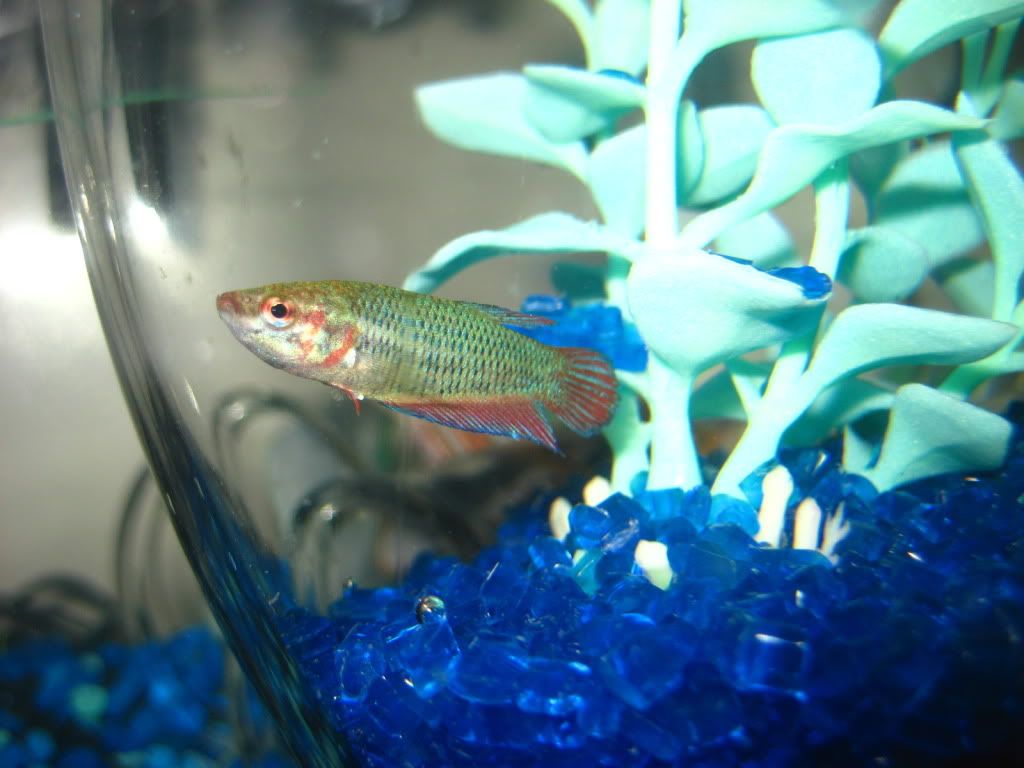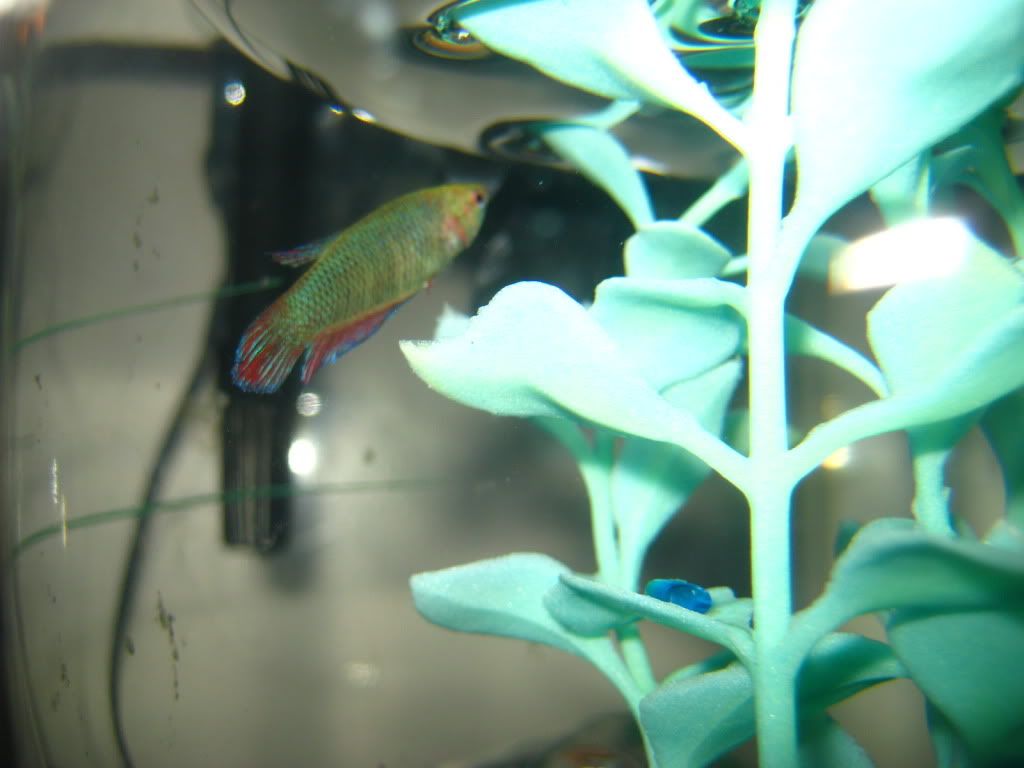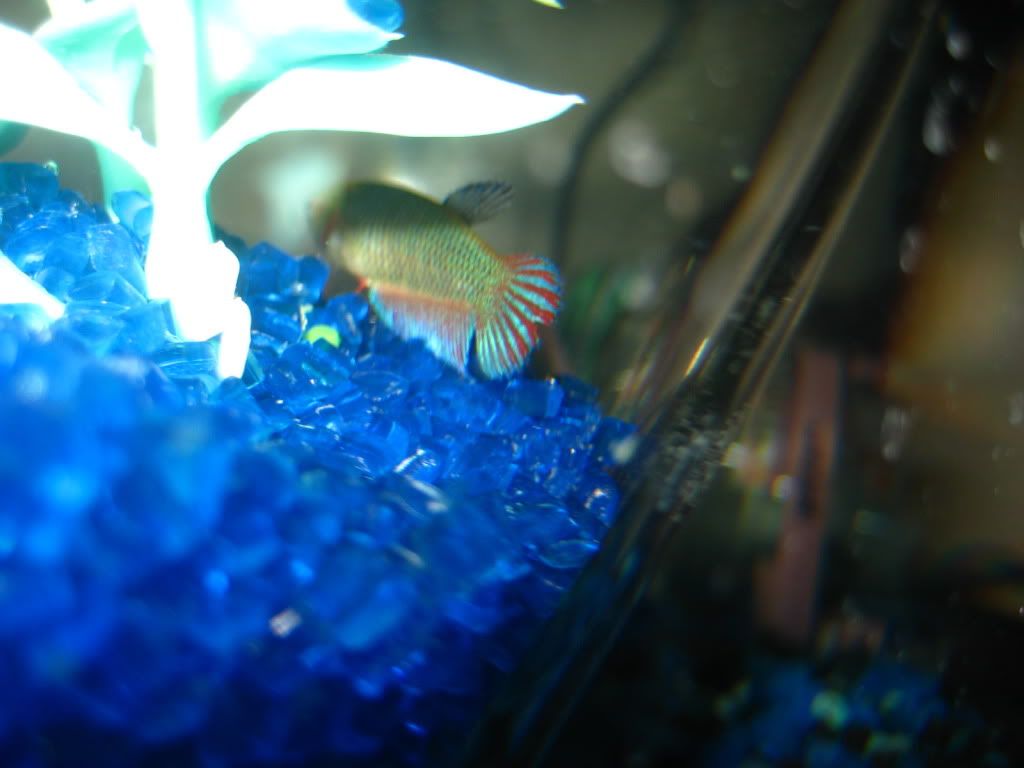 Ooooh! Pretty Fishy! Ya know, Lucky has those ruins too!!
---
"Do your duty in all things. You cannot do more, you should never wish to do less."
~Robert E. Lee
Nice fish!!!!!

The female is defiantly not a double tail though.
---
"Whoever said fish were low maintenance obviously never owned fish"
They're both so pretty! The female just has a nip in her fin.
---
Puck (Yellow koi HM king) / Scar (White HM) / Salt 'n Pepper (Silver HMPK) / 'That fish' (Copper butterfly HM) / No name (White DT) / No name 2 (Turquoise/white marble HM) / No name 3 (Lilac HM)

Bo Peep (Cambodian VT) / Goldilocks (Yellow VT) / Joie de Vivre (Multicolour VT) / Lil' Peep (Blue VT) / No name (Dalmatian VT) / No name 2
That's what I thought but I was told her mother was a double tail so she has the gene in there so we'll see what happens if I breed her later :)