New Member
Join Date: Apr 2010
Location: Jacksonville, NC
Posts: 14
Newbie noob!
---
So... this is going to be a bit of a story... but I want to share it with you all.
About 6 years ago, I got divorced from my husband, and me and my 2 small children (at the time, just over a year and 5 years) moved into a small apartment. One day, we went to the local all-in-one store Meijer (like a WalMart) and my son (the 5 yo) seen this "pretty fish!" It of course was a Betta. He was a bright blue and he named him Blueberry. My daughter (the 1yo), was trying to look at the fish about 4 months later, and, pulled the entire tank onto the floor while I was in the bathroom. No big deal right? Wrong. She climbed down off the chair and stepped right on Blueberry. It was a terrible day for my our little family that day. Our very first pet, and he had to get the big flush.
Fast forward about 6 years to present time!
My now 11 year old son and 6 (almost 7) year old daughter, get a Triop kit from one of my friends. We start growing them in their tiny little tank that was included with the kit, and I started reading up on Triops, that they need more room, blah blah blah. I also read that it is good to have a couple of snails to help keep the tank clean. Sooooooo, off to the pet store I go to buy a larger 1.5 gallon tank for the Triops and the new snail I was going to get. I buy 1 ugly looking snail that they had for sale there which was called a "mystery snail." Needless to say, the tank was too small with the 1 snail (Gary) I bought and the hitchhiker that came with him (Spongebob), and the "slime" was too much for the Triops and they all died. Well, I sort of started to take a liking to the snail and I bought another one, this time a pretty blue one (Squidward)! I then decided that I wanted a bigger tank so I could have MORE snails! So, I went out and bought a 20 gallon long tank and put my snails in there. Well, we had gone back to the pet store yesterday, and since my kids are on Spring Break, they went along. (Are you still with me? Here comes the good part!)
My son starts looking around in the fish, and he comes up to the giant display of Betta fish. He spies this one little Betta, and he pulls him down and brings him up to me and says "Mom, this one looks just like Blueberry did! Can we get him?" This surprised the heck out of me because he doesn't remember alot from that time frame. I stood there for a minute, and my son gets out his wallet, and pulls out $2 and says "Please mom! I'll buy him myself!" I start to giggle. I say to him "Son, you don't need to pay for him, I will buy him for you, but just don't tell Papa!" (I got remarried.) So, he says to me "Okay! I'm sure he will love the big tank! Do you think we should buy 2? He might get lonely!" I start laughing and tell him why we couldn't have 2 "Blueberries" in the tank, and he agreed that it wouldn't be a good thing.
So, we get him home, I pour him into a net, let him loose in our big 20L tank, and he happily swam around in a small circle for a bit, and then figured out that he has a HUGE tank to swim in! I don't know how to tell if a fish is happy or not, but, I would have to say he looked pretty happy! He hasn't bothered the snails at all, and we got him some Betta formulated food today. I gave him about 3 this morning when we got home and he happily snatched them up, and even ate some of the snails seaweed as well!
I like to be well informed about animals that we own, so, here I am! Hoping that I can learn more about our new Blueberry.
So, now in our tank we have Blueberry, Gary, and Squidward, and still in the 1.5 we have Spongebob.
That's great that your betta has a big tank!
Sorry about blueberry the first though RIP
Do you have any pics?
---
Banned
Join Date: Dec 2009
Location: Jacksonville, Fl
Posts: 162
New Member
Join Date: Apr 2010
Location: Jacksonville, NC
Posts: 14
I don't have any yet. I'm working on it tho! I will be sure to post some as soon as I get them! I, unfortunately, did not get a light when I bought my tank, so, I will have to wait until tomorrow when I have better light! I imagine I could try to get one on my cell phone, which has a pretty powerful light on it!
I'll see what I can do about getting Blueberry out from the back side of the tank and take a picture of him with the cell phone tonight and post it for you guys. He's rather pretty, tho, pretty common. He has a dark blue head which goes to lighter blue towards the back and his fins are a lighter blue. He does have a strip of red on his pelvic fin, tipped in white! Very patriotic fish for our Marine Corps family!
He seems pretty!
Also try to get a full tank shot!
---
Banned
Join Date: Jul 2008
Location: Central Texas
Posts: 27,607
Hello and welcome to the forum.
New Member
Join Date: Apr 2010
Location: Jacksonville, NC
Posts: 14
I will do my best to get a shot tomorrow. My husband took us out to Olive Garden for dinner (what a great surprise!)! It's now pretty dark and I wouldn't be able to get a very good shot.
I'll work on it in the morning and post a shot of the tank and of Blueberry!
New Member
Join Date: Apr 2010
Location: Jacksonville, NC
Posts: 14
Okay... I tried to get some pictures of Blueberry. They didn't turn out so wonderful, but, here he is!! Like I said... I will try to get some better ones tomorrow!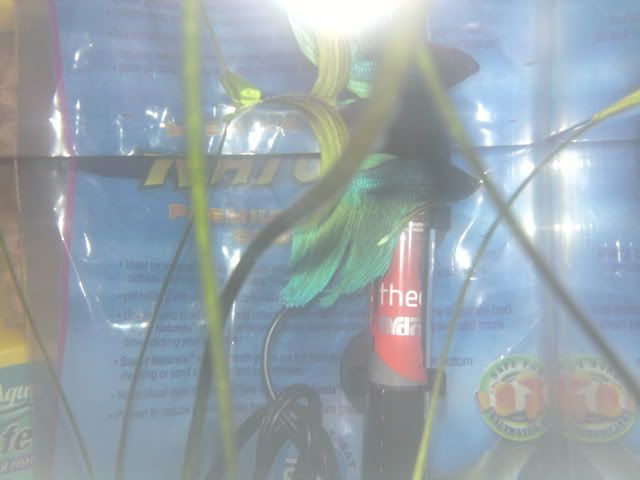 I've got a couple more uploading, and they're a little closer, but, still not fantastic. Hopefully they will upload soon and I can put them up for you guys to get a better look! :D
What a cute story! Blueberry will be very happy in there with his tankmates. He's beautiful! Welcome.
New Member
Join Date: Apr 2010
Location: Jacksonville, NC
Posts: 14
Okay... here are the other ones that uploaded!
I'm hoping that he brightens up a bit, and sorry about the horrible pictures! (They were taken with a cell phone after all! :P )