View Poll Results

: Which name fits him?

Pax (meaning is peaceful)
6
25.00%
Taji (Japanese for yellow and silver)
9
37.50%
Milo
6
25.00%
Cosmos (flower)
3
12.50%
Voters: 24. You may not vote on this poll
What should I name my new yellow boy??
---
I have a few names I like. Or you can suggest a name if you do not like the ones I have on the poll.
Here is a pic: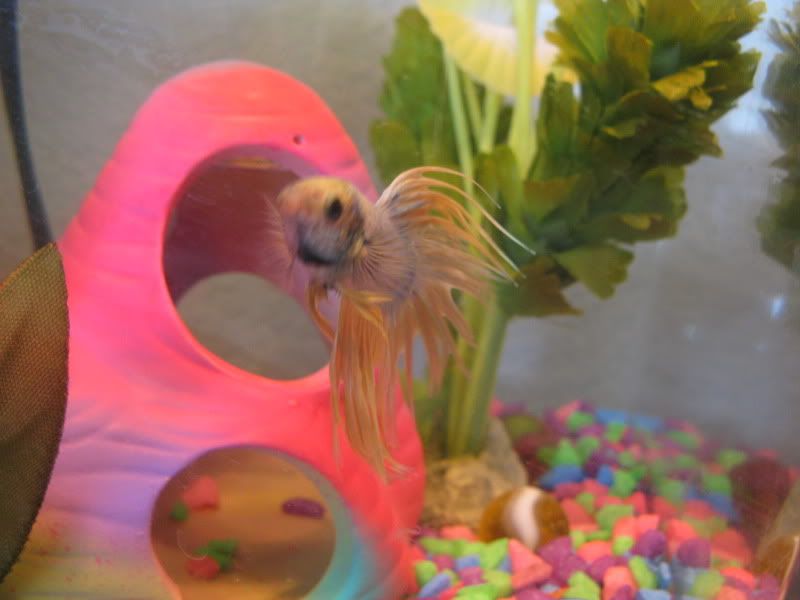 ---
*~* Sarah *~*
Nero, Buzz, August, Nimbus, & Percy

. .·´¯`·.. >><((((º>
¸.·´¯`·...¸(><((((º> . .·´¯`·.. >><((((º>
`·.¸¸.·´¯`·>><((((º> `·.¸¸.·´¯`·. (><((((º> ·´¯`·. (><((((º>
Pax or Milo. Or if you're looking for something really exotic, Orpheus (I like wierd names ok? Lol) Beautiful fish ;)
---

In the hobby for 9 years.
I really like Milo.
---
Bettas: Rose, Sophia, Addie, Ghost, Buster, Holt, Aidan, and Mercutio!
Cassandra
Just my animals: 0.2 Cornsnakes, 0.2 Bearded Dragons, 1.0 Water Dragon, 2.2 Crested Geckos, 1.0 Tiger Salamander, 0.0.1 Tadpole, 0.0.2 Red Eared Slider Turtles, 0.0.1 Map Turtle, 0.0.2 Hermit Crabs, 1.0 Hamster, 1.0 Rabbit, 0.1 Horses, 2.2 Dogs, 0.2 Cats, Chickens, Ducks, Oscar Tank, Planted Bowl, 10 Gallon, 4x 0.5 Gallon, 5 Gallon, and Planted 25 Gallon Tank....Is that it?
Taji!!

I have a boy named Pax. :)
---
"Whoever said fish were low maintenance obviously never owned fish"
Member
Join Date: Sep 2009
Posts: 3,477
Love the name Pax for him! :)
---
Banned
Join Date: Jul 2008
Location: Central Texas
Posts: 27,607
I'm thinking Pax
---
"Do your duty in all things. You cannot do more, you should never wish to do less."
~Robert E. Lee
So far Pax has the most votes. It is hard because I really like both Pax and Taji.
---
*~* Sarah *~*
Nero, Buzz, August, Nimbus, & Percy

. .·´¯`·.. >><((((º>
¸.·´¯`·...¸(><((((º> . .·´¯`·.. >><((((º>
`·.¸¸.·´¯`·>><((((º> `·.¸¸.·´¯`·. (><((((º> ·´¯`·. (><((((º>
had to pick Milo because I love the movie Milo & Otis.
---
Animal testing is a terrible idea; they get all nervous and give the wrong answers.