To add to the "death wave"...
---
Set's passed, too.
This is getting pretty discouraging. He wasn't looking so hot the past few days. I went to stay at my aunt's house last night, and he was dead when I came back today.
He was such a pretty boy, too. RIP Set.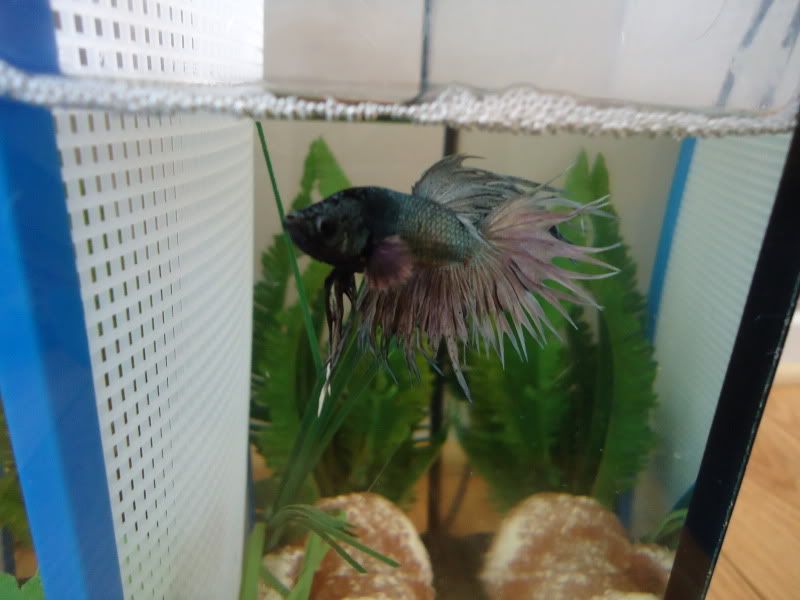 ---
Puck (Yellow koi HM king) / Scar (White HM) / Salt 'n Pepper (Silver HMPK) / 'That fish' (Copper butterfly HM) / No name (White DT) / No name 2 (Turquoise/white marble HM) / No name 3 (Lilac HM)

Bo Peep (Cambodian VT) / Goldilocks (Yellow VT) / Joie de Vivre (Multicolour VT) / Lil' Peep (Blue VT) / No name (Dalmatian VT) / No name 2
Awwww, Im so sorry aboout the lil guy :( He's gorgeous. He lived a good life with you.
---

In the hobby for 9 years.
Member
Join Date: Sep 2009
Posts: 3,477
I'm so sorry. :( We've definitely had a big death wave. It needs to stop!
---
Oh no!!!!!!!! So sorry about your little copper guy!
---
"Whoever said fish were low maintenance obviously never owned fish"
That's too bad. I'm so sorry!
My VT isn't looking so hot . . . I hope he isn't next . . . or maybe I'm getting paranoid. Yikes.
---
Addicted for life
Banned
Join Date: Jul 2008
Location: Central Texas
Posts: 27,607
Very beautiful fish. He reminds me of a chocolate lily (without the poop smell, I'm sure). I'm sorry he passed :<
So Sorry About Set! D=
---
"Do your duty in all things. You cannot do more, you should never wish to do less."
~Robert E. Lee
soo sorry about Set
---
55 gallon planted tank, starting over!!!( looking crappy, needs a major rescape)
So sorry about your lil guy. :(