Disappointed in my Petco >:[
---
My Petco that usually has fish of vibrant colors and clear betta cups... I was so shocked today! I mentioned in another thread that I saw a betta with HUGE popeye and fungus... well now the water's yellow! The betta himself was so ugly and grotesque I couldn't bring myself to get him in the shot:
(took this with my phone... almost got caught)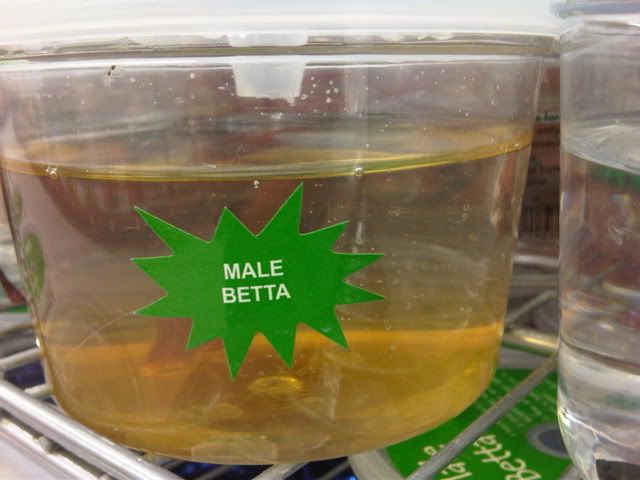 But better news now! I saw this cutie:
If I didn't already have a yellow betta, I would have snatched him up ;) (He's a delta btw)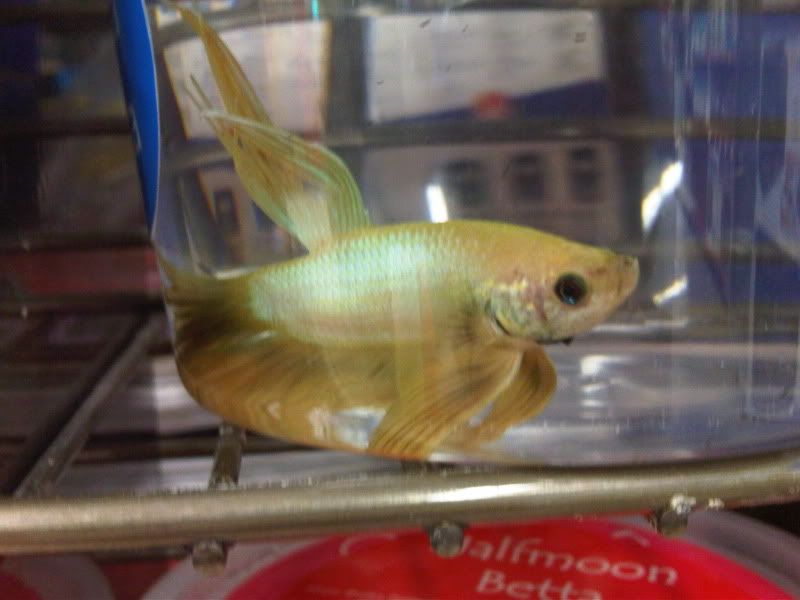 All in all, every single betta had something wrong with him/her. From a little curling to popeye O_. bleh. I won't be buying bettas from there any time soon...
poor betta,and whats wrong with delta you should have him!
---
55 gallon planted tank, starting over!!!( looking crappy, needs a major rescape)
Quote:
poor betta,and whats wrong with delta you should have him!
I'd just rather not give money to this Petco. I don't want the employees thinking a lot of people will still buy these fish in the horrible conditions ]: Also, my mom specifically told me "we're not getting any fish" before we walked in...
Thats bad...I think even my petshop at least treats the pets if there is something wrong with them.
---
<3 My betta fish.
Bruteroot ><)))'> And Fruitroot ><)))'> (RIP) Berry >><))))'>

awww! did she not see the way they were being kept your saving lifes
---
55 gallon planted tank, starting over!!!( looking crappy, needs a major rescape)
This is the first time I saw any signs of illness in any Petco's betta selection ;_; Maybe the old fish employee quit? I hope not :[

My mom honestly couldn't care less about my fish T.T She doesn't realize how much i love them!
Write to their HQ, under the "Contact Us" link on their webpage. I had this same problem with my local Petco, wrote a nice, but firm letter stating that I would not be shopping there until I saw conditions improve. I got a call from the manager two days later, talked to her regarding the fish and the attitude of a certain employee, and the care has been nearly PERFECT since. And the employee was fired. Today, I went to a petco in another town and saw the same problems. I found the manager and pointed them out and will be writing another letter. You should do this as well, they seem to respond well.
My Petco is terrible with fish of any kind. I've only looked at their bettas a couple of times, but it was enough to know that I wouldn't want to buy one from them. I won't shop there at all anymore, actually.
---
Despair is for people who know beyond any doubt what the future is going to be… In that case, there is always hope. ~Dr. Patrick Curry

Ophelia (Petunia), white with specks of violet on fins F
Merlin, navy with orange fins tipped in navy VT M
Gareth, orange dalmatian VT M
Lancelot, blue/ green VT M (RIP)

That looks just like the situation the bettas were in at the petco closest to me. ANd that second betta looks exactly like one that they had there too!! Poor fishies.
---
*~* Sarah *~*
Nero, Buzz, August, Nimbus, & Percy

. .·´¯`·.. >><((((º>
¸.·´¯`·...¸(><((((º> . .·´¯`·.. >><((((º>
`·.¸¸.·´¯`·>><((((º> `·.¸¸.·´¯`·. (><((((º> ·´¯`·. (><((((º>
Kuklachica: That's so much work @.@ I think I'll just keep feeding her tropical flakes and bloodworms >.< I hope she'll be alright.. I'm going to rehome all my other tropical fish (minus a few female guppies and cories) to give her more room :) Maybe then she'll have less competition for her pellets!

I have another Petco about 15 minutes away.. I guess I'll go there from now on. Their bettas are so lovely (;

Omgosh... I'm itching to make a sorority o_o" someone stop me!
---
Ponyo (male CT)
No Name (male VT)
Sam (female VT)
Similar Threads
Thread
Thread Starter
Forum
Replies
Last Post
alittle bit disappointed

sstacy19

Betta Chat

5

04-02-2010

10:25 AM