New Member
Join Date: Apr 2010
Posts: 15
I need to sell one of my tanks boo
---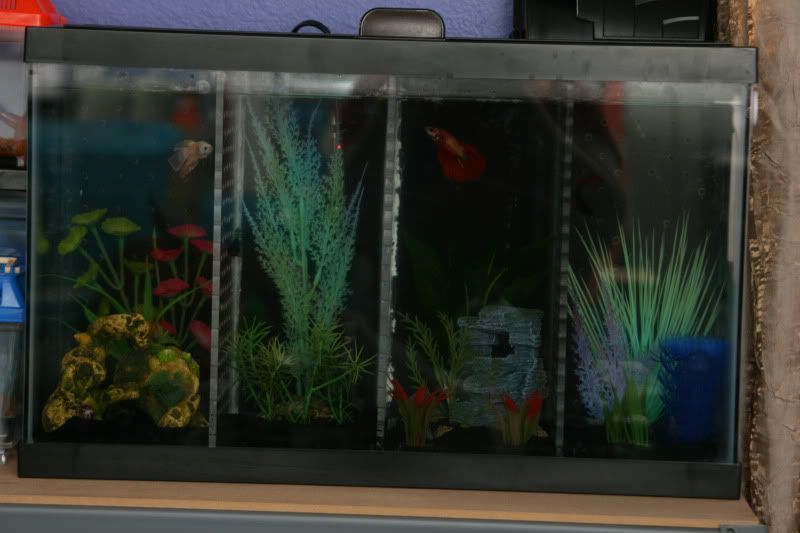 I have a tank that I divided into 4 and it works just fine for my bettas. I am going to be moving, and will need to sell the tank because I will have to stay at my dads for a month, and i cant take it with me. I wasnt sure where to put this.
I am looking about $75 dollars or best offer.
Includes:
10 Gallon Tank (back spraypainted to block off the back)
Whisper Filter for 10 - 20 gallon
Set Heater (heats exactly to 76 degrees)
Black Sand Subsitute (Live Sand 3/5 pounds i believe)
Dividers (are siliconed to the tank, I cleaned it before hand and its pretty easy to clean)
Glass Top
I also have three mice that are going to need a new home, if anyones interested please message me. I dont want to surrender them, one of the girls has something that is causing her head to tilt, but she eats just fine and runs in her wheel and isnt sick except for the headtilt, and more then likely the shelter will just put her or them down.
It would help to know the general area of where your located.

To be honest I doubt you'll get $75 for a 10 gallon tank. Unless someone just absolutely loves your set up. The most I would ask is $45.

About the mice.. if you surrender them to a humane society I doubt the would put them down if they were in good condition.
---
*Be smart.. Do your research!!*[/COLOR][/FONT]
[/CENTER]
New Member
Join Date: Apr 2010
Posts: 15
Well thats sort of why i put best offer. I mean it was alot of work that went into it.
yeah where are you located?
---
TOMMYTEE- The HM 5Gal
SPARTACUS- The HM 2.5Gal


RIP BACARDI & GOOSE<3
New Member
Join Date: Apr 2010
Posts: 15
I agree, I'd ask less than $75. A 10 gallon tank is around $10 at Walmart, the tetra heater is around $12, the filter is only around $15, and the dividers couldn't have cost much, most use plastic canvas sheets from Walmart that are $2 for a 6 pack. So you're looking at roughly $40 worth of stuff, not including the sand, which isn't all that expensive. And for used, I agree, about $45 is the max I would ask for it. You'll be hard-pressed finding someone to pay $75.

Very nice looking set-up though.
---
New Member
Join Date: Apr 2010
Posts: 15
Well not here...the tank was 14...the filter 18...the lid 11...the sand eh...but the plexglass 10...plus the time I spent drilling and set it all up...I mean I looked at a custom aquarium place and they were like over 100 just for a 6 x 6 x 12 ish tank