Banned
Join Date: Nov 2009
Location: Orange County, New York
Posts: 578
Guys I NEED your help deciding!!!
---
Ok besides my obvious love of Veiltails, My heart really belongs to the Fancy Marble Halfmoon Plakats!! I adore them and my dream is to breed my own line of one of a kind fancy marbles. Well now that I have a steady job I can finally afford to buy a high class Thai fancy marble HMPK pair and start breeding! But I need help choosing!! I've narrowed it down to 5 males!!
Male #1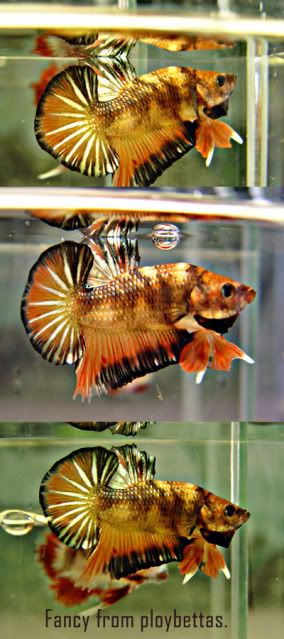 Male #2
Male #3
Male #4
Male #5
Wow sooo hard to pick,but I like bettas number 1 4 and 5 they're stunning
---
55 gallon planted tank, starting over!!!( looking crappy, needs a major rescape)
Hard to choose! If it was me I would get 2, 3, and 4!!!! LOL Awesome bettas.

Ok, after looking at them again. I'd say get number 2!!! He is my fav.
---
*~* Sarah *~*
Nero, Buzz, August, Nimbus, & Percy

. .·´¯`·.. >><((((º>
¸.·´¯`·...¸(><((((º> . .·´¯`·.. >><((((º>
`·.¸¸.·´¯`·>><((((º> `·.¸¸.·´¯`·. (><((((º> ·´¯`·. (><((((º>
i would pick one and two my fave is two he looks very steelerish
I like 4. I would totally buy a pair from you from that line.
---
*Be smart.. Do your research!!*[/COLOR][/FONT]
[/CENTER]
---
They are all amazing. There is no doubt I would pick the first one because he reminds me of my favorite holiday: Halloween.
(I also think the last one is stunning as well.)
Have fun deciding!!! You can't go wrong with any of them.
#2 #2 #2
---
My Betta's: Bonnie - Peep - Singer - Cheep - Hummer - Chirp - Tweet
Buster - Roscoe - Jack
I REALLY like 4! Since your looking at making a line, I'm looking at fin shape too. All of these fish are marbles, so they won't look this way in a month. LOL

3 has AMAZING shape.. IMO. 4 is second best. I wish there was a number three but with number 4's colors. :)
---
"Whoever said fish were low maintenance obviously never owned fish"