Banned
Join Date: Nov 2009
Location: Orange County, New York
Posts: 578
Two Gorgeous Girls For Adoption!
---
Foxy and Helena were the only 2 survivors from whatever killed off most of the girls in my 30 gallon sorority. I have no current plans to have another sorority, and after I bleach and vinegar the 30 gallon about a million times it's going to be used as a grow out for my fry when I start breeding in a couple weeks.
So these 2 girls need new loving homes!! I'll ship them to you no charge if you're ok with priority, $10 if you want express!
Helena is a black/white marble female from a Super Delta x Giant HMPK line. The line in producing A LOT of fancy marbles, black and white marbles and various colored butterflies
Foxy is from a Red HM x Orange HM line. That is producing lots of reds, oranges, butterflies and cambodians! She does have some fin damage from an attempted spawn with Firefly
These girls are a steal for a breeder!!! Please let me know asap if you want them! First serious person gets the girl or girls!!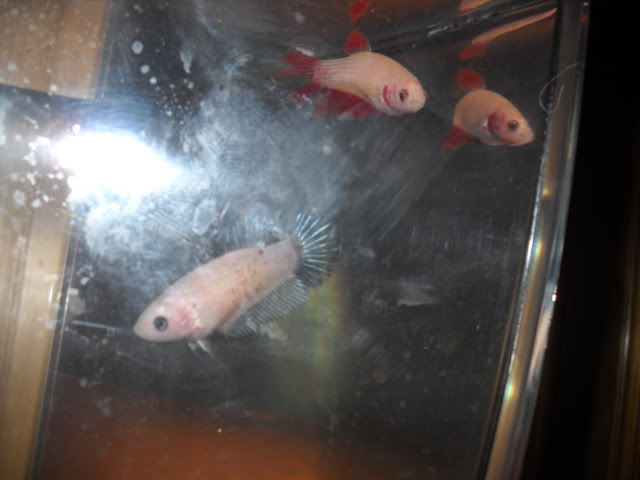 I'll take them. Let me send you a PM ;)

ETA...I'm actually really interested in Helena, but if no one like's Foxy I'll take her too as a pet.
---
*Be smart.. Do your research!!*[/COLOR][/FONT]
[/CENTER]
---
Last edited by 1fish2fish; 05-25-2010 at

01:28 PM

.
I would LOVE to have Helena.
---
55 gallon planted tank, starting over!!!( looking crappy, needs a major rescape)
Oh no. :( I am too late. I have been wanting Helena but I thought someone else (Foxers) was already going to adopt her from that other post. I had posted that if she was not interested I would take her. :) I have been looking for a female like her to breed with Leon.
---
*~* Sarah *~*
Nero, Buzz, August, Nimbus, & Percy

. .·´¯`·.. >><((((º>
¸.·´¯`·...¸(><((((º> . .·´¯`·.. >><((((º>
`·.¸¸.·´¯`·>><((((º> `·.¸¸.·´¯`·. (><((((º> ·´¯`·. (><((((º>
---
Last edited by mysquishy; 05-25-2010 at

03:52 PM

.