Yay just wanted to share :)
---
So remember the betta that I got with the unusual color that wouldn't eat?
Well after a week and a half he ate :) It was funny kind of, because I put some flakes in there, (first time trying flakes) he looks at me, then the flakes, and keeps looking back and forth, and then he tastes it, and EATS :D
then I gave him a bloodworm, which he GOBBLED
Haruki isn't bloated anymore, he was kind of not feeling well, but today he is back normal, greeting me.
Spoof is just chillin, but guess what?
I GOT A RED LILY GROWING!! the betta bulb WORKED!!!
:D and Akira's fins are growing back after Spoof decided to chomp em, when I tried to spawn them >.< and found out his bady is too short to wrap around her.
and Hisashi's fins are growing back from where he blew his tail :3
Now PICS!!!
I named this guy Pip
Here is Pip.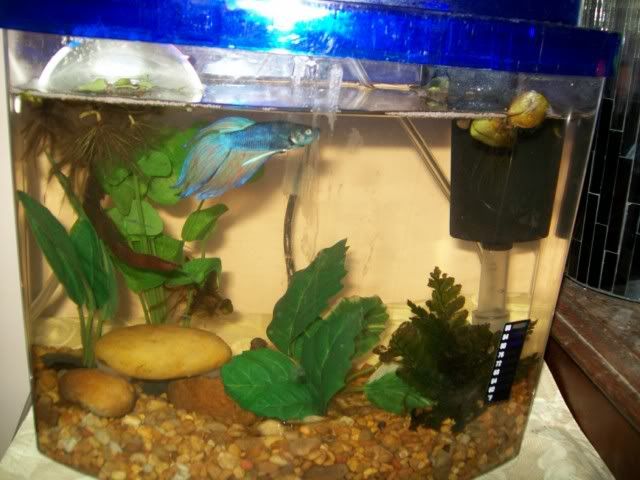 He also made two bubblenests :)
Thats great that he's eating!! Nice tank by the way.
---
55 gallon planted tank, starting over!!!( looking crappy, needs a major rescape)
Thanks, I was sooo happy, omg...
He is one betta I fell in love with, like well, all of my other bettas lmao
Banned
Join Date: Jul 2008
Location: Central Texas
Posts: 27,607
I'm glad he finally started eating for you.
LOVE the tank. Natural tanks are always so beautiful and peaceful (: Looks like your snails are trying to escape xD
Cute tank!!!!! Live plants are always the way to go if you can...

I hate to say it... but you may want to get the snails in a bigger tank.. :]
---
"Whoever said fish were low maintenance obviously never owned fish"
I kinda stuck em in there to clean the fern O.O I saw algea getting on it, i kinda just plopped em in there for a while.
and took them out.

Yeah he is a VT.

I feel good because a lot of the stuff in there i made myself :)

btw the brown thing is a leaf o.o it kinda looked funny
...I've had many pretty VT's. What do you mean?

He is so pretty, his coloring is very unique! Glad he's started eating for you. Nice tank, too!
---

In the hobby for 9 years.