Is this normal?
---
So recently I got my new betta Toothless, and gave him about 4 gallons of my 10 gallon tank. The first inhabitant, my other betta Roscoe, got downsized to 6 gallons (he previously had the whole thing all to himself)
Now the divider I put in is pretty easy to see through, in fact it's clear. I was expecting an aggressive stand-off between the two boys, yet so far, they act like they have no idea the other one is there when I know they have noticed each other. What gets me even more is that Roscoe has built one of the biggest bubble nests I have seen in awhile, a day after adding Toothless. Roscoe normally builds bubble nests within a day after a water change, yet I hadn't changed the water in about 4/5 days.
My fish are odd.
Here's Toothless:
And Roscoe: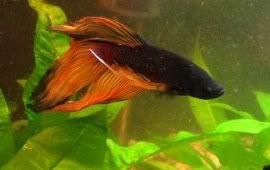 Has anyone ever experienced such easy-going attitudes in these guys? :P
Oh and excuse the cloudiness, this was JUST after adding the divider (what a struggle!) and the ramshorns create such a mess
Maybe Toothless and Roscoe are in love?? LOL.

I have boys that have tanks right next to each other and they don't flare at all. Guess it depends on the betta.
---
Animal testing is a terrible idea; they get all nervous and give the wrong answers.
Member
Join Date: Sep 2009
Posts: 3,477
Lol Romad! Some are more aggressive than others, so they're probably just both mellow.
---
Haha yeah Romad that's what I thought about the love thing :P

But it's odd; Roscoe is absolutely horrid towards his Oto tankmates. I figured he'd act the same to Toothless.
Posted via Mobile Device
you can post on here from mobile devices?!?!?! D8

I like the "in love" idea! XD I'm a sucker for romance.
---
I'm a girl! =]
Fish:
Firedrake<3
R.I.P.
Noface/Alakazam </3
Firefly </3
Genie </3

Yeah there's a mobile version! :D

Yeah my babies are in love ;)
Posted via Mobile Device
very pretty i love the orange on roscoe
---
my beta's
female purple vt-grace
blue and white marbled hm-kisame-lighto
white marbled hm-boo