Let's see.... Demyx and Cielo have black..... Storm has red and blue ...... Helios has gold..... and Jazz has clear.... O and Techno R.I.P had eyes that would change color... from white to blue to a mix of both
---
Ohana-HM blue/green/red
Hiro-DBT red cambodian
Picasso-HM Koi yellow/black
Melon-HM turquoise/orange dragon
Peaches-CT orange cambodian
Rose-CT Red/purple cambodian
Ember-CT red
Opal-CT light blue cambodian
Mariana-HM dark blue dragon
Dawn-HM silver dragon
Sweet Pea-CT red/blue/cambodian

TEAM DOUBLE TAIL
I wish i had the camera or talent to take pics like you mysquishy those are amazing shots! They all have great eyes too
---
My Fish
Onyx-DeT
My betta has pale blue eyes :)
Quote:
I wish i had the camera or talent to take pics like you mysquishy those are amazing shots! They all have great eyes too
Thanks! :)
---
*~* Sarah *~*
Nero, Buzz, August, Nimbus, & Percy

. .·´¯`·.. >><((((º>
¸.·´¯`·...¸(><((((º> . .·´¯`·.. >><((((º>
`·.¸¸.·´¯`·>><((((º> `·.¸¸.·´¯`·. (><((((º> ·´¯`·. (><((((º>
No pics (there are some in my album if you want to look, but not all of the fish) but... here is a list.

Nereus has dark blue eyes
Hattie has half amber, half blue, I believe...
Spiridion has pretty much clear eyes,
Norm has black/red eyes,
Tallulah-Faye has light brown eyes (but she has a really big pupil.) o.o
And Marmaduke... has... purple-ish eyes.
I think.
---

In the hobby for 9 years.
My betta has silver eyes with a small speck of blue in the bottom
mine has one green and one blue!!!
New Member
Join Date: Feb 2010
Posts: 172
spuds eyes where black rip
Thrillz ~ Has red eyes with a touch of silver
Marley ~ Has black eyes with blue irridescence
Freddie ~ Black eyes with gold rim around irises
Sinatra ~ Yellowish with green irridescence
Persephone ~ Dark orange with blue irridescence
Toothless has red/blue eyes and Roscoe's got plain ol' brown! :P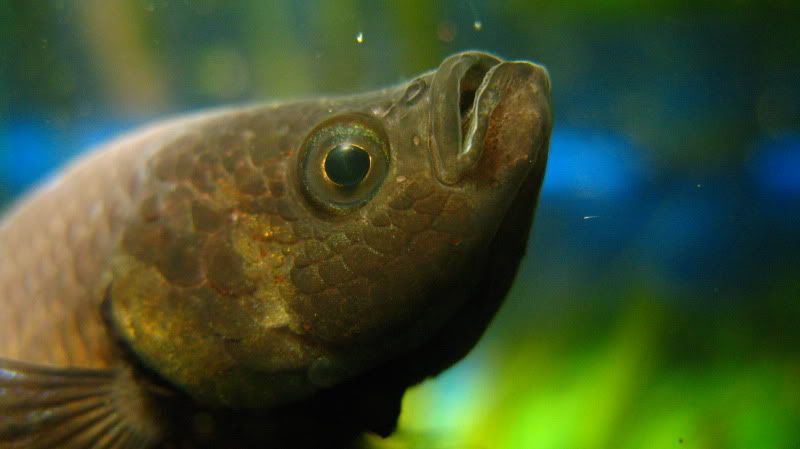 Actually, now that I look more, Roscoe's looks like a solar eclipse!