Are they always this active?
---
I'm new to Betta's and my little guy Fin is so active! He swims around far more actively than my goldfish ever did. He is in a 20 litre - 5 gallon tank that is heated.
When I chose him at the petshop, there were 6 to choose from. Fin was certainly the most alert one there, that's why I chose him.
So, is this normal for them to be swimming around so much? He seems real happy.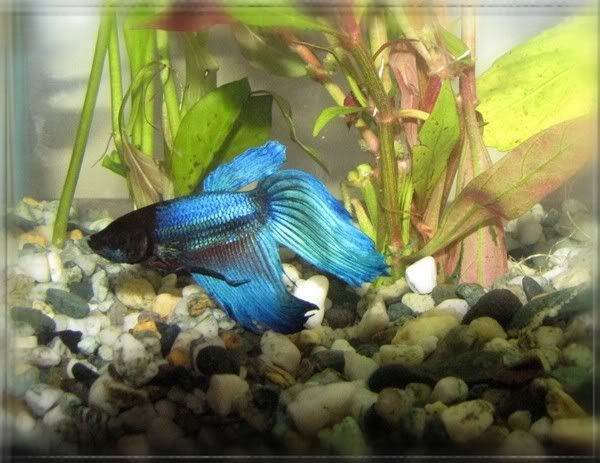 Well your definitley taking good care of him because ,contrary to popular belief, bettas are active little fish! The only reason a lot of people say they are lethargic is because often people dont give them proper care. This pic gave me de ja vu because he looks EXACTLY like my first betta midnight. Love the tank btw.
---
ヘタリア HETALIA: AXIS POWERS AND WORLD SERIES FAN!
AND PROUD OF IT! XD
(\ (\
(
)
(_(")(") This is Bunny. Copy and paste bunny into your signature to helphim gain world domination...
Yup! They're very active when in properly warmed water. Yours is GORGEOUS!
My betta Alex is NEVER non-active XD Only when he's sleeping...It's like he has fish coffee all day XD
---
Clara <3
Amour
R.I.P I will never forget you Alexander. You brightened my life
♥Alexander ♥- Maroon VT 11/14/10
I miss you every single day. You were more than just a pet to me. I love you forever and always. I hope you always know that I would have done anything to save you.
---
Last edited by Alexanderismylife; 06-25-2010 at

10:09 PM

.
yes very hyper nice tank and betta hes a vt
---
my beta's
female purple vt-grace
blue and white marbled hm-kisame-lighto
white marbled hm-boo