What is your betta's personality??
---
What does your betta do when you come home? Tell about your betta! Feel free to show a photo of your betta!!!
Alright... All eigh of them? Here I go.
Nereus kind of sits there are goes... "Feed meh... I want teh bludwurmz." I don't have an updated pic for him right now.
Marmaduke might say "Eeeehh! The feeder is here! Foooooood please." He gets all excited and does a little fishy dance for me. Here he is.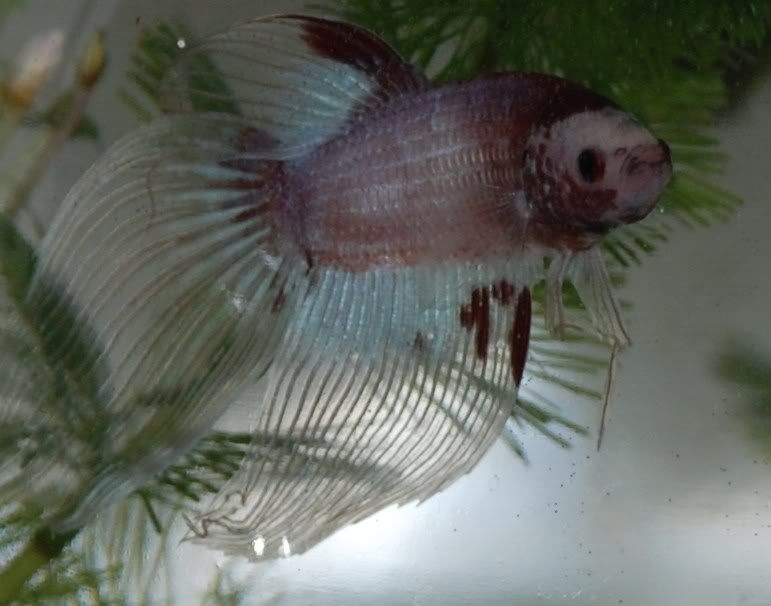 Okay... Tallulah-Faye follows me calmly around the room and seems all happy when I specifically pay attention to her.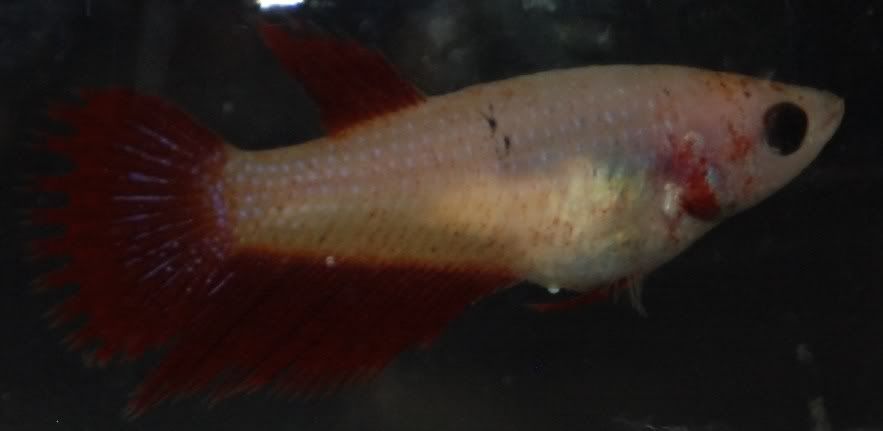 Hattie gets all pumped and flares and shows off to me in a vain attempt to get food. XD
Norm just looks at me and goes... "okay... oh, hi..." and does his thing.
Spiridion FREAKS and swims all over the place. He would probably blow me fishie kisses if he could XD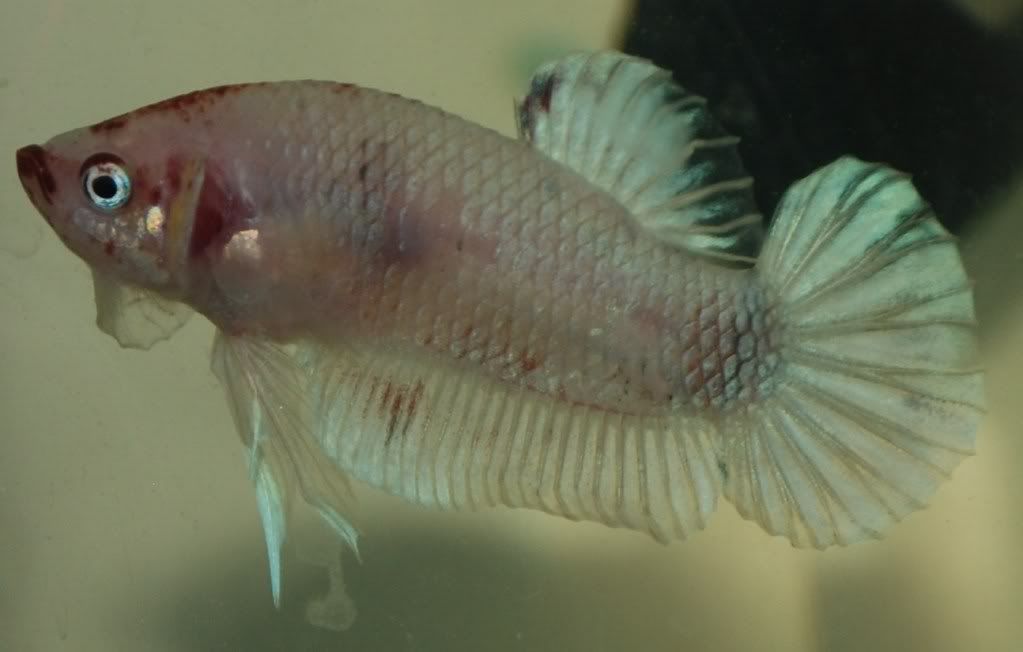 ...And Stu and Murdoc haven't even been here for a day, so I don't know.
---

In the hobby for 9 years.
I have twenty bettas.. I don't think you want me going into detail LOL They're all pretty happy to see me in general and all ask for food. If I tap the glass they know they're getting fed and get super excited.
---
*Be smart.. Do your research!!*[/COLOR][/FONT]
[/CENTER]
Berry is more "show off" when it comes to other bettas, but when it comes to food he's all like "FEEED ME PLS ;w;" And then he's just like a hyper puppy...so hyper he normally misses the pellet when he lunges at it. XD but he's calm besides that, if I put my finger in his tank he "might" try to bite it, but he more or less swims around it...I rarely do that though.

Bruteroot is more calm when it comes to other bettas, and he's just starting to get more hyper with food, he normally just waits for it to fall then noms it and goes on his way.

They both start swiming up to the tank when I wake up cause they know it's feeding time...XD
---
<3 My betta fish.
Bruteroot ><)))'> And Fruitroot ><)))'> (RIP) Berry >><))))'>

Lucky:
Lucky is a Mellow fish who doessn't really mind what happens. Being older and larger he doesn't care when Dragon Flares at him.
Dragon:
Dragon is somewhat aggressive and always flares at Lucky. But his softer side is that he LOVES LOVES LOVES human attention.
---
"Do your duty in all things. You cannot do more, you should never wish to do less."
~Robert E. Lee
Thrillz ~ Does the FOOD MEEE! dance every single time he sees me.
Sinatra ~ is a mellow little dude, hardly ever flares. But he likes to nibble my fingers too <3
Marley ~ He hates my hands. So whenever I feed he'll just stare up at me and *poof* he's angry!
Freddie ~ Dances whenever he thinks he's being payed attention to, is shy when I pull out the camera, and is always happy to see me. He also blows the largest bubblenests I've ever seen.
Persephone ~ little diva, always wants her nibblies. Follows my finger around and is just like a little shark-puppy.
Jelly Roll ~ Havent had him even a week yet, but he's a sweetheart. Not the most handsome fella ever, but his personality makes up for his looks 1000x times.
*Giant Pictures* *Warning*
Alpha: Will normally be shy and swims from my camera. He will eat his food cautiously...
Winx: She will charge at the walls of her tank. She is always wanting food. She is camera shy.
Viper: He will lounge around not really caring. He always lets me take pictures of him. He has a secret love for Bubbles, always building a nest for her.
Bubbles: Will take a while to notice me. She is camera shy too. She is always blowing bubbles and popping them!
Redhead: She lives in a community tank with gouramies and other fish. She is always wanting food and likes to eat it away from the others.
P.S. Redheads fins are not this ragged anymore.
Tango is friendly and sweet and eager to explore. He comes up to the tank to visit with you even if you don' t have food. When I clean the tank, he chases the vacuum and bites my finger. He learned to be a cory from my cats. He follows them around after feeding and looks for leftovers. He's the worlds biggest, orangest, corydoras. Sometimes he chases them and I swear they egg him on. He's my first betta boy and he'll always have a special place in my heart.
http://www.youtube.com/watch?v=D2NT3VGWM5Y
Whiskey is flaring. Always flaring. He flares at coffee cups, a little red stuffed clifford that I keep on my desk, fish food. Everything. I interact with him a lot cause he's on my desk and if you put something up to his tank he'll check it out from every angle and then flare hard at it. He's flaring at my watch (laying on my desk) while I type this.
http://www.youtube.com/watch?v=LZEPAXyMiuI
Kilo, my King betta, is a big scaredy cat. He's afraid of everything. He'll pop up quick enough to get fed but if he sees you with a camera or something big in your hands, he's outta there. He's the only betta I have that gets stress stripes and he'll get them in an instant. They go away just as fast.
http://www.youtube.com/watch?v=z2v0kLtRLQQ
Similar Threads
Thread
Thread Starter
Forum
Replies
Last Post
Such Personality Differences

AndiH

Betta Fish Compatibility

4

10-27-2009

04:11 AM