My LFS had a gorgeous cellophene male in the other day...I'd have loved him, except he had a crooked spine :(. Poor thing!

ooh my LFS had a green butterfly and a purple butterfly in once I'd bought mine otherwise they'd have been home with me.
I would love to see solid purple bettas some day *sighs wistfully*
---
/ Quill (Brown Tabby and White Pancake Monster)[/FONT]
Here.. I think this explains the Albino thing better
(from
www.dictionary.com
)
Quote:
Science Dictionary
albino
(āl-bī'nō)
Pronunciation Key
An organism lacking normal pigmentation or coloration. Animals that are albinos lack pigmentation due to a congenital absence of melanin. In humans and other mammals, albinos have white hair, pale skin, and usually pinkish eyes. Plants that are albinos lack normal amounts of chlorophyll or other pigments.
I'm still fairly new to genetics so I can't really explain how they are different from bettas who are white in color and those who are ablinos. They are most easily set apart from each other by the fact that Albinos have red eyes. Maybe someone else with better genetics knowledge will know.
Here is a great article by Bettysplendens on purples and what constitutes a "real" purple. I think a fish like the one in the second picture of the article would fetch high dollar (well over $100) if put on aquabid.
http://www.bettysplendens.com/articl...?articleid=757
---
*Be smart.. Do your research!!*[/COLOR][/FONT]
[/CENTER]
---
Last edited by 1fish2fish; 07-29-2010 at

10:58 PM

. Reason: quoted the dictionary reference
Quote:
I would love to see solid purple bettas some day *sighs wistfully*
I swear I saw one yesterday. I couldn't tell if she was purple or she just looked purple :(. Very pretty either way
My betta frys are 5 days old (JULY 28) and I was wondering when do I need to change the water tank for the fry ...(need help)
---
☆ OfFIcIaLdEeS ☆
---
Last edited by officialdees; 08-01-2010 at

10:48 AM

. Reason: Help
Purple is rare? This guy's mine! :)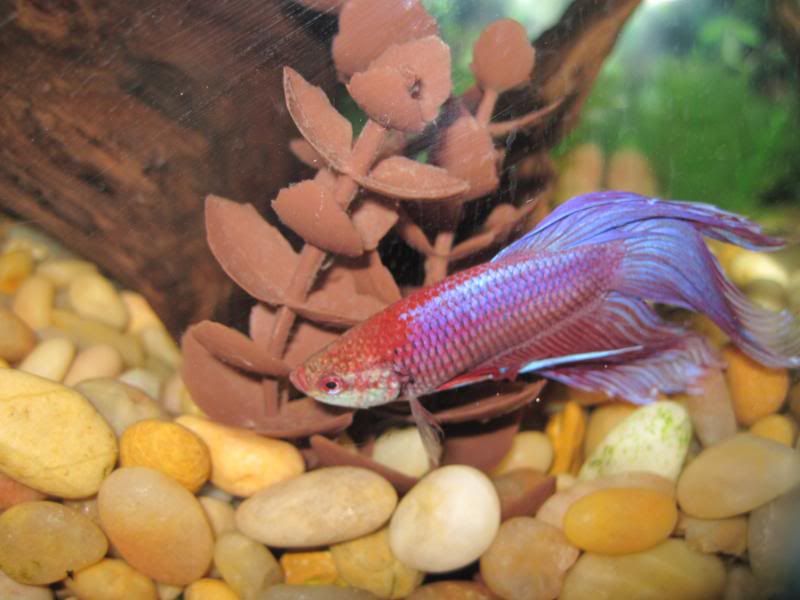 ---
~3 betta boys~
~Goober~Snow~
~Bo~
Puppy.. technically your guy isn't purple. He'd be classified as a multicolor, maybe even a salamander.

Read the article on Bettysplendens that I linked.. it outlines what a true purple betta would be.
---
*Be smart.. Do your research!!*[/COLOR][/FONT]
[/CENTER]
I would love to have an Albino or True Purple. Isn't the Blue Dragons rare? Instead of the silvery colored dragon scales, but the Blue colored scales?
---
Bettas: Rose, Sophia, Addie, Ghost, Buster, Holt, Aidan, and Mercutio!
Cassandra
Just my animals: 0.2 Cornsnakes, 0.2 Bearded Dragons, 1.0 Water Dragon, 2.2 Crested Geckos, 1.0 Tiger Salamander, 0.0.1 Tadpole, 0.0.2 Red Eared Slider Turtles, 0.0.1 Map Turtle, 0.0.2 Hermit Crabs, 1.0 Hamster, 1.0 Rabbit, 0.1 Horses, 2.2 Dogs, 0.2 Cats, Chickens, Ducks, Oscar Tank, Planted Bowl, 10 Gallon, 4x 0.5 Gallon, 5 Gallon, and Planted 25 Gallon Tank....Is that it?
Not really. You can find dragons in almost any color nowadays.
---
*Be smart.. Do your research!!*[/COLOR][/FONT]
[/CENTER]