Beautiful find at Petco...
---
So, I am now at 5 betta. I told myself no more unless I find my "dream betta". But the other day, I found him at Petco-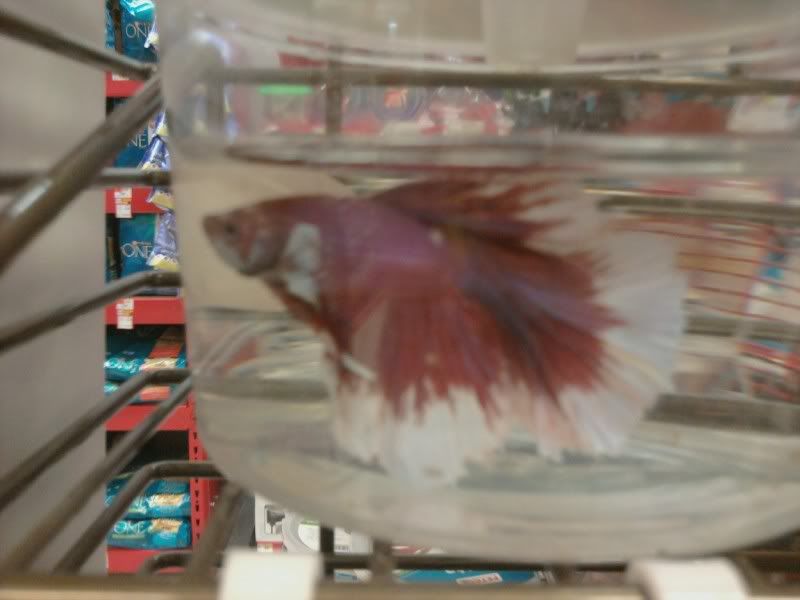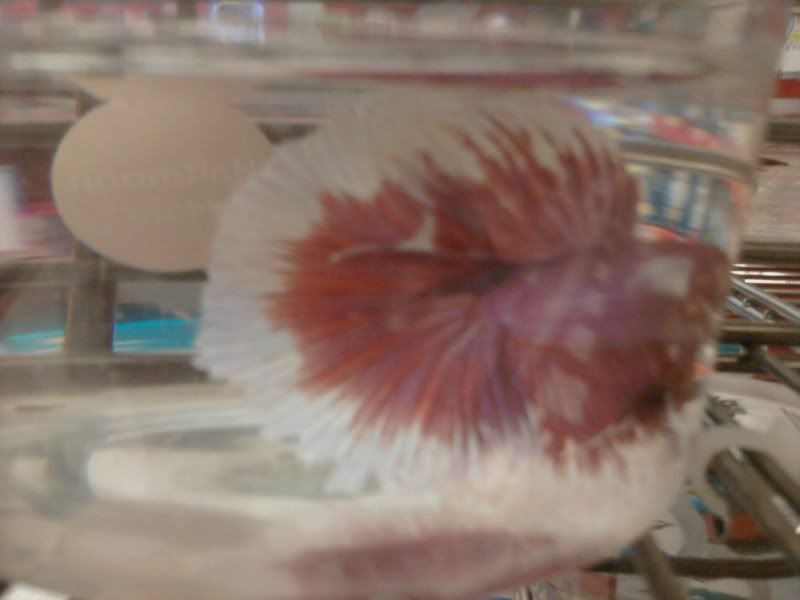 It took all of my will power to not buy him. He's a butterfly halfmoon. These pics don't do him justice. And I love his white spot. If he was blue, I'd have got him in a second. I really don't want more than 5, but I am tempted. Really tempted....
Edited to ask- I don't usually go to petco around here. Usually pet Supplies Plus, since it's closer and cheaper. But does anyone know if he is unusual to find there or not? if he is, I might make an exception to my limit of 5...
---
Last edited by SmokeNLark; 08-06-2010 at

11:17 PM

.
Oh he is so gorgeous! I love his fins.
---
*~* Sarah *~*
Nero, Buzz, August, Nimbus, & Percy

. .·´¯`·.. >><((((º>
¸.·´¯`·...¸(><((((º> . .·´¯`·.. >><((((º>
`·.¸¸.·´¯`·>><((((º> `·.¸¸.·´¯`·. (><((((º> ·´¯`·. (><((((º>
He's GOREGEOUS!!! But as for his rarity regarding Petco, you may find another like him.

But if you really love his personality then I'd go ahead and get him! =]

I wasn't sure about Genie either but he's such a chill guy that I would have regret it if I hadn't gotten him. <3

Plus there's always the chance that you wont find another like him even if PetCo's selection is typically better than other stores'. =[
---
I'm a girl! =]
Fish:
Firedrake<3
R.I.P.
Noface/Alakazam </3
Firefly </3
Genie </3

---
Last edited by wallywestisthebest333; 08-07-2010 at

12:03 AM

.
That's my biggest thing. I have the room for him, but I wanted to keep it at 5. I know that Petco has better selection, but I'm not sure if I'll be able to find another like him. I don't want to pass him up if he's rare even for Petco.
He's gorgeous!
I go to my Petco regularly and have seen fish like this.
I love his white tipped "ears".
I think you should hold off. If you're looking for a specific betta is better to pass on the other very appealing ones. I've been there and if it were for all the gorgeous fish out there I would own 100 bettas.
And if you really want to get him, go back in a week and if he's there convince yourself that it was meant to be. Ha! Done that myself before
Thanks Vilmarisv. You're right. I am looking for a specific betta. And thanks for the info.

I might go back in a week or two and see if he's still there. lol
What betta are you looking for?
He is really pretty I had the same thing happen I have three and one sick one almost bought a beauty that was really sweet a couple days ago but stopped myself cause I dont have room or time for another one right now but same thing with me maybe if he is there in a couple weeks I will get him lol.
---
Dobby - HM
Absolem - DeT
Fez - Metallic OHM
Tomato - HM
Thor - HMPK King
Sorrority tank - 1 Det - 3 CT's
Goldfish Tank - 1 Orange Oranda - 1 Calico Fantail - 1 Clown Pleco - 1 Dojo Loach
R.I.P my original three
Carlisle.Mizu.Anardil