Help?
---
My beta, Sparky, appears to have half red eyes, and half white eyes. Is he blind? I've heard that red eye bettas are blind....... If you want to see them go to profile album, Sparky.
nah, red-eyed bettas aren't blind. my copper boy has red eyes, and he sees quite well! the biggest way to tell if a betta's blind, is if they can find their way around the tank, and if they zoom in on the food when fed, imo.
Ok, my betta does that. So he's not blind. Thanks for your help!
You're probably thinking of albinos that have red eyes. Albinos are more likely to be blind, but normal red-eyes bettas aren't.
---
Puck (Yellow koi HM king) / Scar (White HM) / Salt 'n Pepper (Silver HMPK) / 'That fish' (Copper butterfly HM) / No name (White DT) / No name 2 (Turquoise/white marble HM) / No name 3 (Lilac HM)

Bo Peep (Cambodian VT) / Goldilocks (Yellow VT) / Joie de Vivre (Multicolour VT) / Lil' Peep (Blue VT) / No name (Dalmatian VT) / No name 2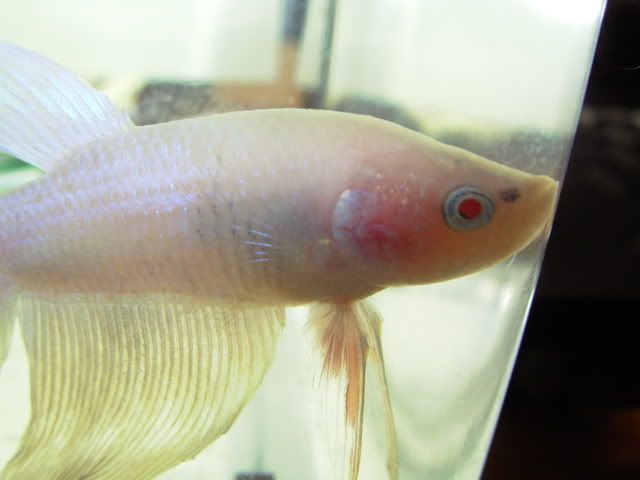 This guy, who I had three years ago, was a partial albino, I'm certain. He was blind and didn't last too long. His pupils were blood red even without the flash, as you can see.
---
SAPPHIRE (Blue Mustard Gas OHM) / Quill (Brown Tabby and White Pancake Monster)[/FONT]