jayy we need pictures of blackbeard good job saving him.
---
Female Bettas:Gaia,Bubbles,Tabitha, Rani, Kelsey, 4 unnamed Male Bettas:Oscar, Spyro, Cookie Monster, Kermit The Frog, Grover II, Alvin, Archillies, Moostash
Snails: Yoshi,Peach,Lugi,Mario
Others:Quismodo, Esmerelda, Lavern, Banch(<Guppies) 2 unnamed bristle noses, 2 unnamed reticulate "yoyo" loaches
Furbabies: Kobi & Beau
M F S ˙ʇƨσן ǝƨσɥʇ σʇ ǝɔɐǝԀ ʋƖ ʇƨǝᴚ
"Can never have too many fish"

Quote:
Originally Posted by
iheartmybettas
View Post
Why do you think I have so many? Everytime I have gone to walmart the past couple of weeks I have brought at least 1 home with me. It is totally ridiculous how the bettas are treated there. It is just as bad at the Petsmarts in our area. I have some from there too.

Yesterday on my lunch break I went to a Walmart by where I work just to check out their fish section since I haven't ever done that before. (I work far from where I live) Horrible. The fish in tanks have no lights. I don't know if they don't work or what. The bettas are on a couple of shelves all stacked on top of each other midway down the fish aisle. I almost didn't see them. There was of course 1 dead which I took over and put in the sink and I bought 2 semi decent looking crowntails. They both have some fin issues but seem like they might be easily remediated. One is on my desk at work with a heating pad in a 1 gallon until I can get a heater here and the other is at home. Poor babies!! I would buy them all if I could. If only the males could coexist. I would have a 55 gallon with a bunch of them in it. That would be so cool...
The one I went to didn't have other fish just bettas, but I'm sure they would be treated the same. A divided 55gal would be cool!!
---
55 gallon planted tank, starting over!!!( looking crappy, needs a major rescape)
Thank you, but I don't have a camrea or phone.
---
55 gallon planted tank, starting over!!!( looking crappy, needs a major rescape)
I got my Bandit at Walmart for 3 dollars. I was surprised by the price but happy that I could save him without killing my wallet :) he is a pretty halfmoon double tail with a purple body and fins with yellow on his back fins, bottom fins and a tinsy bit on his top fins.
This was what I found at my Wal Mart Monday. I was so upset. They had this display and another 20-25 bettas on the shelve next to the fish supplies. They are marketing them to the college kids. The other 3 sides of the display were full of little tiny less than 1/2g bowls.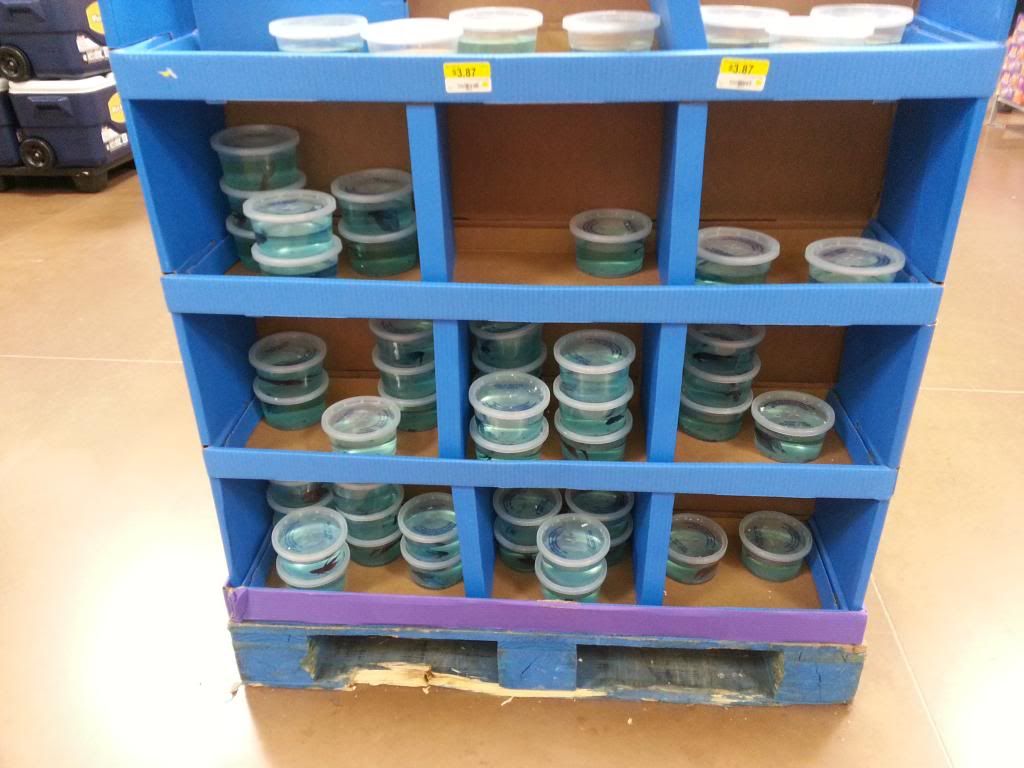 ---
~Kelli
I loathe Wal-Mart with the passion of a thousand suns. I had to go there a couple weeks ago to get a cheap bucket for water changes -- the PetSmart next door had one, but it was $15.
NO, thanks.
I swung by the fish section and was just crushed. Dirty tanks, a plethora of dead fish, and bettas in awful, discolored water. I'm not talking about the blue kind that stores have to sedate the fish. I'm talking nasty brown water. I wanted to save at least one, but I had just gotten Romeo and had no accommodations for another. So sad.
---
The bettas:
Romeo - HM male | Tzekel-Kan - DTHM male | Nemo - CT(?) male | Akio - DTHMPK male | Ares - Delta male | Diablo - SD male | Nameless - VT male | Nameless - DT female
The others:
The Fab Five: Green cory catfish | Maximus: Golden mystery snail | Ichabod & Rosa: African dwarf frogs
Swim in peace, Gaston.
My walmart is just the same...dying fish, poor water quality, ect. It is so sad
---
10gal- Peeta VT
10gal- Chester
Member
Join Date: Jul 2010
Posts: 3,026
OMG! My walmart only has 5 or 6 at a time, this is just horrible!
Guys.. we should start a betta shelter. Like what they do for dogs and cats. On a huge scale. :p hahaha

If I had the money, I'd rescue any animal in need!
Quote:
Originally Posted by
registereduser
View Post
OMG! My walmart only has 5 or 6 at a time, this is just horrible!
Our Wal Mart usually has just a handful but all the college students are back and I guess they think bettas would make great dorm fish. Sad that most will go to kids who don't care (or don't know any better) and who keep them in tiny dirty bowls.
---
~Kelli