New Member
Join Date: Feb 2011
Location: British Columbia
Posts: 32
Introducing Penny! need help Iding tail type
---
Ive been wanting to start/attempt a sorority for a while now, I was supposed to be getting my first female from vancouver this saturday but when i saw this gal in that little cup I just had to have her! When i held up the cup she swam over and pecked at my finder tips, the water was supprisingly less than half an inch from the top of the cup, with no particles on the bottom (must have just cleaned them) and her fins were in perfect condition! Shes just about all black except red shading and bright blue highlight on her fins. Im planning on breeding the female and male hm im getting from van. this spring so ive really grown intrested in tail types lately but im finding it hard to find good websites for female tail types (ive found some really good male ones but most have little or no female tail pictures/info) So if anyone can let me know a good website and help my id her tail that would be fantastic!! I was thinking crown at first but her rays seem small and more like double extentions so im starting to lean towards comb or double ray crown tail
- I dont have a cord for my good cam so i cant upload anyphotos from it so i had to use my phone sorry for the quality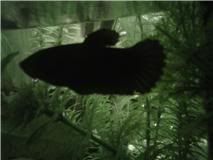 Thanks for looking!
---
Vt- Pablo++ Zanuchhi++ Bob
Ct- Penny
Hm- Izis++ Adonis (sib. future breeders)++ Titan++ Poseiden
RIP- Scarlet ++ Emanuel
Betta Count = 8.. but my sister stole one.. so 7?
She appears to be a crowntail.
---
I only have 1 betta left, but he's a cool blue marble!
皆さん、こんにちは!私は一匹のベタを飼っています。
I want to say crowntail as well, but I can't make a proper ID without seeing the rays and the webbing in clearer detail. Use a flashlight to gain better lighting, that's what I have to do with my phone. Fish photos come out much clearer. =]
---
"We weep for a bird's song, but not for a fish's blood. Blessed are those with a voice."
Dr. Gordan Freeman
- Red Veiltail
R.I.P.
Mr. Quinn Fishy
- Red Crowntail
Phinn "Boba" Fishy
- Red Veiltail
Fafnir Fishy
- Cambodian Dragon Delta