Unique Find - Should I?
---
I know the answers I will most likely get here but I'll ask anyway. I went to my favorite local tropical fish store today and found this guy. He is barely able to fit in his tiny cup when he flares 100%. He is pretty, but I'm not 100% on him yet. I still want to visit my Petco to see what they have before I decide.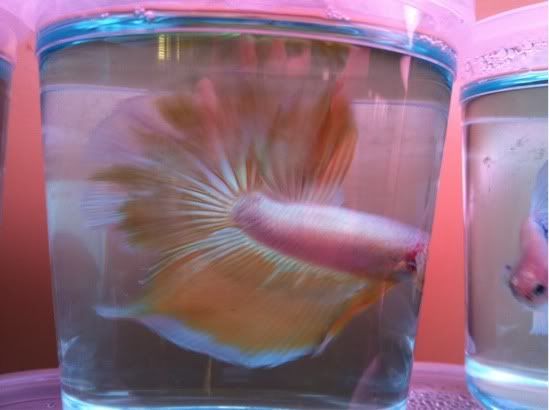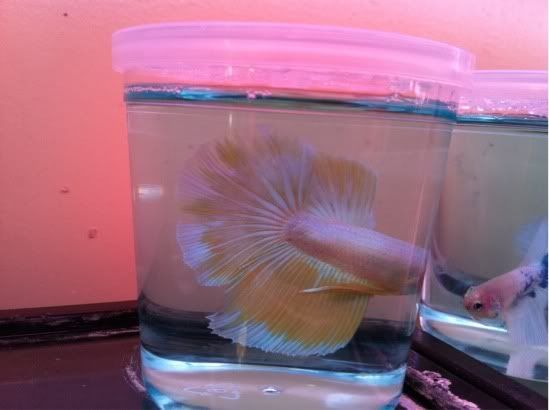 ---
Male Crown Tail - Finn
Male Marble Cellophane Delta Tail - Pollock
Male Turquoise Butterfly Halfmoon - Mojito

Gorgeous! I'd get him!
---
Wet-Pets:
None :(

Furry-Pets:
Pickle- Cream Female Hamster. Bought 28/06/11
Cucumber - Sable Female Hamster. Born 05/07/11
Skye - Grey Female Tabby Cat. Less than 1 year.
Baby - Grey/White Female Cat. 5 Years Old.

Rip:
Molly - Golden Beagle/Terrier Female Dog. 10 Years Old.
He's beautiful! I love the marble next to him too... I say get him though! He's very pretty. :)
---
Sherlock Holmes - Male VT Lance Sweets - Male HM
Mirage - Male DBT Rocky - Male HMPK red copper
Daisy - Female HM Moonlight - Male HMDBT
Captain - baby betta
Gryffindor - very sick rescue HMDBTPK
oooo I really like him!!!!!!!!!!
---
Dobby - HM
Absolem - DeT
Fez - Metallic OHM
Tomato - HM
Thor - HMPK King
Sorrority tank - 1 Det - 3 CT's
Goldfish Tank - 1 Orange Oranda - 1 Calico Fantail - 1 Clown Pleco - 1 Dojo Loach
R.I.P my original three
Carlisle.Mizu.Anardil
He and the guy next to him both look beautiful; your lfs has some great-looking fish!
Pretty! <3 He looks like a delicate flower!
---
The Boys
Sunkist and Eros


get him and the one next to him on the right
---
Multicolor FT - Musiq [R.I.P]
Marble VT - Acoustic
Red & White Butterfly CT - G.
Purple-ish VT - Alaude
Blue Butterfly HM - Asari

get him and send me the marble next to him. lol
---
If I named every betta I had in my signature then it would take up two pages of a thread. Lets just say I have many!
O.O
He's gorgeous! :o The fish next to him looks gorgeous too! Why aren't there bettas like that at my pet stores! >:O Although... it's probably for the best, I'd end up with 30959301 bettas, lol.
---
Betta Fish:Salsa,
Duck, Blueberry, El Chapo, Trotsky,Lemon
Siberian Huskies: Kapu & Lakota
... and a tank with 7 Zebra Danios



Enablers, all of you!! lol

I'm still thinking about it. Mainly where I can make room for him. When he flares he is huge, so he will really need at least a 2.5 gallon. I'm still thinking about it. :)

I'll have to go back and get some pictures of all of the nice Bettas they have to share with you all. At least I know you will appreciate them as I do. :)
---
Male Crown Tail - Finn
Male Marble Cellophane Delta Tail - Pollock
Male Turquoise Butterfly Halfmoon - Mojito