First Crowntail Girl!
---
I got her about ten minutes ago from my LPS. She's very tiny, a little bit thin (might have parasites), very stripey ... very, very young. She's steel blue with red wash. I usually don't like steels with redwash, but oh, she was too cute. There were three other CT girls at the store and I could have just snapped them up but she was the wiggliest one there. I'm sure she's too small for the sorority so she'll get her own digs for now. Right now she's flirting with Namazu (previously unnamed HM boy) ... or it's the other way around, not sure! I'll get pics soon. She is my very very first CT lady, ever. :)
---
/ Quill (Brown Tabby and White Pancake Monster)[/FONT]
Here she is! I fed her afterward since she was nibbling on my finger for food <3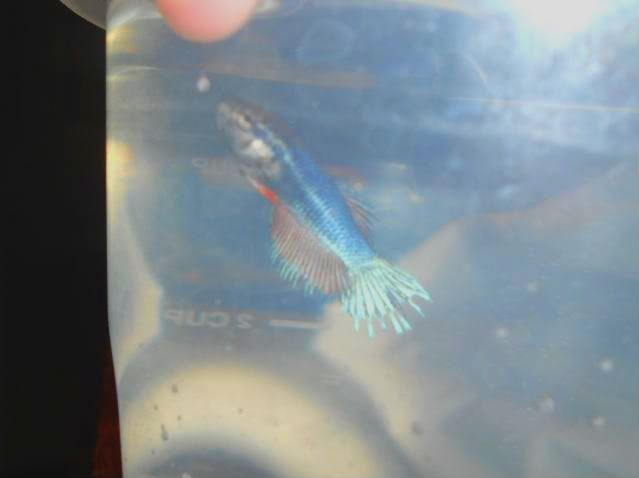 I'll for sure get better pics!
---
/ Quill (Brown Tabby and White Pancake Monster)[/FONT]
---
Last edited by fleetfish; 04-13-2011 at

03:58 PM

.
I've never seen female CTs being sold before! I might go check it out.

She is really cute thouh! :D
---
Puck (Yellow koi HM king) / Scar (White HM) / Salt 'n Pepper (Silver HMPK) / 'That fish' (Copper butterfly HM) / No name (White DT) / No name 2 (Turquoise/white marble HM) / No name 3 (Lilac HM)

Bo Peep (Cambodian VT) / Goldilocks (Yellow VT) / Joie de Vivre (Multicolour VT) / Lil' Peep (Blue VT) / No name (Dalmatian VT) / No name 2
I know! I was so happy to see them there.
---
/ Quill (Brown Tabby and White Pancake Monster)[/FONT]
Similar Threads
Thread
Thread Starter
Forum
Replies
Last Post
Crowntail

germanchick09

Betta Chat

2

08-11-2010

06:21 PM