Red Fantasy betta on AB
---
This guy is really neat and I think someone on here should buy him. :D (not me) He looks like a candy cane!
Only 1 day left for his auction.
http://www.aquabid.com/cgi-bin/aucti...hmp&1304579643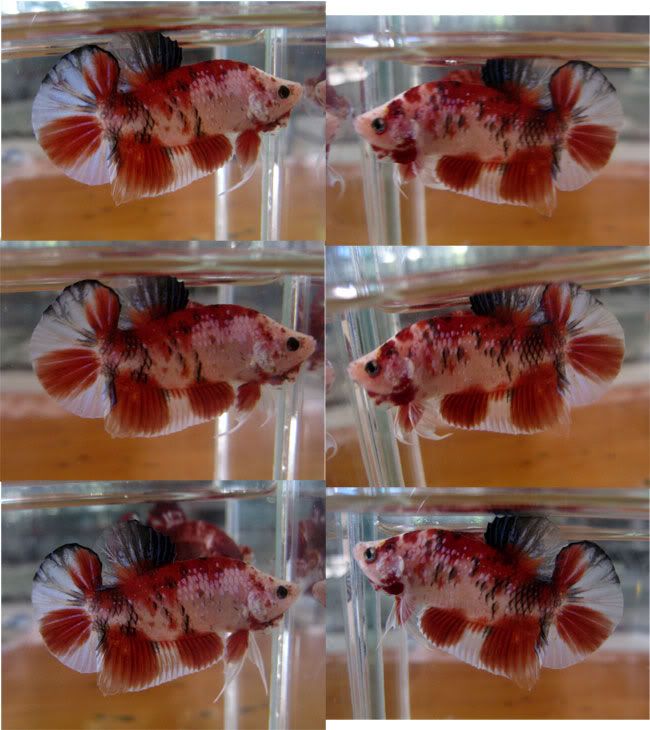 ---
My pets:
Celie the spoiled 8 yr old Chihuahua
Arwin the naughty Papillon puppy
No fishies for me right now... expecting a baby in June 2013!
omg! breathtaking! someone buy him and name him candy cane! =3
I totally saw that guy and saved the picture to my "betta database". :P

He's gorgeous. I love this three spots along the bottom accentuated by the red ventrals.
---
BETTAS:
Robert Falcon Scott - Red salamander HM plakat
Passed on- Friedrich "Freedy"

OTHER CRITTERS:
Four African Dwarf Frogs - Dorkus, Sporkus, Baron(ess), and Bubbles!
If I had another tank I would SO buy him!
---
Lelouch of the Petsmart Rebellion
- Orchid VT
Yugi - German Sheperd/Pitbull mix. The real King of the house.
There are no coincidences in this world...Only the inevitable.....
http://i778.photobucket.com/albums/y...f/vocaloid.gif
To the Betta's whom passed on: I'll never stop loving you...Take care of each other under the rainbow bridge....
That is a BEAUTIFUL betta and nobody purchased him!!!!
He's amazing! I would so buy him if I had the money. He would be perfect in one of my tanks.
---
~Please Call Me Caiti!~
Never seen one like that
---
20G Tall Cichlid Tank

4 African Cichlids

2.5G Bowfront

Lightning~VT 4/14/11

1G Bowl
One of my dream bettas are the ones that look like koi. I love him. :D
---
Puck (Yellow koi HM king) / Scar (White HM) / Salt 'n Pepper (Silver HMPK) / 'That fish' (Copper butterfly HM) / No name (White DT) / No name 2 (Turquoise/white marble HM) / No name 3 (Lilac HM)

Bo Peep (Cambodian VT) / Goldilocks (Yellow VT) / Joie de Vivre (Multicolour VT) / Lil' Peep (Blue VT) / No name (Dalmatian VT) / No name 2