Discount on Wal-mart betta's thanks to petco!
---
I went to my petco today and saw that they had betta's in their ad with a price starting at $2.69 with the VT's. So I started thinking hmmmm.... I saw a couple of betta's I felt sorry for at wal-mart that were actually pretty and wal-mart does price matching!!! So I took the ad to wal-mart and asked the customer service if they would price match their bettas. They said yes but only the ones in the picture (which were VT's). So I ended up getting two. I hate paying $6 for wal-mart fish.
Here are the photo's sorry if they are too big (I did resize them but they still look kinda big).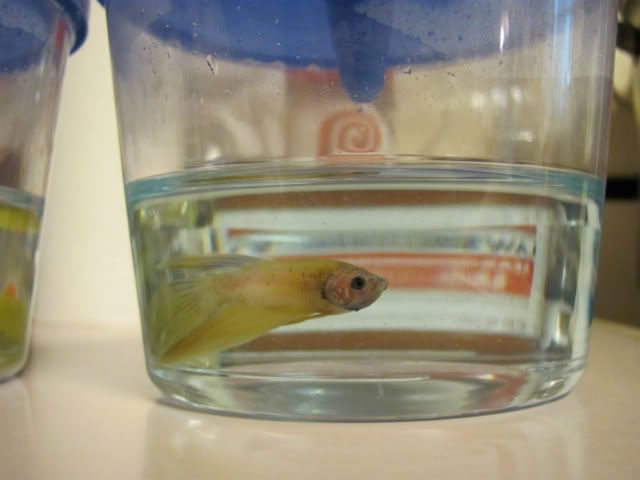 Just thought I'd let you guys know about the deal I got today. I'd suggest going to petco (if you live by one) and seeing if they have the betta's in their local ad and if your wal-mart sells betta's to get this deal while you can if you like to help poor wal-mart fish =/.
bwah. take THAT walmart. >:3 that second boy's AMAZING!
Lol, Thanks =]. I was proud of my kinda smart thinking =].
They're both BEAUTIFUL!!! I'll bet they'll look even prettier once they've settled in! :) I love watching new bettas color up in they're homes.
---
The Boys
Sunkist and Eros


I never even thought of that! I'm usually bad and put the veiltail lid on the crowntail cup since they always look pitiful and I don't want to pay $6 for a half dead fish. I know, I'm bad! Lol!

They are beautiful! Glad you can give them a good home!
---
19 males all but 1 in 5 gal tanks
1 giant in a 16 bowfront
52 female sorority, 15 raspboras, 6 corydora sterbia and BN pleco in a 72 gallon
Other tanks - 135 gallon african cichlids, 48 breeder SA cichlid, 30 gallon hex goldfish, 30 gallon community fish and shrimp tank, 12 gallon hex growout
2 Chihuahuas, 2 1/2 lab 1/2 weim dogs and 2 cats
1 Husband and 1 3 year old princess
Member
Join Date: Nov 2010
Posts: 3,651
I bought mine from walmart for $3 max D: Holy really expensive at yours!
Yeah they are. And the sales tax here is like 10% which makes it worse. It sucks.
Banned
Join Date: Apr 2011
Location: Southeast La
Posts: 827
They are both really pretty! Good deal :)