Update on Ben
---
For those who have read my topics in the last few weeks.... update on Ben time!
For those who haven't... I brought home my first Betta, Venom a few weeks ago from the local pet store. I had him for a week before I decided to get Carnage from Aquabid. He cost me a bloody fortune, but he was PERFECT. A few days after Carnage getting home, I noticed Venom's fins started turning black, within 3 hours he had no fins left :( He passed away the next day. I had to move Carnage out of the divided tank, and into my 10g. I noticed the next day he had Ich. A few days after, with treatment of salt and raised temps, Carnage passed away. Heartbroken, I sought out another Betta to help me feel better. I picked up Ben and bought a whole new set up for him. He's in my living room as we speak!
Anyways, update! Ben is doing great! He's eating pellets with no issues, he's coloring up more too. Yesterday was treat day, he got his first freeze dried blood worm and he wasn't so excited about it lol He LOVES frozen brine shrimp though, which he gets every second day for one of his feedings. It's cute, he comes to the front of his tank if I walk up to it. If I open the top, he runs to the top. Yesterday I held the blood worm at the water line and he took it from my fingers. Ben is FULL of personality. I mean I adore my Venom and Carnage, but Ben is so much more fun then they were. I truly think they were never healthy :( My other boys never flared either, but Ben flares at his cave, the plants, the thermo, and the suction hose when I clean his tank. He even flared at me <3
So.. it's been a week and everything is cool! I was seriously thinking of walking away from Bettas, but Ben saved me :)
A picture of Ben...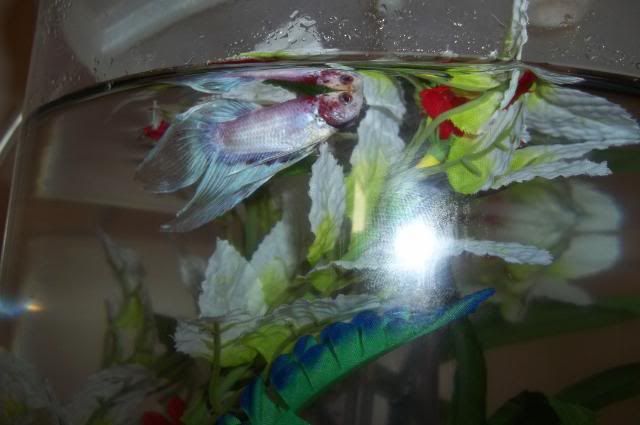 ---
aww, its great to know that bens settling in so well! hes cute :3
so sorry about your other bettas! :( sometimes its probably due to bad breeding/husbandry from where you got them from. its not your fault!
---
my scaley babies:
~ kanda: male wild type traditional plakat
~ tamaki: male blue/orange delta crowntail
~ natsu: male orange veiltail
The cat troupe
:

- Panda: bicolor black/white
- Meme: bicolor black/white
- Gypsy: tortoiseshell
- Turtle: spotted tabby
- Fang: blue
- Yuki: lynx point saimese
- Mei: marble tabby
im glad you have ben :0 i kind of know how you felt, because recently i lost a betta for the first time
it was in a sorority, im pretty sure she got stuck in a plant (that i have thrown away) and the other ones ate her. i cant help but hate the other girls a little... i know its in there nature and not there fault, but she was the baby... anyway, i look at my other bettas and it makes me feel better, so i know how important ben is to you :) good luck with him and thanks for the update
(i dont think i commented, but i did read your threads before)
---
Meekish-female vt
Nahh-male vt
Rue-female lab/pit mix
Pandem-male kitty
Helios- male vt
Hades- male hm
Nero- male sd
20 gallon betta sorority
my girls: Maia (ct) Athena (ct) Eris(vt) Nyx (ct)
Hecate (ct) Artemis (vt) Bia (ct)
Rani (hm) Xylia (hm)
Pixie (hm) still in a 1.5g QT (conditioning)
Slugger and the Tag Alongs (my ragtag team of
freeloading snails
)
RIP circe
Ya know, fish only eat dead fish to remove the body so predators can't sense them and come along eating the whole sorority (or school). So really what your girls were doing was protecting each other :) Sorry to hear about your girl :(

I never looked at the Bettas at the pet store before Venom. I'm always at the store and with the fish since I own tropical tanks but I never looked at the cups. I did my research and someone gave me a 1g with my 10g so I decided one day to take him home. Gosh knows how old Venom was :( I have no idea how long he was at the place. Carnage was tossed and turned on a shipment here, I saw his parcel being dropped and nearly ran over by a trolly :( Ben came in the same morning I got him, and I hope the fresh start will help us. They have a deal going on with Bettas (Betta plus tank) so hopefully they all go to good homes :(
---
its good that ben will be a new start for you
and yeah i know, thats why i was saying i know its just natural to them. i just couldnt help it, because im naturally rooting for the underdog, and Circe definitely was
still, i still have all the others
---
Meekish-female vt
Nahh-male vt
Rue-female lab/pit mix
Pandem-male kitty
Helios- male vt
Hades- male hm
Nero- male sd
20 gallon betta sorority
my girls: Maia (ct) Athena (ct) Eris(vt) Nyx (ct)
Hecate (ct) Artemis (vt) Bia (ct)
Rani (hm) Xylia (hm)
Pixie (hm) still in a 1.5g QT (conditioning)
Slugger and the Tag Alongs (my ragtag team of
freeloading snails
)
RIP circe
Similar Threads
Thread
Thread Starter
Forum
Replies
Last Post
update

Kitdae

Betta Chat

3

01-11-2011

09:02 PM

Update

Shawtee

Betta Fish Compatibility

0

07-16-2010

07:00 PM