Banned
Join Date: Mar 2011
Location: Oklahoma City
Posts: 147
selling plakats cheap, im moving need your help! cheap!!
---
im moving this monday and i need to sell my pair of red plakats asap! my new apartment does not allow pets of anykind so im going to have to move my fish around.. anyways ive included pics of them below.. i need them to ship by tomorrow or the next day i will even pay the shipping cost.. im asking for $25... negotiable... please pm me if interested..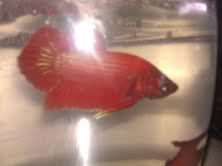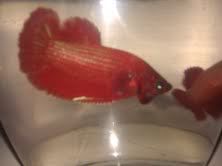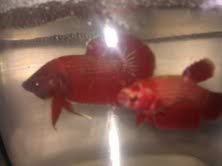 Please someone help me i want these guys to go to a good home.. i can only accept paypal...
They are beautiful and Plakats live a nice long time. To bad I live in Canada they are beauties.
---
atteb....
Banned
Join Date: Mar 2011
Location: Oklahoma City
Posts: 147
i cant ship them to you from texas? i will pay the shippin cost if i can i just want them to go to a loving home, they are my babies...
---
Last edited by Landon21; 07-22-2011 at

10:14 PM

.
Nope, no live animals, plant etc can cross the border. Some people ship plants but have to have certification to do so and its very very expensive. I am sure you will have someone close to you interested as they are very nice fish.

I currently have a blue Plakat and have to say they are one very sturdy betta in my opinion.

Hope you find nice homes for them.
---
atteb....
Banned
Join Date: Mar 2011
Location: Oklahoma City
Posts: 147
thanks just hope someone on here can give my kids a good home, im running out of time..
What do you keep these bettas in currently?

If its something really small you could sneak them in there if they are not in a tank and keep them till you find the right home for them.

Bettas are the easiest fish to move and keep. Even if it means keeping them in a 1 or 2 gal heated compartment for a short time.
---
atteb....
Banned
Join Date: Mar 2011
Location: Oklahoma City
Posts: 147
no this guys checks the apartments on a regular basis.. hes kinda nuts but the place is nice.. please someone take my babies.. ill go down to $20 and remember ill pay the shipping... praying someone helps me out and soon... :(
They are beautiful and I would take them in a heart beat if I had any money, have always has a soft spot for plakats, but I just bought two new females and can't dish out the cash right now(would have the space just not the cash)...but I would think it wouldn't be hard to find someone in your area to take them...maybe a close neighbor or relative, good luck with housing your beauties!
Banned
Join Date: Mar 2011
Location: Oklahoma City
Posts: 147
im not going to be around any fish friendly people thinking my only chance is going to be a member on this forum :(