unexpected new fish,strange story!
---
A few nights ago I got some new fish in the craziest way you could ever think of.
and the first half is even in the news.
http://www.times-standard.com/localnews/ci_18550413
So after the SWAT team left I went to the landlord who was trying to board up the door that had been blown off.I was talking to him when I saw two plastic storage containers (the kind for cereal)each filled with the nastiest water you've ever seen. Then I saw a betta shape flash past the side.I asked if I could come in and found each container had a betta and two goldfish in it (one goldfish had died). The landlord let me take them home so now I have 5 new fish.
Poor betta had to spend the night in in soda bottles I cut the tops off of and the goldfish stayed in a mixing bowl.
The next day I found two 2.5 tanks at work one with a divider and one air pump.
Goldfish got one and the pump,bettas got the one with the divider.
I'm gonna have to else for one betta the pink one keeps getting on the other side and I can't figure out how,they don't fight the blue one just hides and the pink one acts like hes king.
I think I'm gonna name the pink one Spirit cause hes got a lot.
So now I've got 6 fish my sick one and 5 new,don't know what to do with the goldies(dirty fish)also I'm afraid the new bettas will get sick after what thet were living in and all that was in that house was goldfish food.
*sigh*I think I have work ahead of me.
you do! Just take good care of them now, to ward off anything they could get.
---
Betta-less at the moment :(
"Some people are like slinkies... completely useless. But they still bring a smile to your face when you push them down a flight of stairs."
I is GaB. Blessed Be. (GaB is a girl)
Do you plan no gettign a bigger tank for the goldfish?
~~~~~~~~~~~~~~~~~~~~~~~~~~~~~~
Do you plan no gettign a bigger tank for the goldfish?

~~~~~~~~~~~~~~~~~~~~~~~~~~~~~~

Oh yeah,I work at a thrift store the small one was just the best I could do on such short notice.Or I may just give them to my dad hes got a fish pond.
That's a neat way to acquire fish!
I bid you good luck with your new fish! Any pictures?
---
Caspian~Tigger~Prince Nez~Dragon~Andy
Alice~Cecelia
R.I.P~Philip~Red~Cleo~Beans~Lemon~Tiny~Timn~Shoes~Snot~ Annie~Mud

<--Salt and pepper Cory Cats
oh, my! poor darlings. what kind of goldfish are they? fancies can't live in a pond. commons can. x:
...
Wow. Interesting rescue... Probably the most exciting one I've seen on this forum yet!
Well, I don't know a whole lot about goldies, but I DO know that they're really dirty fish. Which is why I don't keep 'em. Good for you for taking them in though!
If the bettas keep jumping the divider, I would recommend getting another tank for one of them whenever you have the means. They may not be fighting now, but knowing these fish, they could go super-aggressive at any time. Luckily my fish haven't jumped their dividers yet, but I know if they ever had the opportunity they'd fight. Or mate. Depending on which tank we're talking about... lol
Aaaanyway, welcome to the forum! We'd love to see pictures of the rescuees. Is that even a word? I really hope so!
---
~Madi
4 Males
Winston~ Damian~ Twitch ~ Evans
1 Female
Mini-Fish
they might not be fighting because they're still getting used to being in clean water. the poor babies! Dx once they feel better, though, a fight could break out. x:
wow congrats on the save and what a journey the poor guys had! lucky for them you came along
---
slightly obcessed with bettas
This is what they were in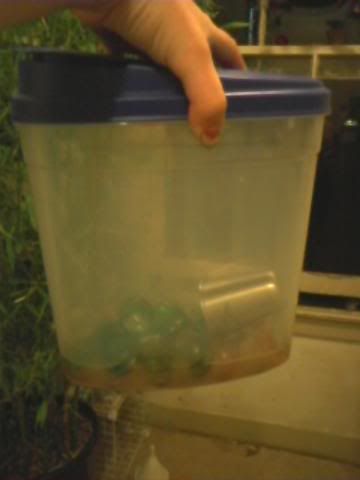 My phone sucks but here goes
The blue one took the most damage I think the goldfish were biting him.
Similar Threads
Thread
Thread Starter
Forum
Replies
Last Post
Story of a Little Fish

frogipoi

Betta Art

5

07-20-2011

07:45 PM

A fish story

Everlark

Betta Chat

7

10-17-2010

03:59 PM