The horror...
---
I just went to a home of a college student giving me their gold gourami as a trade for three guppy fry.
When I got there I was shocked to find that the home where she was housing 2 guppies, a pleco, a gold gourami, and a blue gourami was in this:
My jaw litterally dropped when I saw this. She said the reason why she was getting rid of the female gold gourami is "because she kept bullying the other fish."
I looked at her and said, "Well
yeah
, because you stuck them in a 2 gallon aquarium that would only me suitable for a single betta
and nothing else
."
She kind of just brushed me off and then I said, "You realize that pleco is going to probably get a foot long soon?" it was still a baby, only an inch long. Probably starving to death in that tiny tank.
She said, "Yeah I know, after I finish moving I'm going to upgrade to a bigger tank."
I told her, "Well then you should have told me! I would have brought my 20 gallon tank to
give
you!"
I felt sooo sorry for those fish. The male blue gourami just hovered directly in the center of the tank and did absolutely nothing. I was regretful I traded my three guppy fry for that gold gourami. She had two males. I hope she keeps in touch with me, because I'd hate for them to spawn in that tiny 2.5 betta tank.
But at least I saved this gold gourami... she's only 2 inches long, about the size they are when you buy them at the pet store, but I know she's had her for a while now. She should be 3 inches by now. The poor thing's growth was probably stunted.
She's now swimming around the tank, checking the place out. A total sweet heart too... all she wanted was a nice, large, clean tank with friendly neighbors. She hasn't even messed with the guppies at all. I can't wait to get more gouramis to be her friend.
I missed having gouramis in my tank. It's about time I began to restock.
"Mmmm bloodworms!" I wonder if she ever had these before.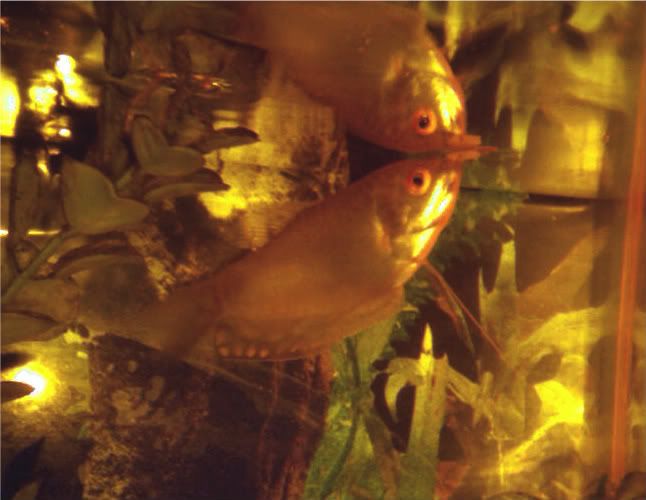 Awww...sad!

I have a pleco, he is 12 years old I think... Hes HUGE!

I like Gourami! I was planning on getting one soon, but then I had to pay off some stuff.
---
Caspian~Tigger~Prince Nez~Dragon~Andy
Alice~Cecelia
R.I.P~Philip~Red~Cleo~Beans~Lemon~Tiny~Timn~Shoes~Snot~ Annie~Mud

<--Salt and pepper Cory Cats
my pleco was well over a foot long, at around 11-13 years old. so, yeah... she's gonna hafta upgrade him ASAP. he lived in a 29 gallon with my goldfish. not the best of homes, but he lived over a decade. would have been longer, too. x:
My pleco I had for 11 years finally died two weeks ago. Thankfully he was a male and only stayed 6 inches long. It's the females that get ginormous.
Similar Threads
Thread
Thread Starter
Forum
Replies
Last Post
Good Horror Movies?

Betta Slave

The Lounge

24

06-26-2010

07:23 PM

Oh the horror!

Katlyn023

Betta Chat

8

04-16-2010

05:05 PM