Ugh Wally-world
---
So went shopping today to get school clothes/supplies for my daughter and decided to walk over to the fish area. I fell in love. With a couple of them.. a mustard gas/light blue VT male, another that was cream/yellow, also a VT male.. and the one I chose (picture to be coming soon), a male CT, dark red, each scale on his body reflects blue/green.. but they are separated with a little red.. so almost like evenly spaced/placed bright dots. His fins are about 1/3 webbing and looks even all around.
Just wish I had my digital camera :(
Was so upset though.. lady was checking me out and dropped the cup upside down! After man-handling it this way and that trying to read the bar code.
"Do you want to go get another one?"
As if it were a box of muffins........ ... .. .!!
Anyways, just so excited that I found him, been wanting a CT and something other then Xander's blue coloring. So yay!
---
Breeder so I have too many to count and too many named to list here!
I Despise when the do that, it makes me SO mad! Ugh, angering! Sometimes I just don't get those employees, They should go through a training program for something like that. Those Betta's sound beautiful, I love mustard gas colored Betta's they are so pretty!
---
The Clan:
Marilyn (CT) Angel (DeT) Opal (CT)
that is not right why do would someone do that ??? but every thing happens for a reason
Oh wow. He's ok now, right? When I got my new boy a few weeks ago from our walmart the lady at the checkout rung him up and then BAGGED him! Not even his own bag, just in with my other groceries! My friend and I were just like, "Why would someone bag a fish?" "That's not ok.." That's not safe." Poor little guy." Right there in front of the cashier. It wasn't even a consciously spiteful thing, we were just that shocked and confused we had to say it out loud! Cashier didn't bat an eyelash...
when i got King Steve, the lady was shocked they even had bettas! she was really careful with him, and even checked him out and commented on how cute he was. thankfully, they don't sell bettas no more. >3> now, if they'd get rid of those less-than-a-gallon "Betta tanks".... the world will be peaceful for once. x:
Yeah, the lady tried to put it in a bag with other things, luckily my boyfriend grabbed him out and handed him to me. >.< Oh! And have pics of him now! Again, bad quality, cell phone.. but gives you an idea why he caught my attention!
He's still in shock it seems, so keeping him in a dark tank now. Did some light to take the pics.. he is actually a darker red, unsure why the colors kind of messed up.. the rocks are black, not blue. Darn led lights hehe..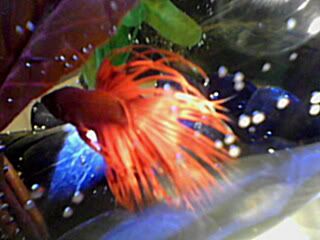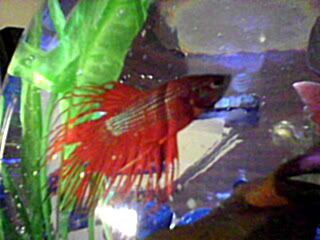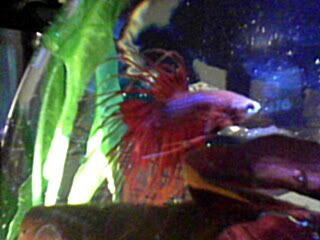 And Xander checking out his new neighbor.. he flared, but couldn't get the other one going lol.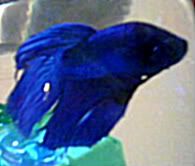 Was trying to come up with a name for the new one.. any suggestions? No personality yet that I've seen.. but came up with Cheveyo (Hopi Spirit Warrior), Spyro or Draco.. anything else would be appreciated!
Oh, and what the pictures fail to show is on the tips of his fins, they are blue XD
---
Breeder so I have too many to count and too many named to list here!
Banned
Join Date: Aug 2011
Location: Central PA
Posts: 354
great looking fish.... I have yet to ever find anything good at our local wal marts.. Lucky you!!!!
Spyro! Omygawsh I loved those games(: Cute betta!
---
One 70.G Cichlid Tank-2 Parrotfish, 1 Red Bay Snook, 1 Jack Dempsy, 2 Mayan Cichlids, and 1 Spotted Catfish
1.5 Gallon tank with male butterfly halfmoon-Charlie and 1 mystery snail
10 Gallon tank with female veiltale- Lulu and 2 Mystery Snails
3.5 Nano Saltwater Tank with yellow goby-Buttercup, 3 red leg cortez crabs, 2 nassarius snails, 3 hidden cup corals
One misfit jack russel-rat terrier mix-Ginger


Hehe thanks... and his name is Spyro now :)
---
Breeder so I have too many to count and too many named to list here!
Similar Threads
Thread
Thread Starter
Forum
Replies
Last Post
I've found Wally!

SillyCone

Betta Fish Compatibility

9

05-16-2011

02:23 PM