At WalMart?!
---
The other day I was at WalMart just looking around so of course I went by the fish section in the back and I was actually suprised. Usually my WalMart doesnt really take care of the Bettas but they must have got someone new! Most of them were really good looking (apart from one dead one, but-hey it happens) and all of their containers looked clean! They also had some really unique fish there too, Whenever I've gone I've only seen red and blue VTs and Red and blue CTs but they had one orange VT that was really pretty and a blue and orange spade tail VT! I absolutely loved them! I wish I had taken a picture! Has anyone else seen some really unique bettas at their local pet store lately? And did you give in and buy them?
. . . yes :D
I bought Oliver, my green short bodied VT, on a "what on earth is that betta doing here I must have him" moment. He's a rather odd little guy that's for sure.
---
SAPPHIRE (Blue Mustard Gas OHM) / Quill (Brown Tabby and White Pancake Monster)[/FONT]
I've seen a few black fire crown tail (If that's even the right color to call them. Dark bodies red fins and vise versa), a king blue marble (later died of dropsy while my sister was caring for her), a king green copper (also died of dropsy), a white king (still pink from a month's worth of ammonia burns).
Here are all of my fish from Walmart (some of the pics are outdated because the first one tail bites and the last one is shy):
013 (5).jpg
014 (6).jpg
019 (5).jpg
001 (12).jpg
004 (6).jpg
The veil tail isn't actually completely red, he's got a strong wash of blue over him that completely blocks out the red in certain lights. He's still regrowing his fins.
Oh cool! You've got some really pretty ones! I really like the one in the first picture!
Yeah they deffently all look awesome But I would die to have the first one he's so cool looking :)
---
Ive Been Bitten By The Betta Bug.
--------------------------------------
My Betta Family<3
*Chaos CT.Male
*Violet VT. Female
*Dante HM. Male


I found a dragon scale plakat at my petstore last week. I SWEAR it looked like a cow. He was white with big brown spots and he "moo-ed" frequently.

Right next to him was one that looked like a sewer monster >,<
---
And on the third day, God cycled the oceans and the rivers, and it was good.
oh wow, pataflafla. your fishie's fins look like artforms by themselves. and one of yours looks like mine!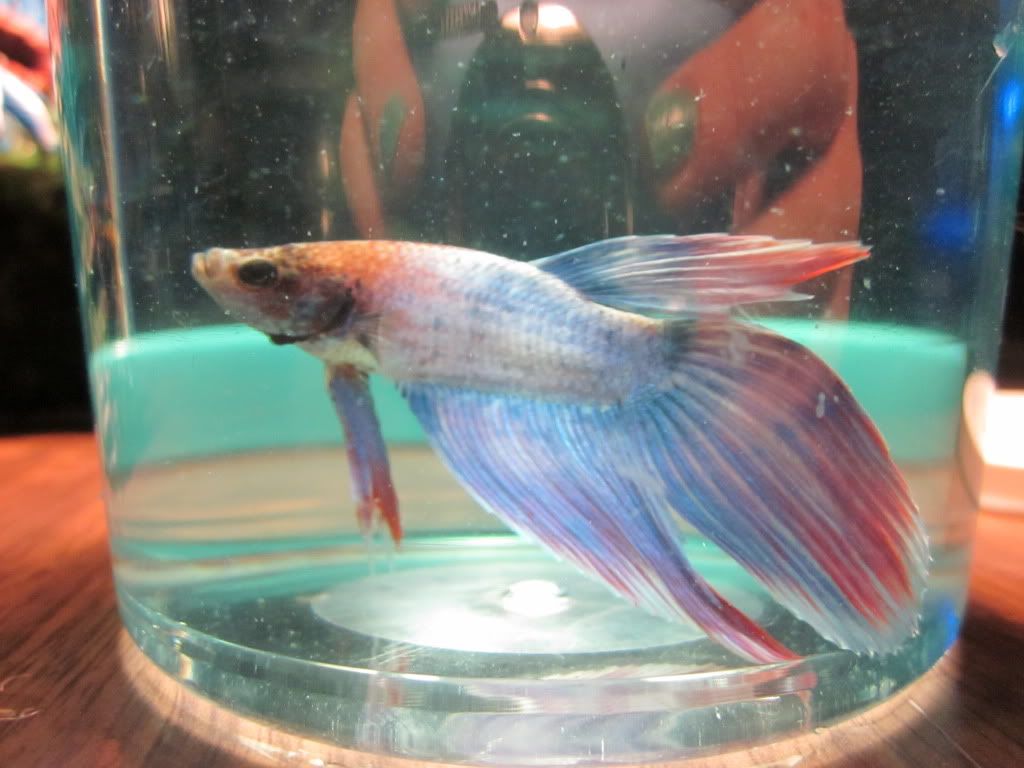 i found this critter at petsmart yesterday, absolute love (:
his name is hippie.
---
Boys: Ichabod, Canary, Perseus, Louie, Cherokee, Rojo

Girls: Marie, Hilda, Pixie

Rest in Peace: All of my former fishies. <3

Aww, Hippie is darling! His colors are amazingly pretty!
---
The Clan:
Marilyn (CT) Angel (DeT) Opal (CT)
Hippie does have the same color as Mirage, also the same shimmer. I can never get it on camera for whatever reason though.
And for those of you who admired Ratchet, can you believe he looked like this when I first bought him:
001 (2).jpg
You can never really tell what you're going to get with a betta in terms of looks.
I work at Walmart, and we have been getting some pretty unique ones in lately. We had one brilliant CT that was white with blue stripes on his fins. Before that shipment, we had a pink one with purple edges.
Similar Threads
Thread
Thread Starter
Forum
Replies
Last Post
yay walmart!

Luimeril

Betta Chat

8

07-15-2011

11:15 PM