How to tell....
---
If you're buying a female or a plakat?!?!!!?? I saw many "female" betta's tonight at PetSmart but they looked like plakats to me. Now I'm far from an expert but I'm also not ready to buy into what PS says it is!!
They had a CT in a VT labelled cup!
---
"Education is the most powerful weapon which you can use to change the world." -N. Mandela
To my journal!
http://www.tropicalfishkeeping.com/j...ourami-592858/
Females are usually more rounded in bodyshape, have shorter anal and ventral fins, and you will see their ovaries which look like big whitish or pale areas on their sides which are full of eggies, and little white dots on the bottoms of their bellies called oviposters. Females tend to flare straight ahead and have much smaller beards. They may also have vertical bars or stress stripes.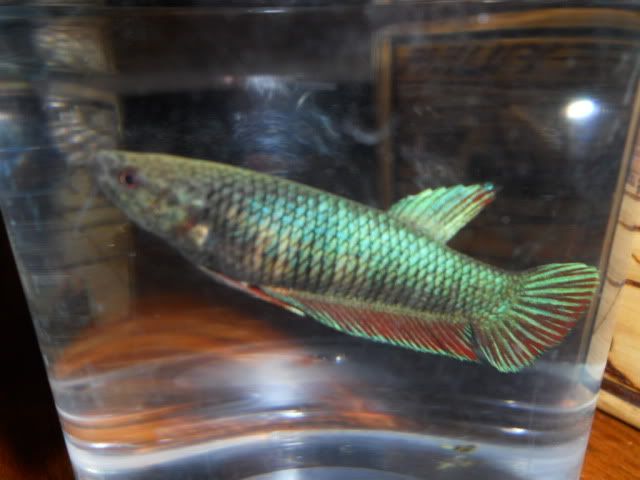 Males are more torpedo shaped and streamlined, have longer fins all-round, and have smaller bellies. They also might have oviposters, but it's usually only seen in young males. Males tend to flare sideways, and have much larger beards.
Hope this helps a little!
---
/ Quill (Brown Tabby and White Pancake Monster)[/FONT]
I know what you mean, I looked at this one greenish girl, she had tiny fins, but she was as big as Scuzi. If I had of had more time I would have scoured through them >.>
The ones in petstores are probably labeled right (as far as gender, not tails) 90% of the time. But then you have that other 10% where people end up with boys when they wanted girls...
---
Remember that the tank your fish lives in is his or her's
whole
world. Ask yourself this question, and answer it honestly: would you
choose
to live there?
At a pet store near me they have labels for female fighters but the picture is of a male pk...