Lucky Number 7, I hope anyways!
---
So, some of you may remember my
thread
a while back about a male Betta at the pet store here. I was so torn, not having the money at the time to take him, plus I was thinking I really didn't need another Betta. But this guy, just... captured my heart. I have been thinking about him everyday this week. I talked to my fiance about it, and he said I have seen a million Bettas at that store and I never asked for one. He said I have turned away from the sickest cases, held such restraint in taking one home. But the fact that this guy was bothering me so much, I needed to go back and get him.
So I went out tonight to get my dog and cat food and a background for Nixons new tank and I told my friend "If he's there, I'll take him home". Sure enough, I walked over and there he was. Sitting at the bottom of his tank, on his side :( The tank was full of moldy food, feces and the water has a brown tint to it.
He's home now, I am hoping he pulls through. He has a twitch like Twitch did when he came home, Twitch has severe ammonia poisoning. I decided to check his water for ammonia and this is what I saw :(
After 30seconds:
5mins: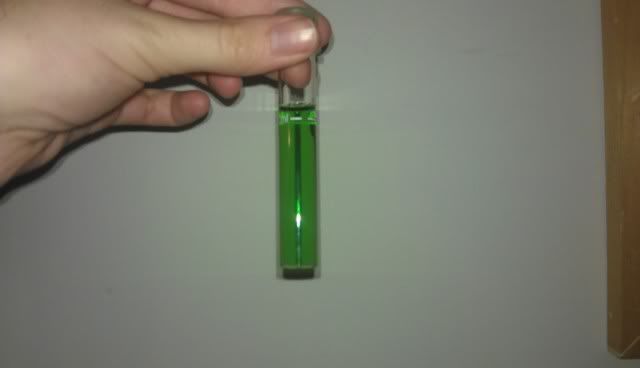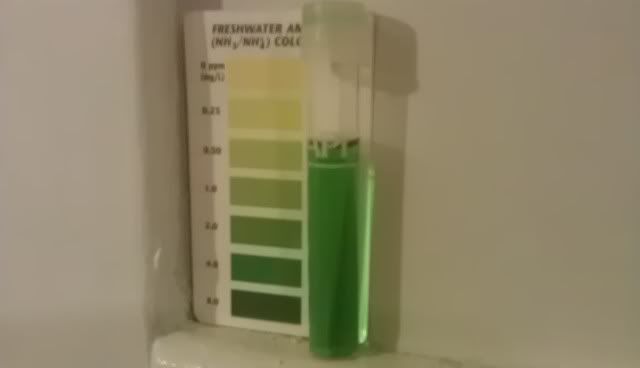 No wonder :(
Anyways, he's in a clean 1.5g now with plants and a hiding space. He's having some issues with swimming, he doesn't really like his tank but hopefully a night of settling in will tell us how bad he is in the morning.
I'm not really sure what he is, looks like a yellow/white dragon VT. His fins are in horrible shape, and he's been clamped since I saw him at the store.
No pictures right now, but I did get this small clip of him :(
Sheldon: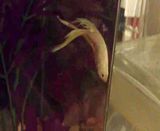 ---
Hopefully he makes it through the night, I wish you both a HUGE amount of luck :)

its stories like these that make me sooo mad at those rubbish pet shops who the employees know nothing about taking care of fish :(

take care little fishy! :3
Got a few pictures, he was settling down in his dark area and I turned on the lights and snapped pictures. He's NOT happy about this. So these will do for now :)
The sad part is, this store thinks I'M crazy for how I keep my fish in big tanks and all this stuff they don't need (like heaters)... I think my yellow ammonia test proves other wise!!
---
New Member
Join Date: Aug 2011
Location: Central Florida
Posts: 114
Oh wow. Some pet stores never cease to amaze me :/
He's a cute little thing :)

I hope this little guy gets better. He's safe in your hands, pitluvs!
---
My Betta Babies<3
Casper, a male Cellopane VT (11/07/11)
Amerigo, a male Marble DT (11/20/11)

"Bettas are like potato chips: You can never have just one!"

Rest in Peace: Wheatley (11/01/11)

He does, it's almost a "pitty me" face. He was spunky and full of life with nice fins a week ago, today he looks like an empty shell.

What do you say Tisia? VT?
---
He's so cute, hope he feels better soon
---
Kirijama | Cap'n Amurica'
Oh the poor dear, I know you'll give him the TLC he needs.
Looks like Sheldon is going to be doing a round of AQ salt treatments. Not much improvement today until the salt was added. Here we go again!
---