New Member
Join Date: Jul 2011
Location: Texas
Posts: 24
Bitten by a Betta
---
My sister has a blue crowntail betta, and when she is about to feed him she gives the tank a little tap with her nail to get skyler 's attention. And today before she fed him she had a smart idea of putting her finger in the tank, and he bit her.! it was hilarious!! I didn't think these fishes would bite.! she got scared thinking HE could get sick because he bit her finger. Has anyone else been bitten by a betta before??
All the time... LOL!
My sorority girls are vicious! and will peck at you everytime you put your hand in the tank.
My male just flares at my finger and circles it probably wondering why it's invading his home.
My females bite me all the time when i stick my hand to move something in their tank.
---
I have one of my betta fish who knows if i have my finger near the tank, he gets food. One time i didn't have food....Boy he must have been mad because he bit me hard. Scared the living daylights out of me.
---
Proud owner of three bettas
Itachi
Neji
And now Yoshimori

Rip Grell and Undertaker.
Member
Join Date: Oct 2011
Location: Michigan, USA
Posts: 462
Tybalt likes to bite me all the time. Doesn't hurt at all though...just tickles! Scared the crap out of me the first time, now it just makes me laugh. Apparently, bettas never learned the whole "Don't bite the hand that feeds you" deal!
Rebel is absolutely nasty, he bites me all the time! even if i'm just fixing a plant in his tank or moving a decoration
---
Schutzhund
Bite-Find-Obey
"Just don't tell 'em I've gone crazy, that I'm still strung out over you..."
My only fish that haven't bitten me are the ones with mouths too small (the loaches). My goldfish commonly nibble on my arms while I clean the tank. My koi have gotten a toe or two before (no teeth in the jaws of either of those, no worries). My bettas commonly nibble on me when I feed them. I just think of it as their way of saying poke.
---
Last edited by thekoimaiden; 11-28-2011 at

01:12 AM

. Reason: I have the memory of a gerbil...
my female has bitten my finger before when i tried to move something in her tank. i think she thought i was food. lol

and one time with my male, i wet a pellet and stuck it to my finger and held it above his tank like i usually do to try and get him to jump a little, and he missed and bit my finger pretty hard. it didn't hurt, but he really wanted that pellet. haha
---
little red -
male super delta betta c:
pearl -
female veil tail betta c:
felix -
male veil tail betta, RIP <3
bonbon -
marimo moss ball c:
My sorority girls can be real nasty when it comes to feeding time. One minute each girl will be like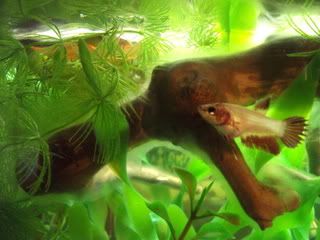 All cute and innocent and stuff, but when the food touches that water they each become like
So I've had my fair share of bites. XD
---
1 Male ~ 5 Females
3 Bronze Cories
1 Hamster
Soon, 1 cornsnake!

but its not really a bite, well it is, but it feels just like a peck :P they peck my fingers all the time! its so cute :3 it normally happens if I am re-arranging things in the tank real quick, they swim over thinking im food :P