Oh boy! New fish!
---
OK This is the last new Betta I will be getting this year since my New year's resolution is no more new Bettas. I broke that resolution because my tricolor crown tail ERIC Just passed away and it made me sad to see his empty spot in the tank.
Here he is in the isolation tank before he goes into the big tank with my two other bettas :3
I don't have a name for him yet but I have been going with a harry potter theme XD I already have a: Luna, Tonks, Padma, Patil, Pigwidgen, Hedwig, Cho, Numbus, Snape, Moony, James (and two un-named babies). I was toying with the possibility of Sickle, or Prongs...
---
Last edited by Larkspur; 01-04-2012 at

05:03 AM

. Reason: found a better pic
Haha oops I didn't realize that it was 4:00 am! I have to get to bed I'll check back here tomorrow!!! Good night! <3
I would name him... Sprout. He's got that shiny green on him and it makes me think of herbology. :o He's a pretty boy, whatever you name him. Sorry about your Eric, though. ):
---
"Everybody is a genius. But if you judge a fish by its ability to climb a tree, it will live its whole life believing that it is stupid." - Albert Einstein
you should name him crookshanks or fang :D cedric might be a cute name too - he's absolutely beautiful! and i'm sorry about your eric!
---
Schutzhund
Bite-Find-Obey
"Just don't tell 'em I've gone crazy, that I'm still strung out over you..."
Haha I like ALL of those names! n.n
Eric was a nice fish I was sad to see him go :(
This new guy is quite a character! The second I put him in the tank he started making a bubble nest! The petco I got him from takes wonderful care of their fish! They were feeding them spectrum food with blood worm treats once a week! The woman who sold him to me was very knowledgeable about betta fish and I bombarded with questions from two other employees making sure I really knew how to take care of a betta fish! The one employee made sure to tell me to keep him in an isolation tank with a heater, filter, and use epsom salts because he was concerned that he may have a tiny bit of fin rot! Even though I already knew all of that it was just really cool to find a pet store that was that thorough with their costumers to make sure that the fish was really going to a good home.
here is a picture of Eric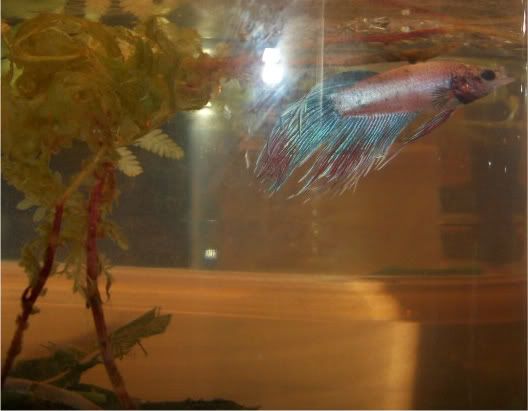 This was right when I brought him home he hadn't developed all his color yet. This is my favorite picture of him because his mouth is all like "Imma getchya!" lol
---
Last edited by Larkspur; 01-04-2012 at

03:21 PM

. Reason: added a picture