New betta remains unnamed
---
Hello all,
I am new to betta keeping and the forum. I recently got a new betta from my local aquarium supply store. I picked him because he was so different from any other betta I've seen before. However, I've been having the worst time trying to come up with a name that fits him. Would anyone be willing to help me out with some suggestions?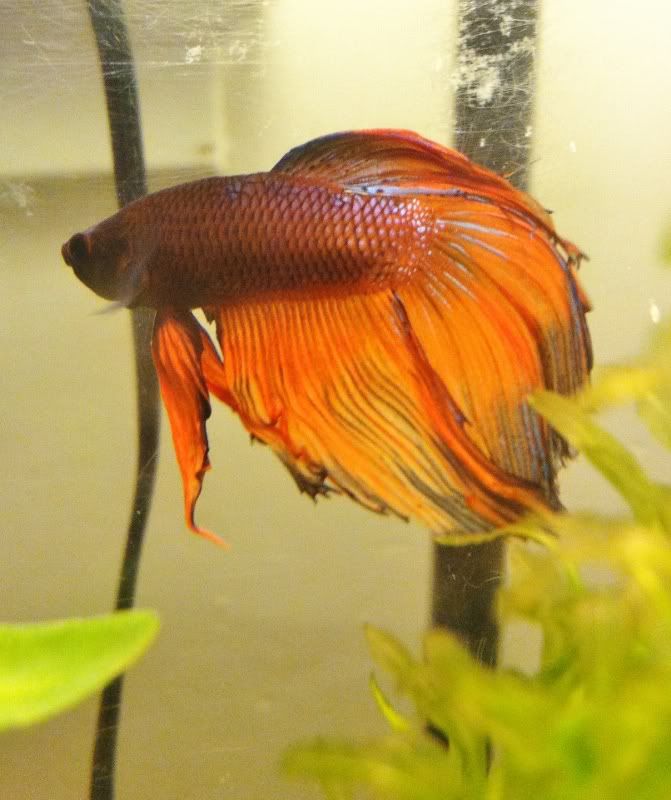 Sunfire or something heat related comes to mind :)
Welcome to the forum and to the world of bettas :)
---
My bettas: 6 boys and 8 sorority girls
Making it my mission to have all natural planted tanks!
Oh yes Sunfire is a awesome name. Or how about Starlight, Or Commet, Phoenix, or Flame? He sure is a great looking Betta :)
---
Fish are God's RAINBOWS underwater
Dreamer,Whisper,Sunshine,Lilly,Ester
Sand-dune is what I thought of because of the sunsets I've seen over them. His coloring is kind of like that. -shrug-

Or, Nashville. I'm not a country girl myself, but the colors kind of remind me of that area. I dunno. Ha.
New Member
Join Date: Jan 2012
Location: Kentucky
Posts: 10
I like Sunfire, too! Or maybe simply Sunny. He's a gorgeous color!
How about helios Greek god of the sun
---
My Red VT Male DonFlare.
My halfmoon Poesidon
My Orange and black VT HadesFireball
My 11 girls: livewire, lilicka, fluttershy, rarity, Dixie dodablue, aurora, ember, peaches, mystic, mermaida, beta

RIP candycane and queen of spades, Apollo

Other animals
Cats:
Cherokkee (avatar)
Ekaterina
Cassandra


a betta is like a good freind always there when you need them and still there when you dont


How many bettas have I owned since I was Born hmmm... lets see 24!
Brisingr (Christopher paolini's series)
Or after a bright spice, like chili or cumin or saffron.
thanks for all the great suggestions! I think I've settled on Phoenix as his name as was suggested by Kitty Whiskers. I think he came home with some minor fin rot which got a little worse since that picture as I didn't realize that's what was going on and so he looks a bit "singed" on the edges as if he had been on fire. It made me think of when Harry Potter first meets Fawkes the Phoenix and he's all bedraggled looking since he is "due for a burning day"..... so therefore Phoenix seemed to finally fit him. Thank you all again!
Beautiful lil guy! I haven't seen an orange one :)
---
Bettas are like potato chips, ya can't have just one!
Similar Threads
Thread
Thread Starter
Forum
Replies
Last Post
My new unnamed betta

dukie1346

Betta Fish Contests

13

08-31-2010

01:41 PM